The first poll since the Democratic debates looking specifically at registered Latino voters showed dramatic jumps in support for Sen. Kamala Harris of California and former Housing Secretary Julián Castro; both were the favorites among those polled. The Univision News poll may be reason for concern for former Vice President Joe Biden and Vermont Sen. Bernie Sanders, who have been leading in most surveys.
The poll shows a significant rise in support for Harris. Prior to the debate, only 6 percent of Latino eligible voters said they planned on voting for Harris, but that number jumped to 22 percent after the debate. Castro doubled his share of eligible Latino voters, going from 9 percent to 18 percent. Both Biden and Sanders dropped in their share of eligible Latino voters, going from 21 percent to 16 percent for Biden, and from 20 percent to 16 percent for Sanders.
The number of Latino voters participating in the midterm elections doubled from 2014 to 2018, according to Pew Research, making pollsters wonder if that trend will continue in the presidential election in 2020. According to a U.S. Census Bureau report, Hispanic turnout jumped by 13.4 percentage points from the 2014 midterms to 40.4 percent in 2018. Turnout hit a 100-year high overall in last year's Democratic wave that led to a takeover of the House of Representatives.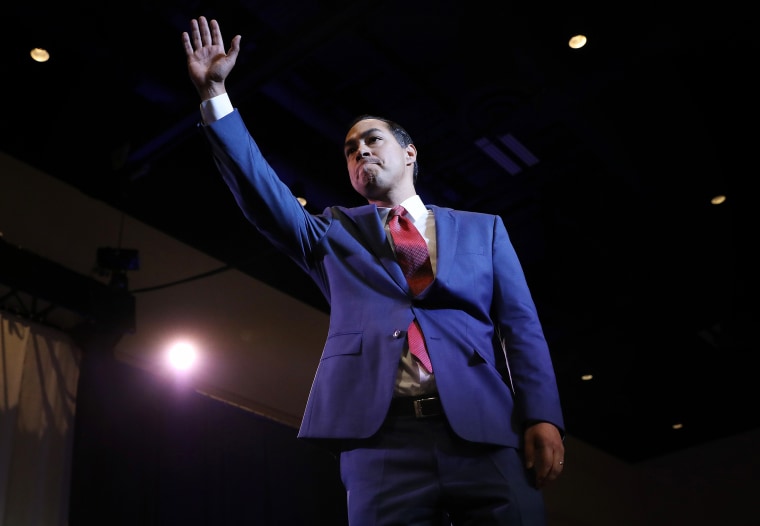 With Democrats increasingly drawing their voter base from racial and ethnic minorities, discussions about who is best fit to represent the party is becoming a central concern. In addition, President Donald Trump 's campaign has signaled it will be pursuing Latino voters. The campaign launched Latinos for Trump in Florida on June 25.
While the Univision News poll interviewed only 411 Latino eligible voters, broader surveys often draw conclusions about the electorate with far fewer Latino respondents, raising concerns over the standards for measuring the complex demographic makeup of the Democratic Party. The poll has a margin of error of plus or minus 4.8 percent.
In a tweet responding to the polling results released by Univision News, Castro said: "I'm heartened by the outpouring of support following the first debates. Together, we can beat Donald Trump—but we can't do it without Latinx voters."
Surveys released by Quinnipiac shows Harris performing much better among Democrats as a whole, and support among blacks shifting dramatically away from Biden to her benefit. A poll released by CNN showed similar shifts in favor of Harris and Sen. Elizabeth Warren of Massachusetts.
Other findings of the Univision News poll shows Harris performing strongly among Spanish-speaking Hispanics, garnering the second-highest favorable rating behind Castro. Former Texas Rep. Beto O'Rourke, who began his night at the Democratic debate speaking in Spanish, however, received just 32 percent favorability rating among Spanish speaking respondents.
Castro was among the top five candidates in an ABC/Washington Post post-debate poll released Wednesday, tying with South Bend, Indiana, Mayor Pete Buttigieg for fifth place with 4 percent support. Biden was first with 29 percent, followed by Sanders with 23 percent and Harris and Warren tied at 11 percent.
FOLLOW NBC LATINO ON FACEBOOK, TWITTER AND INSTAGRAM.