ASUNCION, Paraguay — Pope Francis praised the heroic role of women in Paraguay's history at a Marian shrine near the border of his native Argentina on Saturday.
Francis is in Paraguay for the last leg of a three-nation tour of Latin America, and said his first mass there at the shrine of the Virgin of Caacupe — the most notable pilgrimage site in the country — in front of tens of thousands of people, including many who traveled from Argentina.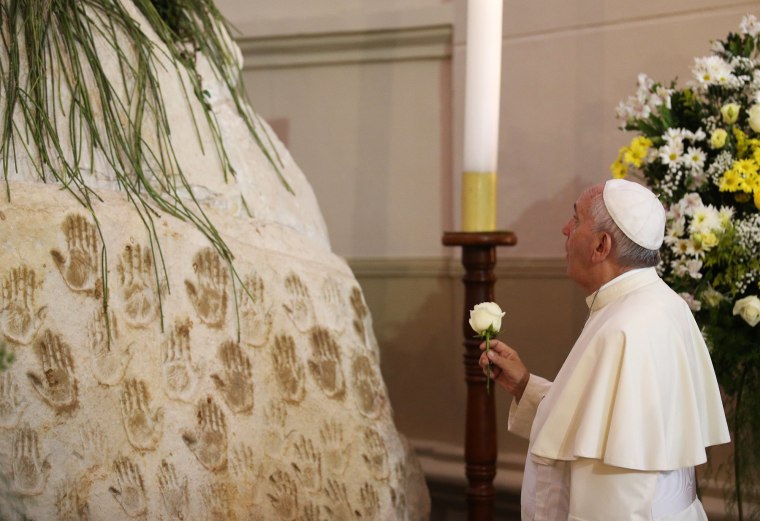 During his homily, he called the country's women "the most glorious" in Latin America, after they played a significant role in the 19th-century Paraguayan war, which decimated Paraguay's men.
"Here I would like especially to mention you, the women, wives and mothers of Paraguay, who at great cost and sacrifice were able to lift up a country defeated, devastated and laid low by war," the pope said, greeted by a loud round of applause.
Related: Bolivian 'Communist Crucifix' Gift Surprises Vatican
"You are keepers of the memory, the lifeblood of those who rebuilt the life, faith and dignity of your people," he continued.
The shrine at Caacupe is familiar to Pope Francis, who was overcome with emotion during the mass. As archbishop of Buenos Aires, Jorge Mario Bergoglio — his birth name — often visited a slum where many Paraguayan immigrants were devoted to Our Lady of Miracles of Caacupe.
Related: Pope Francis Drinks Tea Made From Coca Leaves on Bolivia Visit
"Thanks for making me feel at home," the pope said as he took the microphone before thousands of Argentinians who crossed the border into Paraguay to greet their first native pontiff.
Many waved Argentina's flag, and cheered out loud every time they were mentioned.
Next year, Francis will travel to Argentina for the first time since he was elected pontiff. He will also visit the United States later this year in September.