NEW YORK, NY -- American audiences recently got their first taste of a new - and contagious - Brazilian street dancing style that has evolved from music born in the slums of Rio de Janeiro decades ago.
For the creators of Passinho, dancing at New York's famed Lincoln Center on July 24th went beyond performing on a world-renowned stage. It was a vindication that a dance style associated in Brazil with criminals and gang activity is now seen as an art form that just happened to start in the favelas, or slums.
"Eleven passinho dancers came here to do something that when we started was discriminated against," said Iguinho Imperador, a 21-year-old dancer hailing from Favela de Manguinhos. In Brazil, he explained, the dance is still often considered an activity for vagabonds, robbers or drug addicts.
"We've begun to change this description," said Imperador.
"This [performance] helps us in Brazil to fight persecution.It's as if New York is giving funk music oxygen to continue, to take a breath and continue this fight," said DJ Sany Pitbull, one of the leading producers and advocates of Funk Carioca, after their U.S dancing debut. Passinho evolved from Funk Carioca, a soundtrack to the part of Rio that doesn't make it onto postcards and was born out of a desire to contest economic, racial and social classification.
"For a long time drug dealers were the only reference for these kids and today, these dancers have become a new reference. Kids now grow up wanting to be passinho dancers."
"Brazilians have many preconceived notions in regards to this genre [funk] and the scene suffers from these prejudices," said Tiago Gomes, project manager at the Secretary of Culture for the state of Rio. "Events like this one, funded by the consulate, are extremely important for us because if we are able to legitimize funk abroad then we can legitimize it within Brazil," Gomes said.
Bill Bragin, director of public programming at Lincoln Center, said that given some of Brazil's past legislation prohibiting funk events, it would have been unthinkable until recently to imagine a government representative advocating this dance form.
"To have art coming from the favelas really be embraced at the highest level of Brazilian hierarchy, that's amazing," said Bragin.
Passinho is responsible for this shift by inventing a new form of dancing to funk that focuses on artistry and movement rather than the violence and more negative elements associated with earlier forms of funk carioca.
"It's an 180-degree shift in their narrative," said Lincoln Center's Bragin.
Dance is becoming a viable future for kids growing up in these poor communities in Brazil. "For a long time drug dealers where the only reference for these kids and today, these dancers have become a new reference. Kids now grow up wanting to be passinho dancers," said Gomes, as he touted the new genre's positive repercussions.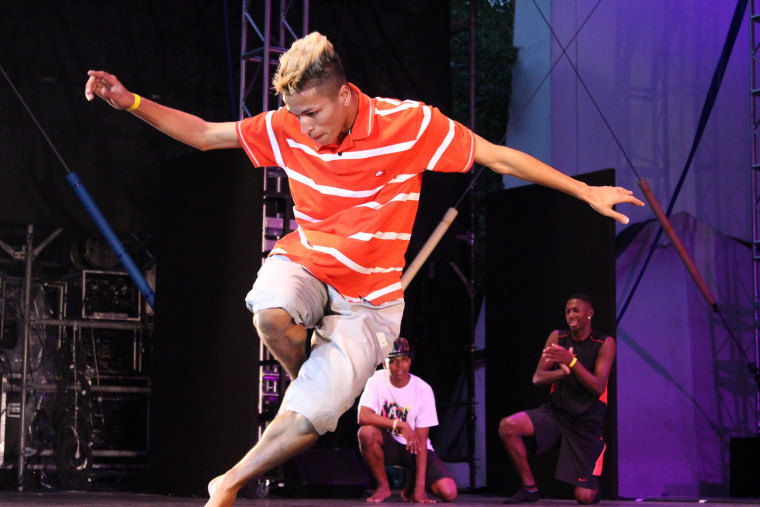 The visit and U.S. performances have already tremendously impacted the lives of these eleven dancers. "They are going back to Brazil with another level," said Paula Abreu, programming associate at SummerStage. "The fee that they are getting is higher, the requests for them to play will grow, so it's a huge validation for them to come to New York," she added.
For dancers like 24 -year old Cebolinha - who posted some of the original videos of passinho on YouTube- there's still a lot to be accomplished.
"Our goal is to turn passinho into how the world sees hip-hop. I want everyone to recognize that this dance is from Brazil," said Cebolinha.
"I can see that funk music will live a long time because they (the Passinho dancers) are the continuation," Sany Pitbull said. "In Rio, I can see kids that are 4 or 5 already dancing like these [older] kids."