Quito, Ecuador—After being diagnosed with cancer in her ankle, Kathy Pico was faced with a decision: years of chemotherapy that may or may not work, or amputating her left leg. Pico decided on the amputation, and now her life has been transformed with the help of a Chicago doctor who has used his own experience to help patients in Guatemala and Ecuador.
David Krupa, 35, was born with a congenital birth defect; his left leg was amputated when he was just one year old. Krupa visited the doctor for check-ups every six months and received a new prosthesis every two to three years.
"I grew up going to a prosthesist since I was a baby—it was part of my life and I never really dwelled on too much." Krupa said. "I never meditated on how useful this was in my life."
Intrigued by what shared experiences he might have with other amputees, Krupa attended the University of Illinois where he began a career in prosthetics. As part of his studies, he began traveling to countries such as Haiti and Ecuador, volunteering with programs that provided assistance to amputees.
As he traveled, it became increasingly clear to Krupa that not everyone had the same access to the care he had growing up.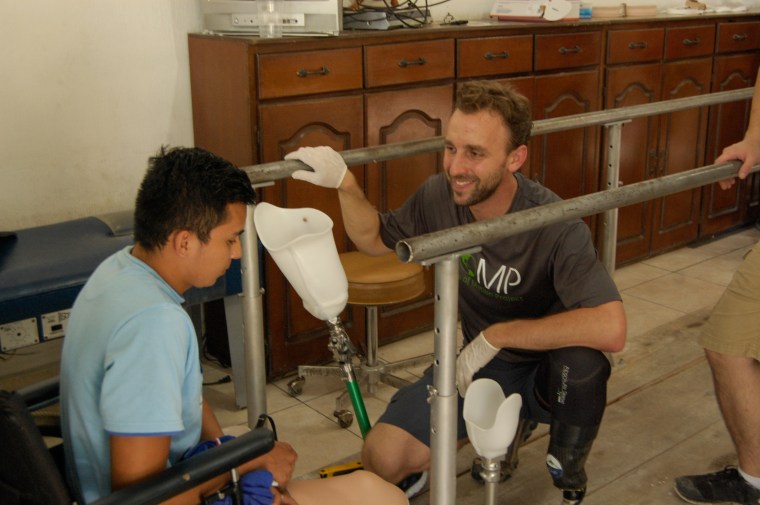 "I started looking deeper into what goes on with people who, like me, had some sort of congenital defect, but they happened to be born somewhere else in the world," he said. "I found that there's a good chance those people didn't ever get access to the care I had growing up and it fascinated me that that could be a reality for so many people."
"I began to think that we could maybe do a little more than showing up somewhere for a week out of a year to volunteer," said Krupa. "What if we really implemented some of our own ideas to see how this system could work for patients in less resource-rich countries?"
Krupa teamed up with his colleague Eric Neufeld and together the pair formed the Range of Motion Project (ROMP).
ROMP's goal is to implement low-cost simple technologies that could be permanently set up within a community that is struggling with a high volume of patients and few resources.
"We decided that if a patient were going to walk into a clinic in Chicago they would be evaluated, and then there would be a team of doctors to look at them and assess their needs based on their potential for mobility, and then they would be given the technology needed to reach their outcome potential. Why should we compromise that in a low-resource community," Krupa said.
The first ROMP office opened in 2005 in Zacapa, Guatemala, where the nonprofit supplies prosthetic limbs and orthotic braces to those who would not otherwise have access to those technologies. The five-person staff has provided approximately 5,000 patients with orthotic and prostetic care for over ten years.
A second location opened in Quito, Ecuador, where Krupa and his team work on developing new tools and patient care programs.
"Ecuador is a Petri dish where we are experimenting with projects on a very small scale," he said. At ROMP's Ecuador location the organization has begun experimenting with 3D printing to help manufacture parts of larger prosthetics.
With ROMP's help, Kathy Pico has had a chance to climb mountains - literally.
Before her cancer diagnosis, Pico, 44, suffered from chronic pain in her ankle since for decades. After her diagnosis and a year of chemotherapy, Pico decided that the best way to be cancer free would be to amputate her left leg—a decision that was scary and not initially supported by her family.
"You have this idea that you will not be able to have a normal life after an amputation, but I saw David [Krupa] and it was a huge relief because he walked perfectly," Pico said.
With the help of ROMP and Krupa, Pico was able to get an affordable prosthetic leg for walking. She also received a special prosthesis for marathon running, which otherwise would have been hard to find and out of her budget.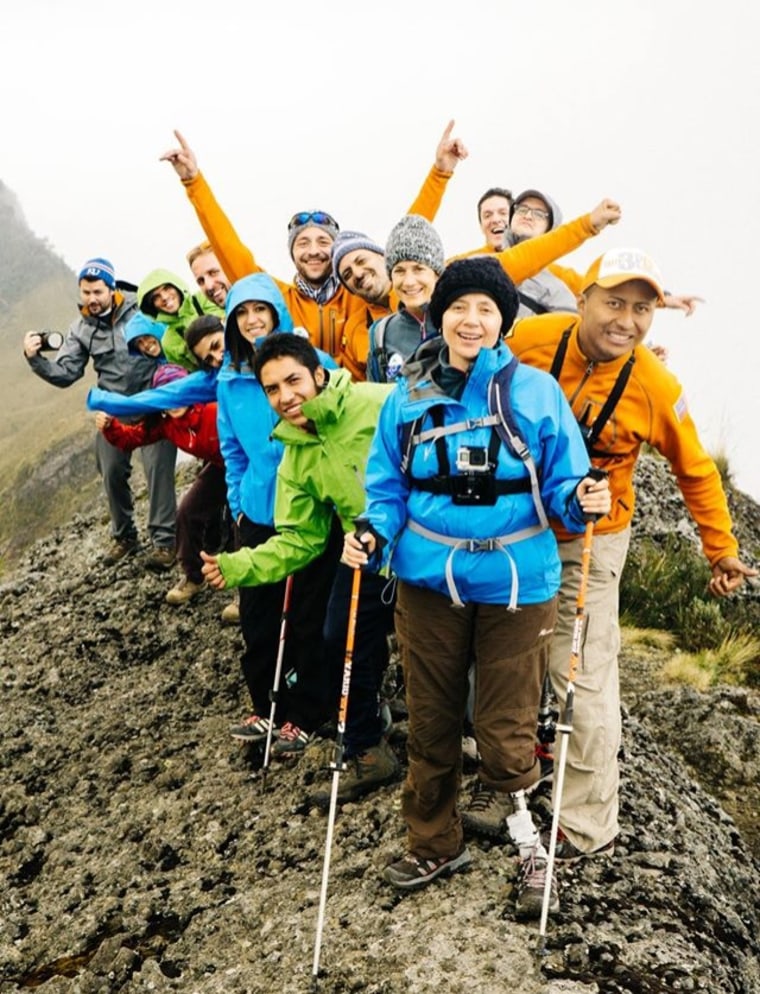 "I loved sports, watching people jog and walk, but I always had pain in my ankle preventing me from working out and dancing," Pico said. "With my leg, I decided I wanted to live and work, and to run and dance."
Gaining mobility was not always easy. Adapting to her new prosthetic was sometimes tiresome and painful. Krupa accompanied Pico on her first walk.
"Today I run 5 miles and feel normal. It's hard, but I'm happy," she said.
Pico said she has climbed 8 mountains with her prosthetic. And as far as she knows, she is the only female amputee to run footraces in Ecuador.
"Watching her go through this and start unlocking more and more of herself and what she is capable of was amazing. She has become a voice," said Krupa of Pico.
The next challenge for Krupa is bringing the program to scale so that there can be more patients like Pico.
In 2016, ROMP will participate in a special worldwide initiative encouraging people to climb for change to raise awareness about the importance of mobility regardless of people's financial abilities.
"In everything you do, your mobility is priceless." Krupa said. "Reaching a broader audience and finding ways to unite people behind this and connect them to the mission which gives mobility back to people who've lost it is key."
Around the world, 22 teams participated in the initiative last year, including Pico. For Krupa, this is just the beginning.
"The high I get out of this work is addictive—watching people take that first step when they couldn't believe they could do it and say, 'it's not as hard I thought' or 'I never ran before but what if I do a marathon now.'" Krupa said. "There're always people who will make the most of this opportunity and show others 'this is what I do with my mobility and this is how it's important'—that's a win for them and for the organization."
Tracy Jarrett reported from Ecuador on an International Reporting Project (IRP) fellowship.​