Denise Soler Cox was 4 years old when she and her family traded an apartment in the Bronx for a house in the suburbs of Westchester County. For years, they were the only Latino family living in the area.
"We were the family that was different," said Soler Cox. Her mother was born and raised in Puerto Rico and her father—who was half Puerto Rican, half Cuban—was from New York.
In school, she struggled to blend in. Kids made fun of her and called her a spic, making her feel like she was an outsider. But it wasn't just the kids at school who made her feel that way.
"When I was in Puerto Rico visiting my family, I often felt I wasn't Puerto Rican enough," Soler Cox said. "When I spoke Spanish, my family—and I don't think that they meant to be mean or they were mean-spirited at all—but they would point out how my Spanish sounded like a gringa…and the way that I looked and presented myself was just not Puerto Rican."
Whether she was in Westchester County or Puerto Rico, Soler Cox felt she was always on the outside looking in. She was caught between two cultural identities.
For years, she felt she was the only one who felt this way. But that changed one night when she went out to a bar with a group of friends in Miami. She was 26 at the time. They talked late into the night and realized they had something in common; they were all first-generation American-born Latinos with parents from Spanish-speaking countries.
"There was nothing special about the night, except for the fact that I felt incredibly connected with the people that were sitting at this particular table," Soler Cox said. "We were sharing stories. We were laughing, and I just felt connected."
Almost two-decades later, Soler Cox still remembers that night. She said it was the night she realized she was not alone in this identity crisis. There were more people who felt the same way she did. She concluded they were all part of Generation Ñ, a term she heard through a radio ad describing first-generation Latino Americans caught in between the two worlds. The term was first created in the mid-1990s by Miami-based entrepreneur Bill Teck, who started a magazine, tv show and website to shine a light on Generation Ñ.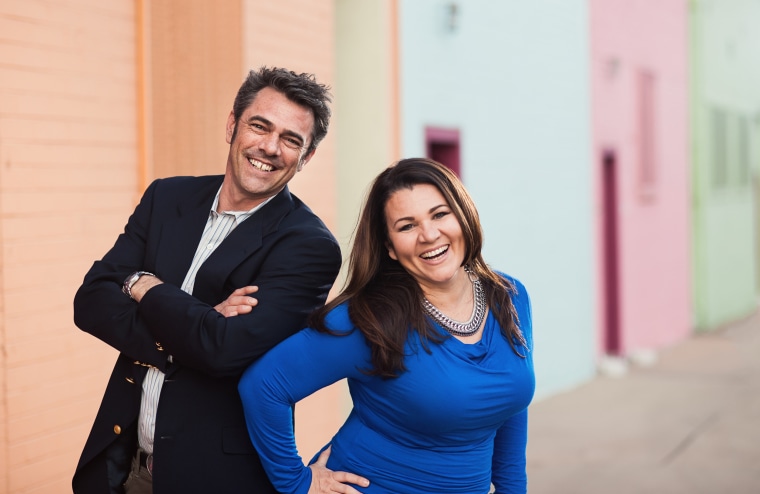 Fueled by the desire to find other Latinos with similar experiences, she thought about making a documentary. But she didn't pursue that idea until years later, when a friend connected her with a filmmaker who made documentaries. That filmmaker was Henry Ansbacher, a four-time Emmy Award winner and Academy Award nominee.
The two of them joined forces in 2013 and formed Project Enye (ñ), a multimedia documentary project focused on telling the stories of first-generation American-born Latinos who have at least one parent from a Spanish-speaking country. Soler Cox refers to this group of Latinos as Enyes. She estimates there are about 16 million of them across the United States.
"It's a name that we all can use to empower ourselves, and it speaks volumes," she said about the term Enye. "If you know that I'm an Enye and you're one too, we know about each other already."
Project Enye (ñ) is meant to provide a space where Enyes can share what it's like to navigate between being American and being Latino. Every week, short videos of Enyes sharing their personal experiences are posted on the website. They talk about how proud they are to be both American and Latino. But some also talk about the bad experiences they've had, like getting picked on for not speaking Spanish or being accused of having a "white washed way of thinking."
Charles Carpenter appears in one of those short videos. He was born in Toppenish, Washington, to an American father and a Salvadoran mother. His parents divorced when he was 5 years old, and he stayed to live with his father. He speaks only a few words in Spanish and knows very little about El Salvador.
"When people would come up to me and would want to engage with me in Spanish, I always felt like I was letting them down," he said. "You could just see the look in their eyes the minute they saw that I didn't know the language. It always made me feel kind of disappointed in myself."
After reconnecting with his mother a few years ago, Carpenter is now exploring his Latino roots. "I feel like I'm more open to embracing that part of me," he said. "And I feel like it's an important thing to do, not just a nice idea."
The short videos, including the one featuring Carpenter, are part of a documentary that Project Enyte (ñ) will release in the fall. It'll feature a number of Latinos talking about their Enye experience and narrow in on Soler Cox's personal story.
Soler Cox said the documentary will show how she experienced "shame and confusion" at times. It'll also show how growing up between two cultures "has a lot of benefits."
"I can cook really great Puerto Rican food, but also I'm a total foodie—I can cook all different types of foods," she said. "I can speak in English, and I'm pretty fluent in Spanish."
Whether she was in Westchester County or Puerto Rico, Soler Cox felt she was always on the outside looking in, caught between two cultural identities.
Ansbacher is not a Latino—he comes from a German family—but said he can relate to Soler Cox's experience. His grandfather moved to the U.S. from Germany in the 1930s, and his father was born in Vermont a few years later. He said a comment his father made to him years ago gave him the impression that his father's upbringing was "similar in a lot of ways" to that of Soler Cox.
"He told me that after four years he thought Heinze, my grandfather, could have lost his accent," Ansbacher said. "That kind of revealed to me a little bit that maybe that was an issue for him growing up—that his dad was different from the other dads in Burlington and that he might have had a little shame of his dad's accent."
Ansbacher added that while working on the documentary, he has been "so surprised" and "so impressed" by how Enyes are able to instantly connect with each other at a "core identity level." He said he hopes the documentary will help grow consciousness about what Enyes are and what they experience.
Soler Cox has a similar goal. She said she wants the term Enye to become "part of our social vernacular so that all Enyes know that they're Enyes and that they can choose to identify with that or not. That is a huge goal for me—for all Enyes to feel empowered and connected."