Hundreds of protesters took to the streets in two of Bolivia's major cities on Thursday night, part of the escalating criticism over the government of President Evo Morales.
Thursday's demonstrations were the second wave of mass protests this month. On Oct. 4, hundreds of thousands flooded La Paz, the capital, to call for a "punishment vote" against Morales, who, after 13 years in office, is up for re-election on Oct. 20.
The government is grappling with outrage over its response to wildfires in Bolivia's forest lands. Starting in May and worsening in August, the wildfires blazed through the Amazon rainforest, charring more than 4 million hectares of land (about 10 million acres).
While much of the international attention over the recent Amazonian fires was focused on Brazil and the actions of its far-right leader Jair Bolsonaro, Bolivian activists bemoan the lack of media coverage and international pressure on the fires' impact on the Bolivian ecosystem and the Bolivian government's response.
Jhanisse Daza is a founding member of the activist group Ríos de Pie, which advocates nonviolent action and awareness over environmental issues and human rights. The hardest thing to communicate to the international community, Daza said, is that Morales' speeches on the world stage have not aligned with his practices.
"You don't grow trees with speeches," Daza said. "You grow them by planting and working on the land."
The wildfires pose a threat not only to the country's biodiversity and eco-driven economy, but also to Morales' chances at re-election. Morales is Bolivia's longest-serving socialist leader.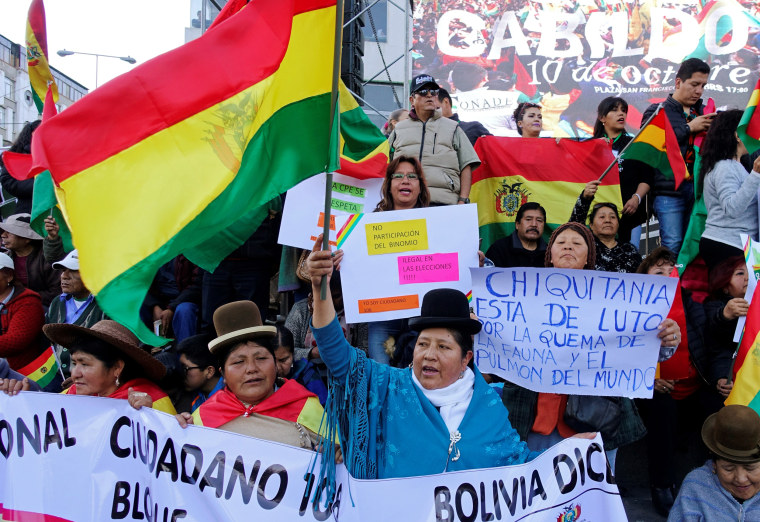 Many Bolivians, especially those in the conservative party, were upset at Morales' attempt to seek re-election despite a popular referendum that upheld term limits. He was able to run only because the country's Supreme Court ruled that term limits violated Morales' political rights.
Environmental policies fall short?
Morales, a former llama shepherd and coca farmer from the Bolivian highlands, became the first indigenous president of a majority indigenous nation in 2006. Since the start of his political career, he has based much of his narrative around unions, indigenous rights and a commitment to the Pachamama, a Bolivian term for "Mother Nature."
However, critics and opposition candidates say that Morales' environmental policies have fallen short of his rhetoric. Since 2013, the Morales government passed at least four laws and six decrees that expanded the agricultural use of land in forested areas. The country's land management authority said that deforestation doubled in Bolivia after the government quadrupled permitted deforestation areas for farmers in 2015.
Bolivia's fires were partly the result of the practice of slash-and-burn, used by indigenous farmers who make up a large portion of Morales' political base.
Ultimately, a welcome downpour of heavy rains helped firefighters extinguish most if not all of the fires in the Chiquitanía, but Morales's government could be in peril if his biggest rival, former President Carlos Mesa, is able to leverage outrage over Morales' most recent environmental practices.
Tightening poll numbers predict that Morales may be forced to face off with Mesa, who is pro business, in a runoff. In late September, a poll indicated that while Morales still leads Mesa, his support had slipped by over 5 percentage points.
If Morales does win a fourth term in office, he'd remain in power until 2025, in violation of a two-term limit set in the constitution that established by his own party but then disregarded under the Supreme Court ruling.
Follow NBC Latino on Facebook, Twitter and Instagram.