Racial segregation has been deepening in public education, offering a sobering reminder of the nation's history when it comes to racial and economic isolation in classrooms, according to a recent report published by the Government Accountability Office Tuesday.
Published on the anniversary of the landmark ruling of Brown v. Board of Education, the GAO found evidence of growing racial divides persisting in public education. The number of Black and Latino students enrolled in impoverished K-12 public schools increased 11 percent between 2001 and 2014.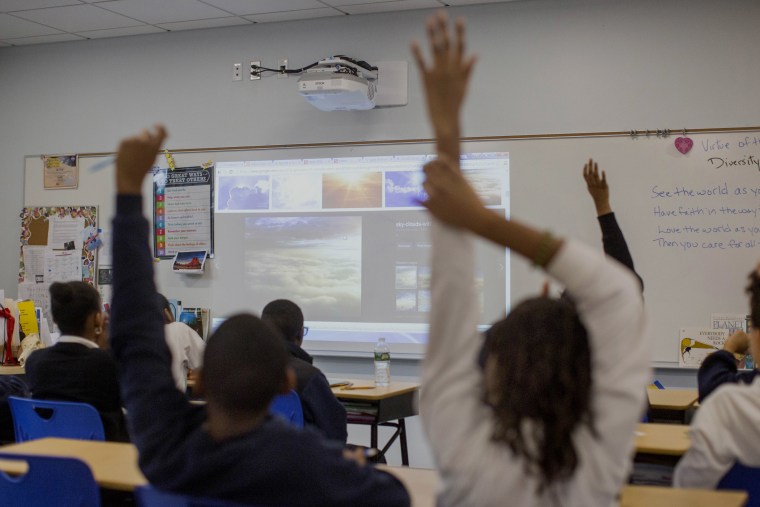 These schools were found to be the most poverty-stricken, minority-segregated schools in the country, with more than 75 to 100 percent of Black and Latino students eligible for price-reduced lunch. This parameter is commonly used as an indicator of poverty.
These schools were also found to have offered fewer STEM courses and advanced placement, college-prep courses. About 48 percent of high-poverty schools offer AP courses, while 72 percent of low-poverty schools — with 0 to 25 percent of students on free, reduced lunches — offered these college-level courses.
RELATED: Are African-Americans Locked Out? State of Black America Report
These schools have higher rates of students unable to advance from the ninth grade, as well as more students who had been suspended or expelled. Five percent of students at low-poverty schools will received an out-of-school suspension, while 22 percent in high-poverty schools will be suspended more than once.
The report claims magnet schools with open enrollment did not accept minority students in order to maintain an even ratio of white and minority students. The report finds school districts did not use race as a classification for increasing integration, citing the 2007 case Parents Involved in Community Schools v. Seattle School District No. 1 as an example.
RELATED: More Latinos Are Going to College, But In Small Number of Schools
"The GAO's report clearly shows that the ability of African-American and Latino students to access a diverse, high-quality public education is declining and that decline is fueled by the increasing privatization of our public schools," said Jitu Brown, National Director of Journey for Justice, in a statement. "This research reflects a sad reality: the color of your skin is more likely to determine whether you have access to a high-quality, well-resourced and diverse public school."
Researchers found the three districts reviewed by GAO had made steps to address the stark racial and economic disparities in its public educational facilities. These measures included implementing magnet schools within the district to attract more diverse students.
RELATED: More Latinos With STEM Degrees Needed, Here Are Top Schools Doing It
Still, one of the districts faced challenges after the state allocated funding to magnet schools, which in turn lessened the quality of traditional schools within the region. These districts also faced issues with transportation and gaining support from parents.