Puerto Rican flags waved and and a crooner sang of a longing for San Juan from beneath the U.S. Capitol dome in a Congressional Gold Medal ceremony Wednesday honoring members of the Army regiment known as the "Borinqueneers."
Members of the 65th Infantry Regiment fought in both World Wars and Korea. The regiment carried the name Borinqueneers because it's members were mostly Puerto Ricans. The pre-colonial name for Puerto Rico was Borinquen.
"Throughout their service, they suffered persistent discrimination. For too long, their contribution to our history has been overlooked, so today, today we are setting the record straight by giving them the highest award within our possession, the Congressional Gold Medal," said House Speaker Paul Ryan, R-Wis.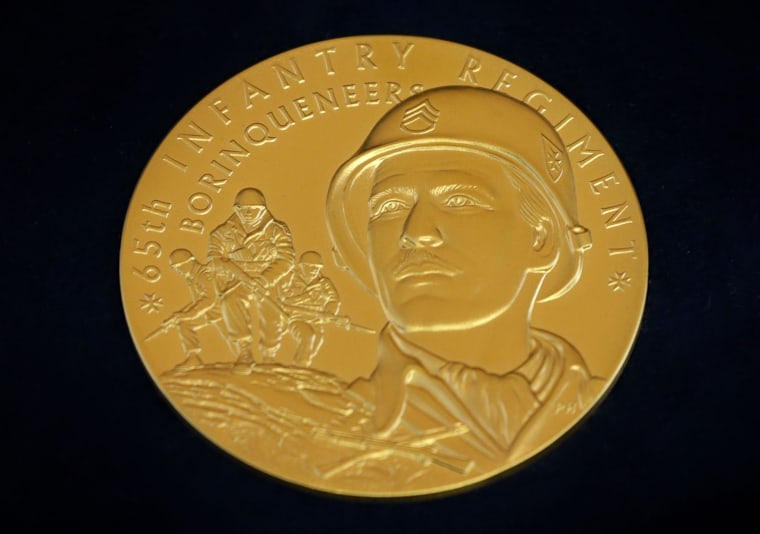 Ryan recognized three Borinqueneers at the ceremony: José Colon, Manuel Siverio Sr. and John Palese, while other speakers mentioned additional members in the event that was livestreamed and archived on C-SPAN.
Siverio, a retired colonel, drew cheers and applause when he opened his speech with "fellow Borinqueneers." He called the medal "a well deserved tribute" to those who fought, survived and lost their lives and whose "many acts of valor against the enemy demonstrated their skills and their loyalty to the United States."
"I accept this medal in the name of all living Borinqueneers, the families who lost their loved ones, the families of over 100 missing in action and whose remains have not been recovered," Siverio said.
Shortly after Siverio's speech, a soloist with the U.S. Army Band and backed by the chorus, sang "En Mi Viejo San Juan" ("In My Old San Juan), a song written for a World War II soldier homesick for Puerto Rico that has become an anthem for Puerto Ricans in New York. It clearly moved Puerto Rican attendees, with several, including Rep. Nydia Velasquez, joining in the "anthem."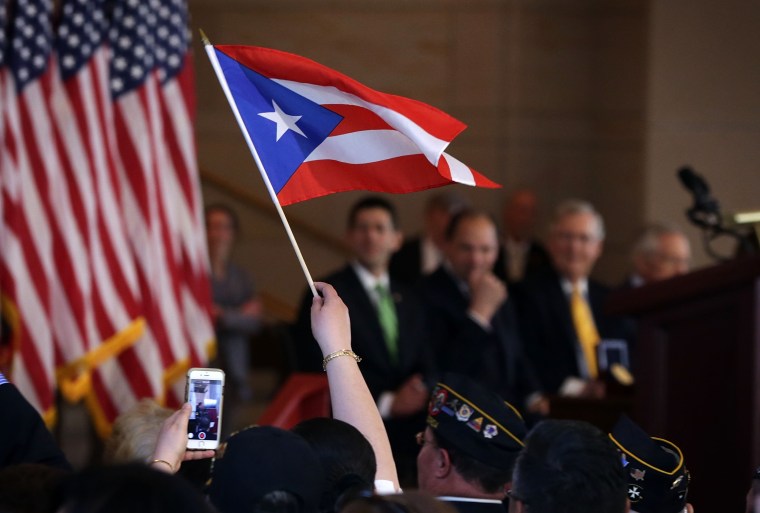 To open the ceremony, U.S. Senate Chaplain Barry Black touched on the discrimination experienced by the soldiers in his blessing. He prayed for forgiveness "for segregating our Puerto Rican and Latino soldiers" and "for being slow to acknowledge their contributions."
The ceremony came a few hours after a House committee held a hearing on proposed legislation to address the multibillion-dollar debt and fiscal crisis that has crippled Puerto Rico, forced it to lay off hospital workers and put basic services in jeopardy, as well as touched off an exodus of tens of thousands from the island to the U.S. mainland.
Puerto Rico's representative in Congress Pedro Pierluisi, who has been critical of lawmakers' slow response to Puerto Rico's fiscal crisis, said the ceremony could not be more timely.
"The U.S. territory of Puerto Rico faces enormous challenges. It has been difficult for my constituents and I to see the island we love suffer and it is easy to lose spirit as the good name of your home is tarnished," he said.
"American soldiers from Puerto Rico remind the public of the extraordinary contributions Puerto Rico has made to this country," he said.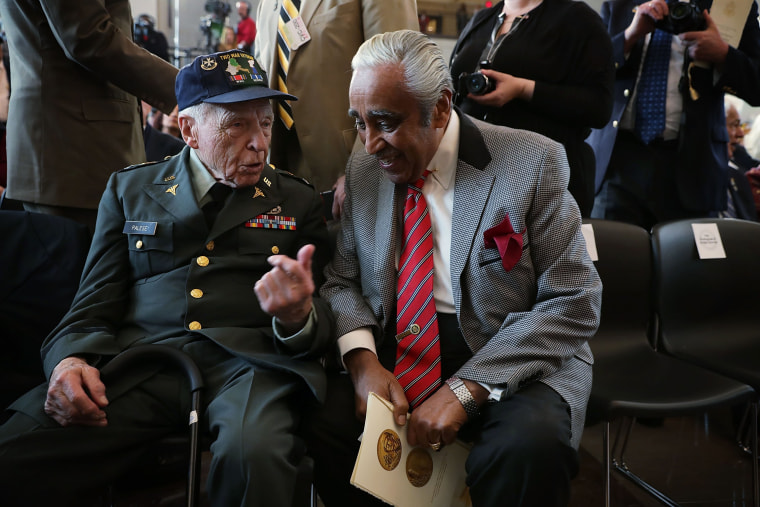 Sen. Marco Rubio, R-Fla., a co-sponsor of legislation to honor the Borinqueneers, reminded the audience of the regiment's many members who died before Congress authorized the medal. He called the honor overdue.
"I wish we could have honored you with this medal sooner," said Rubio, the former GOP presidential candidate. He said more than 1,000 Borinqueneers are still living in the U.S.