A record number of young immigrants known as DREAMers were to attend the State of the Union on Tuesday, joining Latinos representing issues of national significance, from immigration reform to President Donald Trump's response to hurricane-ravaged Puerto Rico.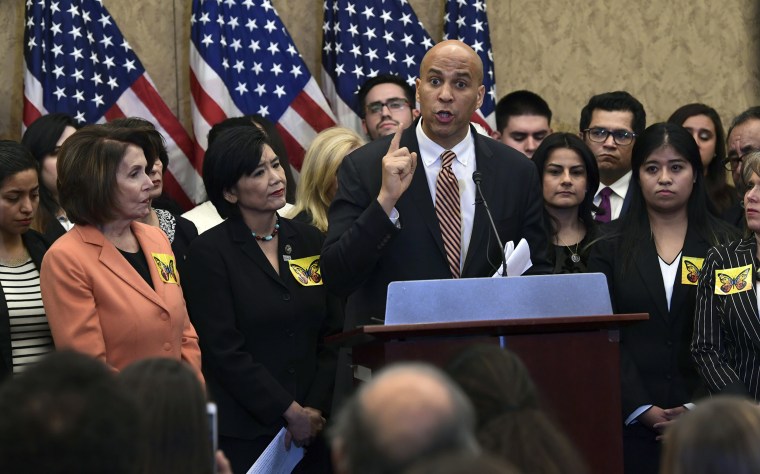 "The 23 DREAMers at tonight's SOTU is the most ever," said Astrid Silva, an activist and DREAMer from Las Vegas who is attending the State Of The Union as Rep. Ruben Kihuen's, D-NV, guest.
Trump was scheduled to deliver his first State of the Union address Tuesday at 9 p.m. EST.
Many congressional members invited guests to highlight the anxiety of immigrants with the impending end of immigration protections for Dreamers under the Deferred Action for Childhood Arrivals and Temporary Protected Status (TPS), as well as the suffering of hurricane victims in Puerto Rico.
The acrimony that has dominated immigration negotiations in Congress spilled into the run-up to Trump's speech when Rep. Paul Gosar, R-Ariz., tweeted that he had contacted Capitol police and Attorney General Jeff Sessions and asked that officers check identification of everyone attending the State of the Union address and arrest those who are undocumented.
"Of all the places where the Rule of Law needs to be enforced, it should be in the hallowed halls of Congress. Any illegal aliens attempting to go through security, under any pretext of invitation or otherwise, should be arrested and deported," Gosar said.
His statements were quickly condemned.
Rep. Michelle Lujan Grisham, a New Mexico Democrat who chairs the Congressional Hispanic Caucus, said Gosar is infringing on her job of representing all her constituents. "I find it personally offensive that a member of Congress is interfering with my ability to do my job .. I hope somebody tweets that out," she said.
Claudia Baez, one of the tens of thousands who fled the island after Hurricane Maria, hoped that when she sat among congressional members and Cabinet secretaries at the State of the Union, she'd be a reminder to them and Trump that her homeland still needs help.
Baez was invited to be a the guest of Florida Democratic Rep. Darren Soto at this year's State of the Union. The opportunity is bittersweet, Baez told NBC News.
"I want to be that voice that reminds Congress that the work in Puerto Rico is not over," said Baez, who now lives in Florida.
"We wanted someone who represented the resiliency of the people in Puerto Rico, their ability to overcome adversity, and inspire others to help," Soto said of Baez.
Lawmakers are punctuating their positions on Trump's policies with their invited guests. Along with Puerto Rico's struggle to recover, others are highlighting the need for a path to citizenship for young immigrants who have been in the U.S. as children while others have guests who could lose that has allowed them to live in the country for decades.
Other events were being held around the country, watch parties were planned by groups in various states and a rally was planned in Cleveland, Ohio just before the speech, to denounce Trump's deportation and other immigration policies.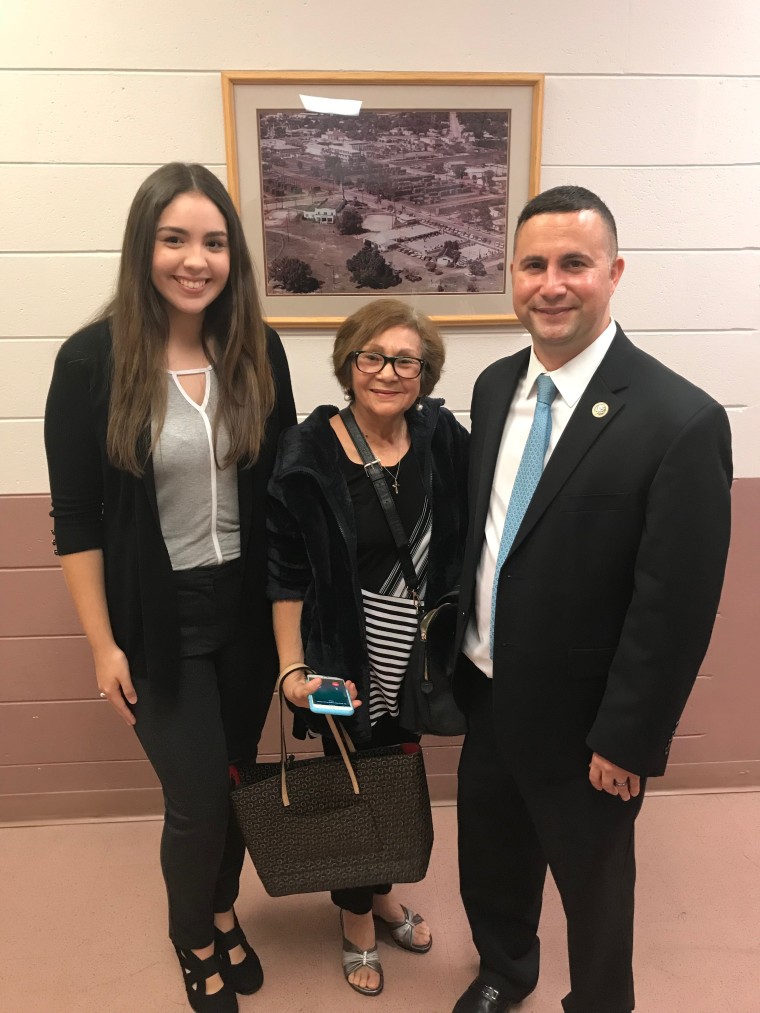 More than 60,000 Puerto Ricans left Puerto Rico and remained in Florida, running away from an island where the new normal consists of lack of power, soaring crime rates and a shortage of law enforcement officials on the streets.
"Not having food or water is one thing. You can work around that and get through, but when crime rises dramatically, one has to take action," said Emmanuel Ortiz-Nazario, a displaced Puerto Rican from Bayamon who moved to Orlando with his wife and two children.
Ortiz-Nario was invited by Rep. Stephanie Murphy, D-Fla. Sen. Kirsten Gillibrand, D-N.Y., is bringing San Juan, Puerto Rico Mayor Carmen Yulín Cruz and Florida Rep. Kathy Castor, D-Fla., is bringing Brenda Irizarry, a member of her Taskforce on Puerto Rico.
Ortiz-Nazario benefitted from vouchers from the Federal Emergency Managment Agency, FEMA, that allowed him and his family to live in a Woodsprings Hotel in Orlando for almost three months while they searched for a permanent place to live and so his kids could continue attending school.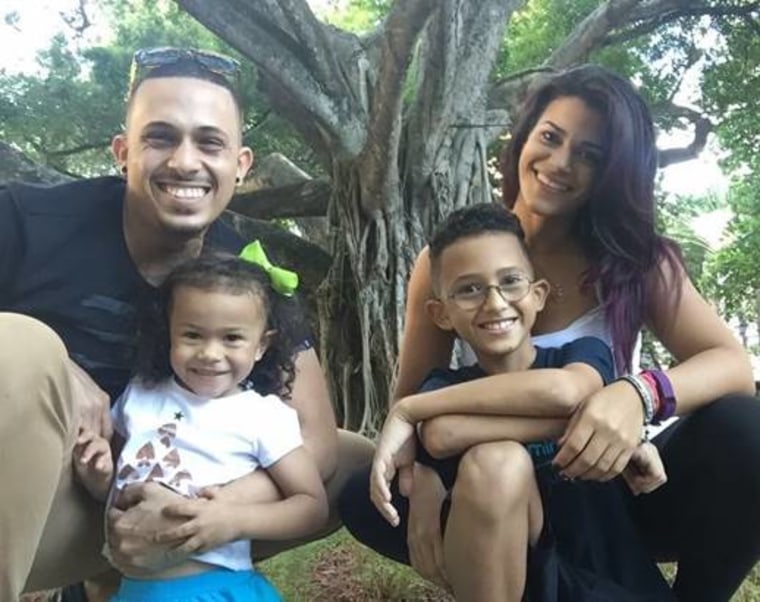 "We're people that make it work and we don't just stay stuck," Ortiz-Nazario said. "Fortunately, we're in the process of moving into an apartment but this would've been a difficult process if they would've not extended our FEMA vouchers until February 6th," Ortiz added.
Baez is able to attend college thanks to a Florida law that granted in-state tuition to students from Puerto Rico, but the island's slow recovery constantly reminds her of September 20th — when Hurricane Maria hit Puerto Rico.
Baez was starting her first year of college at The University of Puerto Rico that same week, when the storm turned her life upside down.
"I saw so many houses that lost their ceilings, waiting for help to arrive. I saw it all. It is so real that it is hard to put into words all the suffering I witnessed," Baez said, her voice cracking.
"It is not easy being here, knowing the sacrifice my parents are making back in the island, where they don't even have access to their basic necessities," she added.
Just like Baez, the lives of many Latino students have changed unexpectedly while trying to get a college education.
For Leticia Herrera the disaster was man-made. Trump's repeal of Deferred Action for Childhood Arrivals, better known ad DACA, could impact her and her family. The program provided protection from deportation and allowed her to work. Trump set a March 5 date for the program to end and so far, Congress hasn't been able to come up with a substitute.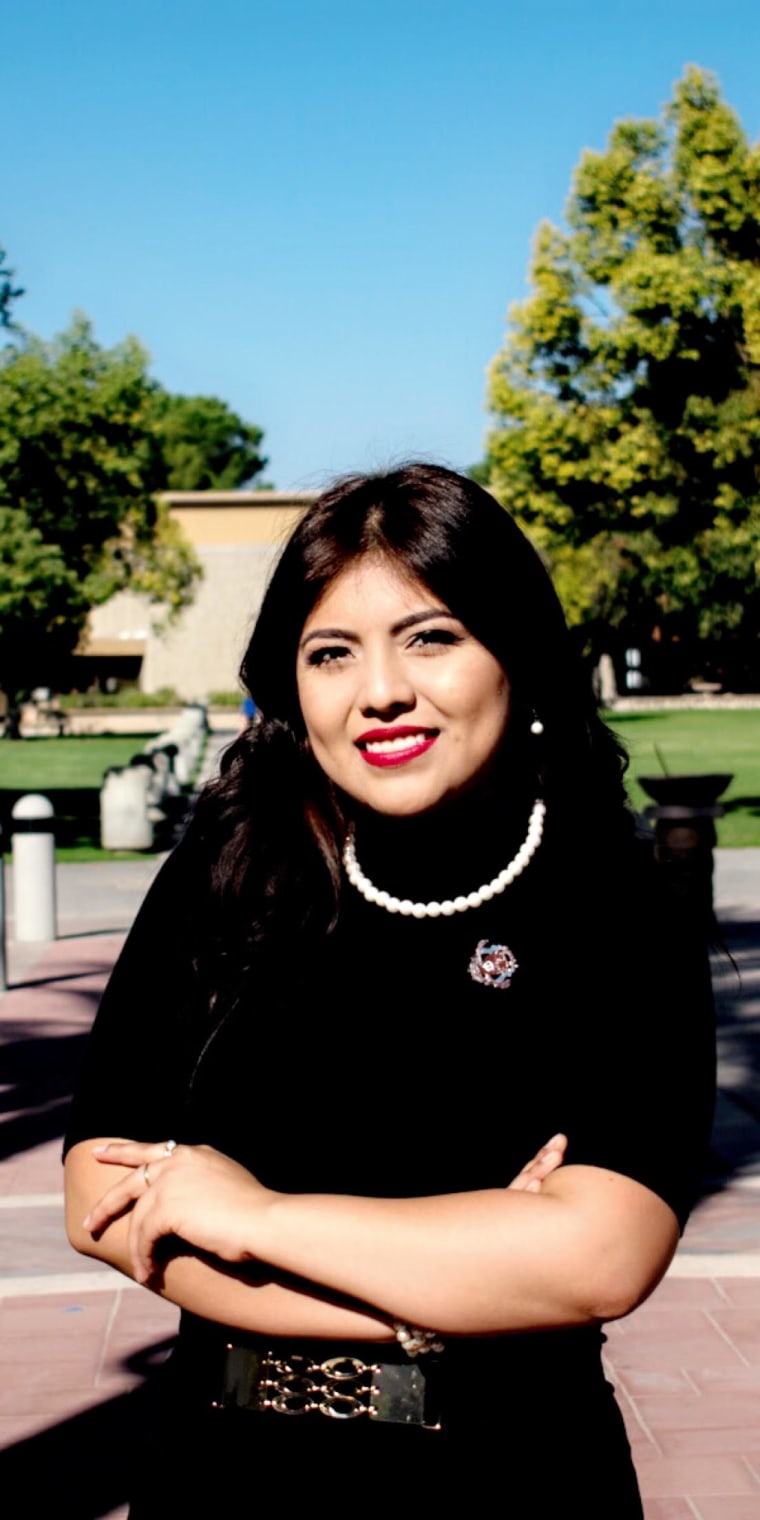 Herrera was brought to the U.S. as an 8-year-old from Oaxaca, Mexico. Now 20, she is a junior at CalState University in San Bernardino, California and is attending the State of the Union as Congressman Pete Aguilar's guest. Aguilar, a Democrat, represents San Bernardino and Rancho Cucamonga in California.
"Every day Congress fails to pass a solution that protects DREAMers, and people like Leti are forced to live with a cloud of uncertainty over their head," Aguilar said.
Polls have shown heavy support among Americans for the DACA program and for a path to citizenhip for immigrants, including a poll of millennials that showed more than 75 percent of millennials of all racial groups support for citizenship for undocumented immigrants who meet DACA eligibility. Some of those groups had higher support for border security.
Herrera is not only standing up for DREAMers nationwide. She's continuing the activism legacy of her deceased sister who was also a DACA recipient.
"My sister recently passed away on December 14th of last year. Seeing her being an advocate, being a mom, being an activist as well, she has inspired me so much to continue fighting for our rights," Herrera said about her sister, Norma who, at was 22 and died after a brain bleed.
Herrera is now the oldest of three siblings and the aunt of a 5-year-old. And with a DACA permit valid until 2019, she's the one "making sure to let my parents know that if anything happens to them, I'll be able to take care of everything."
Salvadorans like Edenilson Granados,35, lost their Temporary Protected Status, TPS, after the Trump administration declined to extend it again. Presidents have done so since it was first granted in 2001.
After raising concerns about the president's decision to his bosses at work, Granados's story got the attention of Rep. Seth Moulton, D-Mass., who invited him to be his guest.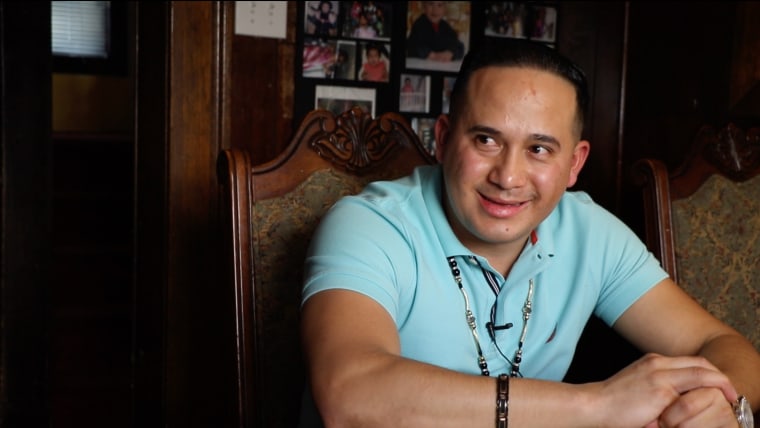 The end of TPS could force more than 200,000 Salvadorians out of the U.S., making them return to a country many of them have not seen in years.
"I can't live there in peace. Gangs over there put cuotas (demands for payment) on the people that live there. If you don't pay, they kill your family and kids to show you that the threat is real," said Granados, who has been living in Boston for the past 18 years.
"Taking away my TPS leaves me with no status, no job and no education for my children," Granados added.
Granados' alternative to stay in the U.S. would be a residency petition that his father, who is already a resident, can request. Granados' father put in the request four years ago, but this process is at least seven years long. His TPS expires next year.
"In the meantime, anything can happen. Immigration authorities can come, and then what? There's got to be another solution for TPS," Granados said.