GUAYANILLA, Puerto Rico — Gilberto Feliciano plans to stay here in the government-run outdoor shelter he has been living in the last three weeks, along with 700 other displaced Puerto Ricans, for as long as he can — or at least "until the shaking stops."
The neighborhood he lives in, Indios, in the island's southwest, was at the epicenter of back-to-back earthquakes this month that triggered a string of seismic activity that may last about a month, according to the U.S. Geological Survey.
The first quake, at 5.8 magnitude on Jan. 6, hit as people were celebrating Three Kings Day. The tremor knocked down a popular tourist landmark known as Punta Ventana, on the beach in Guayanilla.
Hours later, a 6.4-magnitude quake, the biggest on the island in a century, destroyed most of Feliciano's hometown. It also killed at least one person, caused an islandwide blackout and devastated countless buildings. It caused $110 million in damages across 559 structures, according to Puerto Rico Gov. Wanda Vázquez.
For Feliciano and over 4,000 other people displaced by the quakes, returning to a safe home is getting more difficult as the U.S. territory's government runs up against funding delays, shortages of inspectors to assess damages, and lack of a viable plan to temporarily relocate those sleeping outdoors to safer housing.
Feliciano, a former construction worker, is convinced that no building in the southern part of Puerto Rico is safe. "My house, especially, moves like a snake. First, you hear a sound like a truck and then the shaking."
Sixteen southern towns hit by the quake have been federally designated as major disaster zones — including Guánica, Guayanilla, Peñuelas, Ponce and Yauco. The mayors of those towns estimate that they sustained over $460 million in damages combined.
Angel "Luigi" Torres, the mayor of Yauco, told NBC News that hundreds of small businesses were destroyed in his town and at least 3,261 homes were damaged. Sixty-two of them collapsed and 245 are compromised, meaning that "if it's still trembling, they could fall down."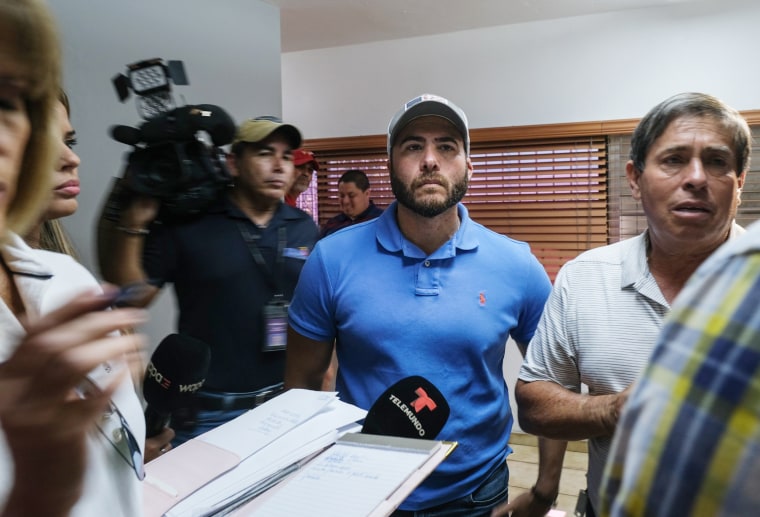 So far, the Federal Emergency Management Agency has approved at least $3.6 million in household and individual assistance aid, but has not disbursed all of it to the island.
The road to recovery remains complicated: At least 2,581 quakes have jolted the island this month, according to the Puerto Rico Seismic Network, among them a 5.9-magnitude temblor on Jan.11, a magnitude 5.2 four days later and a magnitude 5.0 this past weekend. At least 186 tremors have been felt on the island, the most in a decade.
Long inspection lists, engineer shortages
People displaced by the quakes share Feliciano's concerns, especially after seeing the unprecedented destruction in their towns.
Mayra Rivera and José Quiñones Nazario live in Barrio La Luna in Guánica, where virtually every single home was damaged. They refuse to return until they know it's safe.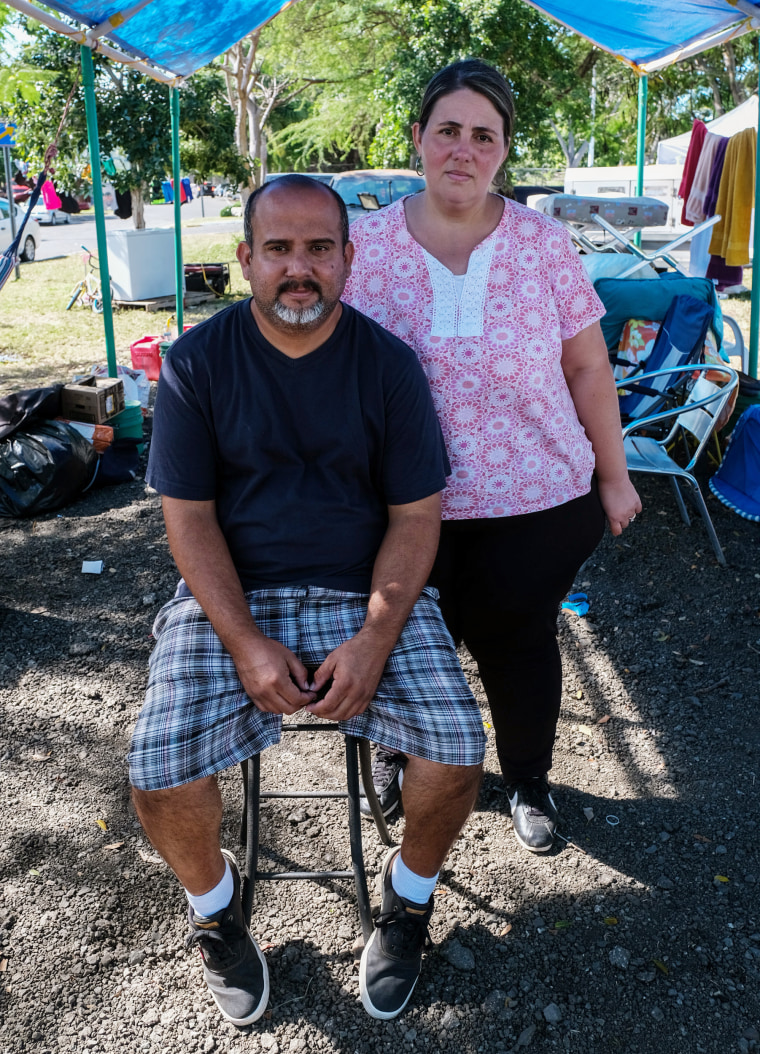 The couple put in a request to have government inspectors assess damages and determine whether their house is habitable. But Rivera said the list is so long, no one knows how long will it be before they get answers.
In Yauco, Torres said he's facing the same hurdle because of a shortage of structural engineers trained to inspect damaged infrastructures and determine whether they're safe.
"We have like 40 engineers but they are not enough," he said. "We're in need of engineers that can come here and help us inspect 3,000 homes here that have damages."
Lucy Morales owns one of the collapsed homes in Yauco. Volunteer engineers inspected her house and said it was unsafe. Since then, she's been camping outside her house.
"We've got to stay here because, to get access to the funds from FEMA, the owner has to be here in the house," said Morales, who lives in the neighborhood of Alturas del Cafetal, where essentially every single house suffered serious damage.
Finding a safe place to relocate
FEMA Administrator Peter Gaynor told Vázquez on Monday that her administration needs a plan to make sure thousands of people don't live in tents and other outdoor shelters when hurricane season starts in June.
Ayuda Legal Puerto Rico, a nonprofit that provides legal support to low-income communities, is urging Vázquez to release a "temporary and permanent relocation and housing plan" for families who have been living in outdoor shelters "between mud and mosquitoes" and yearn for "decent housing."
Raúl Santiago-Bartolomei, research associate at the Center for a New Economy, a nonpartisan think tank, told NBC News that finding temporary housing may be daunting due to an affordable housing crisis that predates 2017's Hurricane Maria, the worst natural disaster in the island's modern history.
Currently, Puerto Rico's limited affordable housing inventory includes about 8,000 homes under the Section 8 housing voucher program and about 20,000 public housing units.
But the issue is whether these available housing units are safe, said Ricardo Alvarez-Díaz, an architect who is a governor-appointed member of the Construction and Housing Advisory Council of Puerto Rico.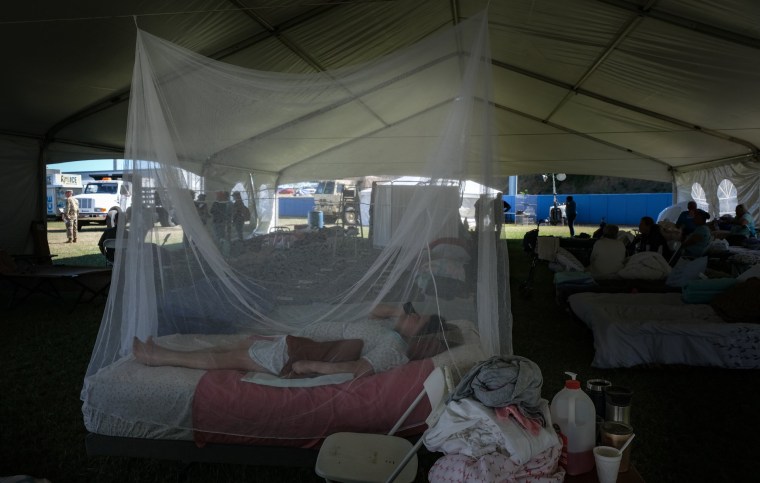 "Construction codes in Puerto Rico have included seismic requirements since 1987, but much of the buildings were built before then. As a result, many structures and schools are not in compliance," said Álvarez-Díaz, the founder of one of the island's largest architectural firms.
While all of the congressionally approved funding for Hurricane Maria complies with seismic code requirements, he said that "more must be done to enforce current construction codes to help ensure the safety of people in Puerto Rico."
Vázquez said at a news conference on Tuesday morning that the goal is to identify the needs of those who are displaced, brief them on available resources and do the appropriate inspections in the next 30 days.
Such resources include the Home Investment Partnership Program, which offers low-income families a chance to buy affordable homes through individual grants or loans; FEMA's Transitional Sheltering Assistance, which provides short-term lodging to evacuees through hotels or other temporary housing arrangements; as well as other services through other community development grants.
Vázquez said she hopes to relocate all the displaced families in less than two months.
After being hit by Hurricane Maria and the quakes this month, it's crucial to "begin to redesign a reconstruction process that allows us to live at low risk, since natural disasters cannot be avoided," said Deepak Lamba-Nieves, a research director at the Center for a New Economy. "Planning is crucial to the mitigation process."
Roadblocks to rebuilding after Maria
The federal disaster declaration was supposed to allow recovery aid to start flowing to the island to assist thousands of people with temporary housing, home repairs and low-cost loans to cover uninsured property losses, among other kinds of FEMA assistance.
But it's still unclear how much aid would go to rebuilding destroyed communities.
House Appropriations Committee Chairwoman Rep. Nita M. Lowey, D-N.Y., introduced legislation to provide $4.67 billion to help Puerto Rico after the earthquakes, but the funding process may face significant delays, just like the disbursement of hurricane relief funds.
This month, the U.S. Department of Housing and Urban Development ended its yearlong hold on $8.2 billion of hurricane aid funding, provided through its grant program known as CDBG-DR, to help Puerto Rico rebuild hurricane-ravaged homes.
"Over two years after Maria, not a single home has been rebuilt with CDGB funds," said Santiago-Bartolomei.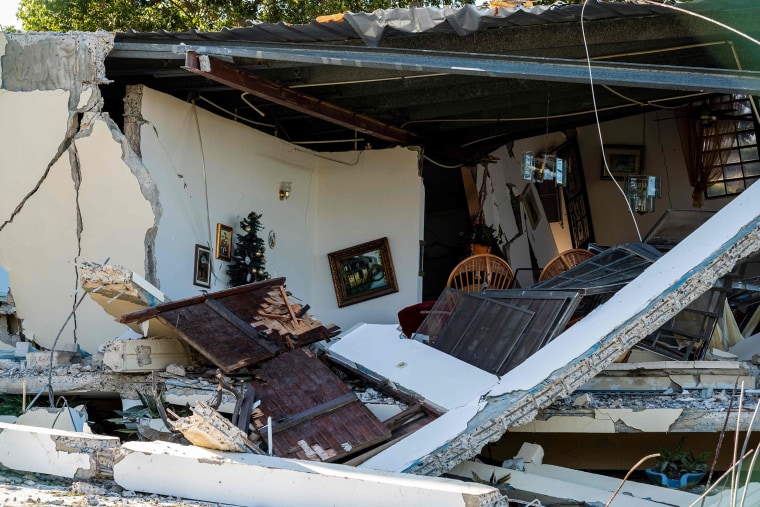 The final release of HUD funds also came with a series of last minute restrictions that severely limit how the money can be used. They seek to prohibit the use of funds to rebuild the island's electrical grid; suspend its $15-an-hour minimum wage for federally funded relief work; require that budget plans be submitted to Puerto Rico's federally appointed fiscal control board; and give more power to a newly appointed federal monitor.
Experts such as Sergio Marxuach, policy director at the Center for a New Economy, worry the restrictions could set a dangerous precedent and disproportionately delay one of the biggest post-disaster reconstructions in U.S. history.
"The situation in Puerto Rico is so desperate and the island really needs those funds at any cost," Marxuach told NBC. He added that federal agencies like HUD "seem to be taking advantage of that."
In the meantime, residents like Gilberto Feliciano are looking for answers — and a dwelling where they feel safe.
"There isn't a place that's secure right now," Feliciano said. "This is bad."
Follow NBC Latino on Facebook, Twitter and Instagram.