Orlando, Fla. -- On the phone at Marco Rubio's headquarters, volunteer Beddie Nemcik's chat in Spanish with a potential voter is sprinkled with references to the American Dream and middle class.
After moving to the mainland nearly two decades ago, Nemcik sees Rubio, her home state senator, as the candidate who will best serve Puerto Ricans' interests.
Not so for Gladys Santiago, 35, who recently moved to Florida for good after moving between the island and the mainland. She's solidly behind Hillary Clinton.
Santiago and Nemcik are among the growing number of Puerto Rican voters within Florida's coveted and diverse Latino electorate that also includes generations of Cuban-Americans, Latin Americans and some Central Americans.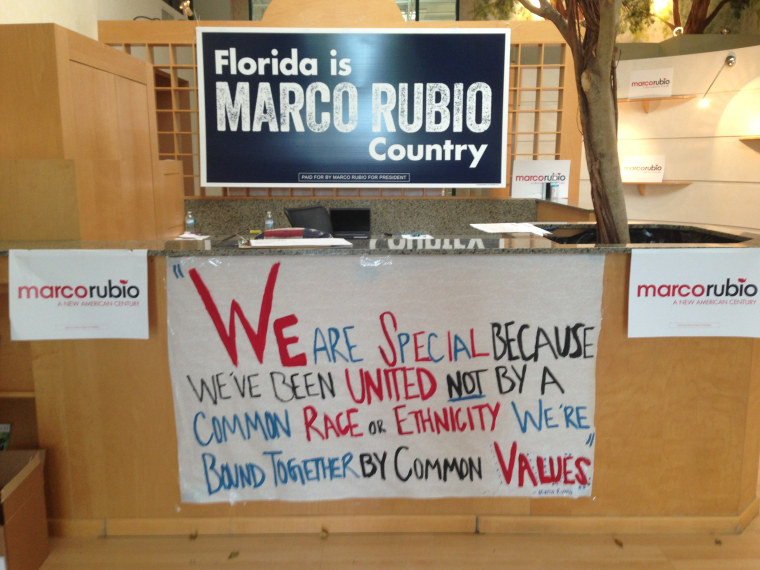 They will be among those going to the polls Tuesday in a critical primary that may decide the fate of Rubio's presidential bid, while potentially giving Clinton another southern state victory, though there are reports that opponent Bernie Sanders may be the victor in other states also holding primaries Tuesday.
Like Nemcik, Puerto Ricans long have been established in Central Florida. But the economic crisis of the U.S. territory means more and more Puerto Ricans are like Santiago, more recent arrivals who have fled the economic crisis on the island brought on by U.S. territory's $72 billion debt that it cannot pay.
Related: Ahead of Primaries Experts Promote Option to Tackle Puerto Rico Debt
"What is real is the million Puerto Ricans that live on the I-4 corridor stay in touch with what is happening in Puerto Rico. They will listen and vote for any candidate that is helping the island," said José Fuentes, former Puerto Rico attorney general who ran Rubio's campaign in Puerto Rico where he won the Republican primary held March 6.
Related: Marco Rubio Wins Puerto Rico Republican Primary
The Latino vote in Florida has long been defined by the Republican voting Cuban American population in southern Florida. That profile has been changing in recent years as younger Cubans lean more Democrat, more Puerto Ricans have moved to the mainland and new Latin Americans migrate to the state from countries like Colombia and Venezuela.
At the same time, the number of Latinos who consider themselves Independents also is growing.
Latinos make up almost 15 percent of the Sunshine State's electorate. This year, some 678,000 Florida Hispanics are registered as Democrats, 610,000 had no party affiliation and 479,000 registered as Republicans, according to data collected by Pew Research Center from the state.
That has created a challenge for campaigns and non-profit groups to turn out newer voters, primarily Puerto Ricans who have moved to the state. Many Puerto Ricans who want to vote are learning that deadlines have passed for them to have registered with either of the two parties to participate in the closed primaries.
"It's not that they don't want to vote. Our people coming from Puerto Rico, there, there is an 86 percent turnout," said Betsy Franceschini, regional Latino outreach director for the Bernie Sanders campaign.
"Once they move here, they start, of course, with getting involved with trying to set up their lives here. They don't know how to connect, how to get the information, where to go," Franceschini said.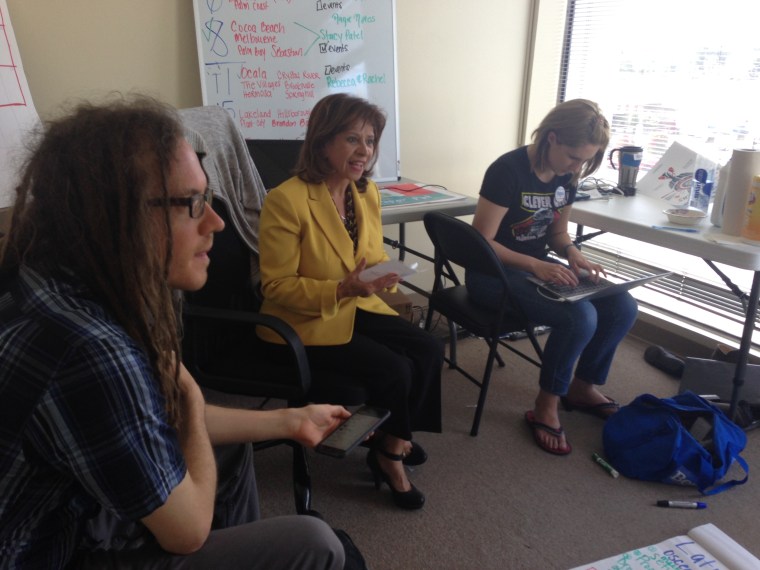 Attorney Ricardo Negrón is one of the newcomers. He sought and landed a job in the mainland U.S. after being unable to find work as a lawyer in Puerto Rico nor open his own firm.
A week before he was to move to the mainland for the job, the firm made cutbacks and eliminated the position. He came to Orlando anyway and is teaching English while helping register voters and encourage Latinos to get involved in their government.
"I can't vote in the primary because when I moved here I registered to vote and I did not affiliate with either party," Negrón said.
"I do know who I would like to vote for in the general," he said. "For Clinton."
Mi Familia Vota, a non-profit that works year round to register Latino voters in Florida, held a phone banking event to call voters and operated a voting hotline with other groups. Esteban Garcés, state director for the group, said the groups received a lot of calls from people checking whether they were registered to vote or affiliated with either major party.
Garcés said Cubans make up 32 percent of the Latino vote in Florida, but the surge of Puerto Ricans coming to Florida has increased their share of the electorate to 27 percent. "Tuesday will help determine how much time it will take before the Puerto Rican population takes over the Cuban as the highest concentration of voter population in Florida," he said.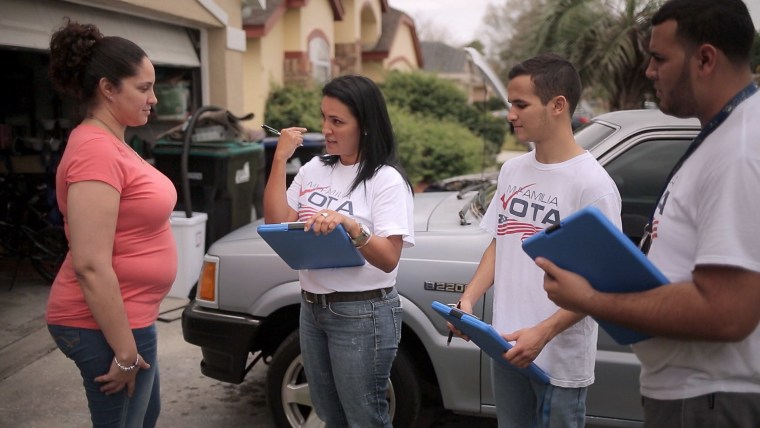 But a bit of a culture change will be needed to raise turnout numbers. In Puerto Rico, political parties are organized around the issue of whether Puerto Rico should become a state, remain a commonwealth or be independent.
"They don't necessarily understand the Democrat and Republican" principles and differences "so there is a very steep learning curve for Puerto Ricans coming here," said Lynette Acosta, a spokeswoman for the Democratic Hispanic Caucus in Orlando.
"It takes a very long time to understand the process and become aware. You need time and little bit of money to get educated. Our economy in Kissimmeee, where a lot of Puerto Ricans live, is service-based, the incomes are not high. It's common to work two jobs," Acosta said.
In Miami-Dade county, 66 percent of the population is Hispanic and 51 percent is foreign-born. Although the county's Cuban-Americans are increasingly leaning toward the Democratic party, Republicans still outnumber Democrats among Hispanic registered voters and the current GOP candidates, largely Trump, have turned off some Hispanic GOP voters.
Manrique Iriarte, a Cuban-American doctor from Miami and Democrat said he was supporting Hillary Clinton. "I realize she has some credibility issues but right now, I think it's the only viable alternative," he said.
But Trump still has been able to attract some Latinos in Florida. The latest NBC/WSJ/Marist Poll shows Trump winning Florida.
Related: Trump Ahead in Florida, Illinois; Kasich Leads in Ohio
Jorge Artiles, a Cuban-American who owns a dental practice in Miami says he will be voting for Trump during Tuesday.
"The society is very polarized and that has nothing to do with Donald Trump. It has to do with Barack Obama," said Artiles who came to the U.S. 23 years ago.
Among Puerto Rican voters, the immigration issue does not resonate in the same way as with other Latino groups in the country because those born on the island are U.S. citizens at birth.
But community leaders say Trump's anti-Mexican and anti-immigrant rhetoric has become a "solidarity" issue for Puerto Ricans that will manifest in the general election.
"We saw this play out in 2012. We know how this is going to go," Garcés said. "When candidates take a line against Latinos, it doesn't work favorably for them."
Carmen Sesin contributed to this report from Miami