WASHINGTON — Four weeks since Hurricane Maria ravaged Puerto Rico, the recovery priorities are: Make sure food, water and supplies get delivered, ensure hospitals are operating and communication and energy is re-established for critical infrastructure.
Those are tasks many had hoped would have been checked off the list by now, but recovery from the brutish Category 4 hurricane — the strongest to hit the island in 80 years — still moves slowly.
The initial underwhelming federal response, the island's neglected infrastructure and the hurricane's devastation have meant Puerto Rico has taken emergence from the "humanitarian crisis" it was thrust into by the punishing storm has been limited.
Even though more relief and assistance have arrived and there have been some steps forward, anger and frustration remain. Stories of Puerto Ricans still without basic needs and unable to get needed health care continue and families on the mainland still cannot reach loved ones.
"To this day, I have three brothers that I haven't been able to talk to," said Rep. Nydia Velazquez, D-N.Y., who has been a leader in pushing the Trump administration to ramp up its recovery response to the hurricane that hit Puerto Rico on Sep. 20.
Related: Puerto Rico Takes Steps to Boost Electricity By Next Week
Velazquez, born in Puerto Rico, kept up the pressure at a forum on the federal disaster response that included administration personnel.
"All we want is for someone to tell the people of Puerto Rico, 'I know your struggle. I know your suffering. We'll do everything. We will deploy every federal asset because one life that is lost is too many,'" she said.
On Wednesday, Gov. Ricardo Rosselló announced he would be in Washington on Thursday to meet with White House officials including Homeland Security adviser Tom Bossert.
Rosselló said his visit is timed to press the Senate, which reconvened this week, to quickly move a funding package with $4.9 billion in funding for Puerto Rico.
"Time is of the essence and we need quick action," Rosselló said.
Rosselló said that he hoped he could persuade members of Congress that Puerto Rico has the government structure to manage its rebuilding and recovery functions and to ensure there are adequate resources to rebuild.
"If we are not considered in equal terms to Florida, the Virgin Islands, Texas and so forth, Congress will have to deal with a worsened humanitarian crisis, massive exodus from the island, health care problems and more," he said.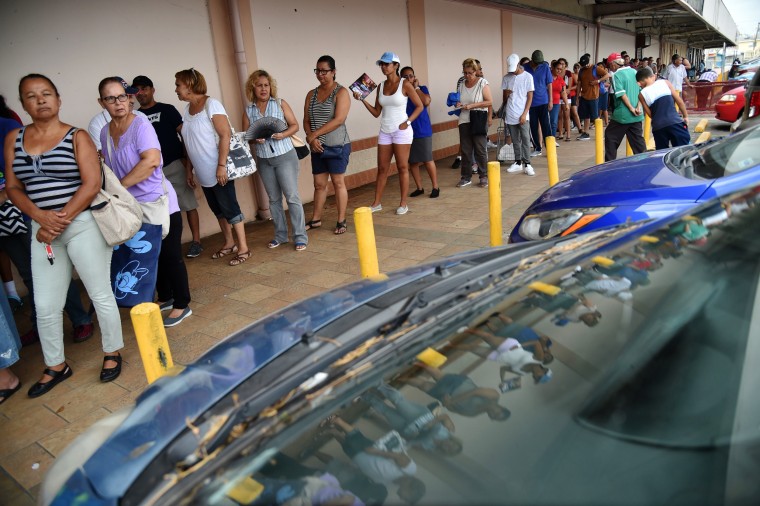 According to the Federal Emergency Management Agency, 72 percent of Puerto Rico's water authority customers have potable water, while 56 percent of wastewater treatment plants are working on generator power. Seventeen percent of Puerto Rico's electrical company's customers are back on the electrical grid.
Rosselló has set December for about 95 percent of Puerto Rico electric customers to have power restored. Ports and airports are open, but reliability of electricity remains a concern. Private donations continue to pour in, but there are issues with bottlenecks.
Related: Some Puerto Ricans Feel It's Not Time to Bail Out
In San Juan, business owner Cristina Collazo said she is hopeful the governor will reach the goal, but she said the recovery is frustrating and slow.
"I'm really worried, first of all, about how many people have already left. I left for 10 days and came back and the day I left and the day I came back, the airport was full of people leaving. We really don't know how many of those are going to come back," Collazo said.
She said her children are back in school, but her children's schools are about 70 percent full and there are reduced hours.
Collazo owns a string of retail stores, several of which are in malls that remain shut due to unreliable electricity. The situation has made planning for her businesses impossible.
At home, she boils the water she drinks and uses to brush her teeth, as the Environmental Protection Agency recommends. The generator in her building is off during the day to ration its fuel.
Collazo said she tries not to be home when the generator is off because of the heat. Her children can't go to the parks because the trees have been stripped of leaves, providing no shade. Going to the beach is also out because of contamination from waste.
Related: Puerto Rico in Crisis: A Race Against Time to Evacuate The Infirm
But she said she has seen a lot more government and electrical workers on the ground since returning from Florida.
"I'm trying to be positive in realizing this has been a catastrophe and a catastrophe on an island with an infrastructure that's very weak," she said.
As hard as things are for her, she said, she knows she is in a better situation than others. "My employees are really suffering, really suffering," she said.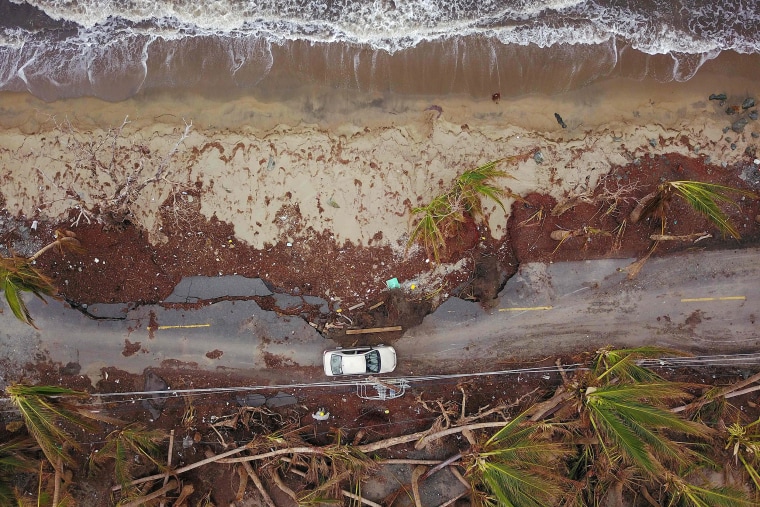 Philipe Schoene Roura, editor of Caribbean Business, said that the scale of the devastation and required recovery effort are unprecedented.
But he said the larger failure is not understanding the need for a national incident commander, as was in place after Hurricane Katrina. Former President George W. Bush appointed a three-star general to head up Katrina recovery after the administration response drew heavy criticism.
Related: Three-Star General Adds Military Power to Puerto Rico. Is It Enough?
The Trump administration put a three-star general in charge of the DOD ground response in Puerto Rico about a week after the hurricane made landfall. Lawmakers, mostly Democrats but including Sen. Marco Rubio, R-Fla., had been calling for a senior officer to take charge of the response at the time.
The recovery is requiring coordination of thousands of military troops and federal agency assets and Schoene said that's where he thinks a breakdown is occurring.
A national incident commander can "move things without batting an eye," Schoene said.
"Time is of the essence," he said. "It's a race against time."
NBC Correspondent Gabe Gutierrez reported from San Juan, Puerto Rico.