For the first time in nearly 30 years, Puerto Ricans are buying rice, vegetables and traditional crops such as plantains and pineapples, that are produced on the island.
As new farms spring across the island, the U.S. territory is seeing something of an agricultural renaissance, supplying an increasing number of restaurants and farmers' markets to meet consumer demand for fresher produce.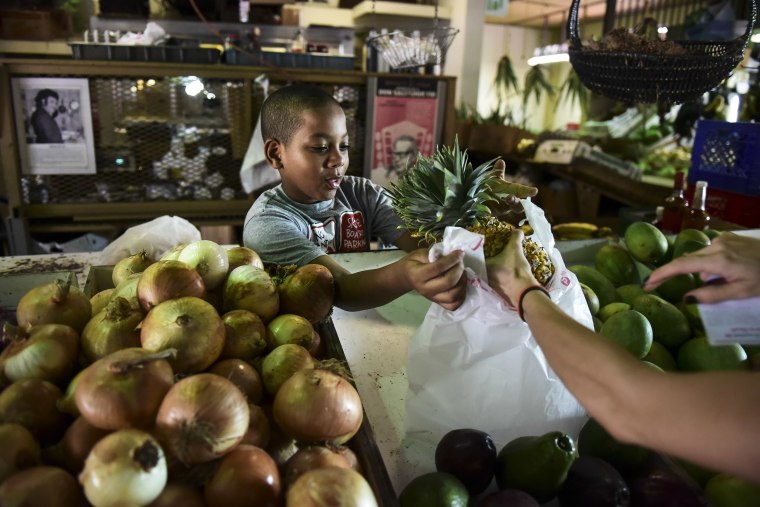 The island continues to struggle from a 10-year recession and a still-unfolding debt crisis yet farming is one of the areas that has provided growth for Puerto Rico. From recent statistics provided by the governor's office farm income grew 25 percent to more than $900 million in 2012-2014. The amount of acreage under cultivation rose 50 percent over the past four years, generating at least 7,000 jobs.
"More and more people have noticed that this is one of the only successful ways of living on the island right now," said Tara Rodriguez Besosa, a farming advocate and owner of an organic restaurant in San Juan that buys from local farms, including one started by her mother several years ago.
RELATED: Young Puerto Rican Works to Increase Island's Agricultural Entrepreneurs
Agriculture is a small part of the economy in Puerto Rico, well behind manufacturing, finance and tourism. Yet the growth is notable simply because things are so bad overall. Many businesses have closed, tens of thousands of people have decamped to the U.S. mainland, unemployment is at nearly 12 percent and the government is in default.
The agricultural rebirth can be seen in the aisles of supermarkets, where local rice went on sale in August for the first time since the last producer closed in 1989, and in the shimmering green fields where the grain is grown on the outskirts of the southwestern town of Guanica.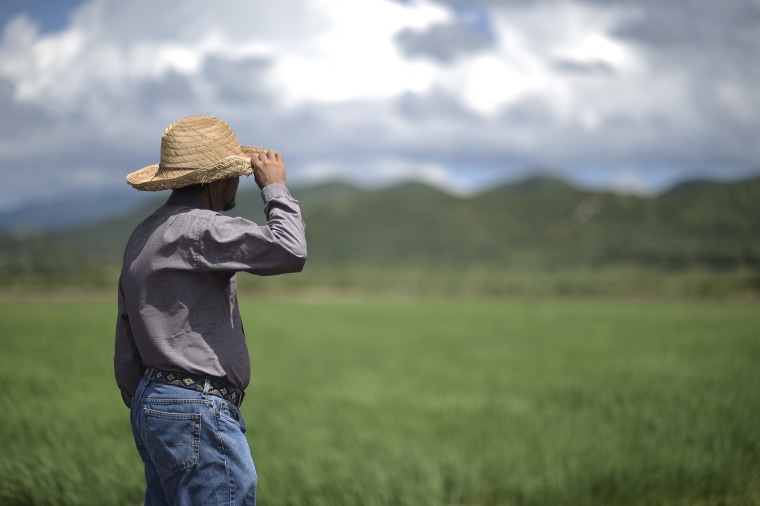 The government helped launch Finca Fraternidad, or "Fraternity Farm," by providing 1,350 acres of vacant public land.
The rice venture is one of about 350 farms that the government supported to reduce Puerto Rico's reliance on expensive food imports and spur the growth of a sector that dominated the economy until the 1940s, when the territory began a decades-long transformation into a more urban, developed society where few wanted to work on farms.
"It's satisfying to change the perspective of an island that once viewed agriculture as a thing of the past, as something for people without education," Puerto Rican Agriculture Secretary Myrna Comas said.
RELATED: Puerto Rico Drought: More Municipalities Declared Disaster Areas
In the west and the south, the government has launched a project to supply the local rum industry with homegrown sugarcane, which dominated the economy in the 19th century but all but disappeared as it became cheaper to produce elsewhere. About 870 acres of cane have been planted so far, and Comas said the plan is to expand to 11,600 acres.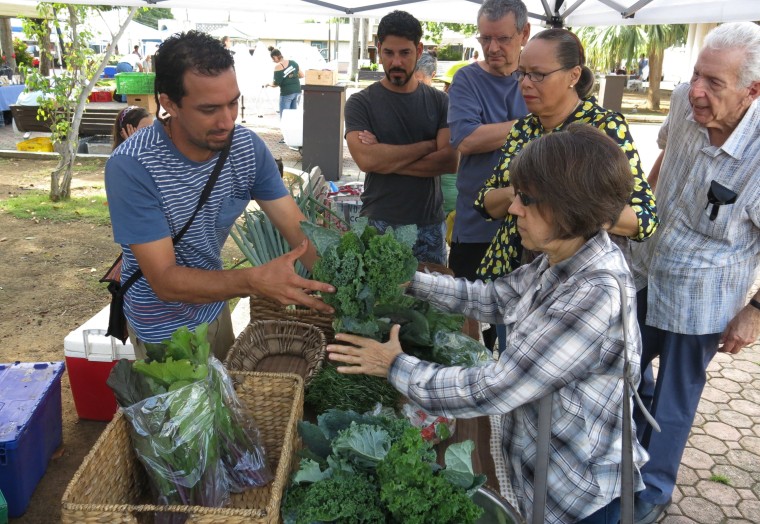 Bayer, the German medicine and farm-chemical maker, announced this month that it would spend $17 million to develop two agriculture biotech facilities in the U.S. territory. Monsanto, the Missouri-based seed and weed-killer company, has large fields of corn, soy and cotton in Puerto Rico and recently invested $5 million in its projects.
Following a 2015 executive order legalizing medical marijuana derivatives, GreenVision LLC, a subsidiary of Nevada-based StereoVision Entertainment Inc., announced plans in August to build a 40,000-square-foot (3,700-square-meter) cultivation and manufacturing facility in Puerto Rico.
But it's the small-scale farming that is most visible to consumers.
RELATED: Despite Island's Financial Crisis, These Puerto Ricans Are Not Leaving
The number of farmers' markets has tripled in the past four years to more than a dozen across the island, said Mayra Nieves, president of a local nonprofit organic food cooperative. That has quadrupled overall business to some $35 million a year, spurred in large part by interest in organic produce, Comas said.
There are also urban community gardens popping up across the capital that cater to people who want something fresher than the shrink-wrapped imports that have long been standard at stores and restaurants.
"People are becoming more open-minded," Nieves said. "They no longer see us as 'those hippies.'"