SAN JUAN, Puerto Rico — A health care worker becomes the bridge between a father with dementia here in San Juan and his daughters on the U.S. mainland. A church starts a charity to coordinate emergency and long-term services for elders. A 74-year-old woman can only watch as her once bustling hometown, with one of the island's highest concentrations of older adults, starts to fade.
Puerto Rico is aging faster than most places on earth. Exacerbating the pattern is the exodus of more than 700,000 working-age Puerto Ricans — aged 20 to 64 — in the last 15 years, according to Amílcar Matos-Moreno, a post-doctoral researcher at Pennsylvania State University's Population Research Institute.
The U.S. territory is the first place, according to Matos-Moreno, that is experiencing such rapid aging of its population because of recent migration.
Older adults who would traditionally rely on multigenerational family networks now find themselves alone with fewer or no close relatives and more dependent on caregivers and social service institutions. The biggest challenge is determining who navigates and coordinates essential services for aging Puerto Ricans when they can't advocate for themselves.
Mayra Ortiz Tapia, a clinical gerontologist, believes that "95% of families in Puerto Rico are dealing with this" right now.
Close to 741,000 Puerto Ricans are 65 or older, according to U.S. census data. That's roughly a quarter (22.7%) of the island's total population, making its share of older adults the 10th highest in the world, according to Matos-Moreno.
"Puerto Rican society didn't prepare itself to deal with such a significant increase in elders, and furthermore, for our elders to live longer," Carmen Sánchez Salgado, Puerto Rico's ombudsman for the elderly, said in Spanish. "Our government doesn't have enough resources to meet their needs."
Caretaking from abroad is 'difficult'
Nearly half of adults over 65 on the island (48%) had at least one adult child living outside of Puerto Rico in 2007. That number is probably much higher now, Matos-Moreno said, after a cascade of turmoil, including a financial crisis, hurricanes, earthquakes, a political upheaval and the Covid-19 pandemic, has resulted in more island residents migrating to the mainland.
The situation is compounded with an additional set of challenges stemming from lower birth rates and longer life expectancy, Sánchez Salgado said.
"Being the caretaker of your parent while living abroad is difficult," Yarín Mera, 40, a product designer in San Francisco, said. 
Over a year ago, Mera's 85-year-old father called her after getting disoriented while driving in San Juan. The alarming call sent Mera on a frantic internet search to see what she could do for her father from more than 3,000 miles away.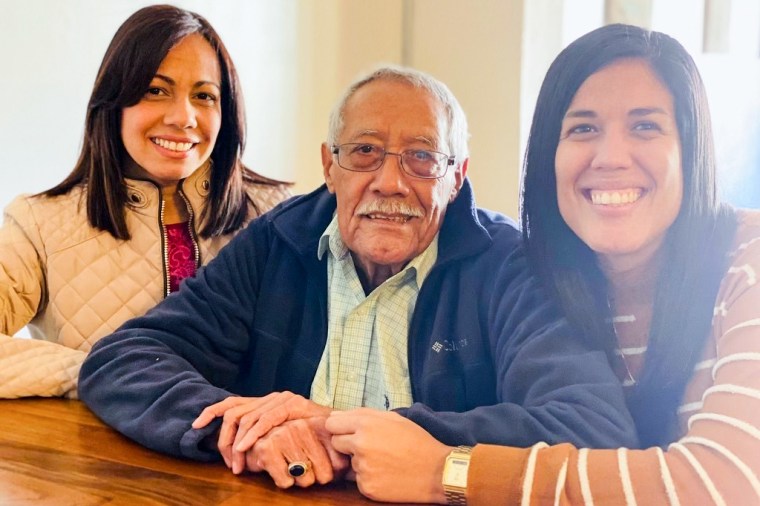 The frustrating experience quickly made her realize she was facing a disjointed service landscape that was often tough to navigate as people are forced to toggle among government agencies, health insurance companies and private organizations, Mera said.
Managing the pressure of ensuring that her father is well taken care of "is very complicated," she said.
Ortiz Tapia, the gerontologist, helped Mera sketch a short-term plan to tackle her father's immediate needs. The first step was getting him to see a neurologist. Mera's extended family on the island accompanied him to the initial appointment. Eventually, Mera and her older sister, who lives in Georgia, took turns traveling to the island for his follow-up doctor's visits.
"It was evident he couldn't be on his own," Mera said.
To bypass the long waiting lists for housekeeping and other at-home services, Mera started asking nurses at the cardiovascular hospital where her dad gets his check-ups if they knew of anyone available to help her father at home. She was able to get two part-time caregivers on a rotating basis five days a week.
Mera's father was recently diagnosed with early stages of Alzheimer's disease, prompting the sisters to start creating a long-term plan.
"We know that, eventually, my dad is going to have to move to a nursing home," Mera said. "But for now, we're trying to take it month by month."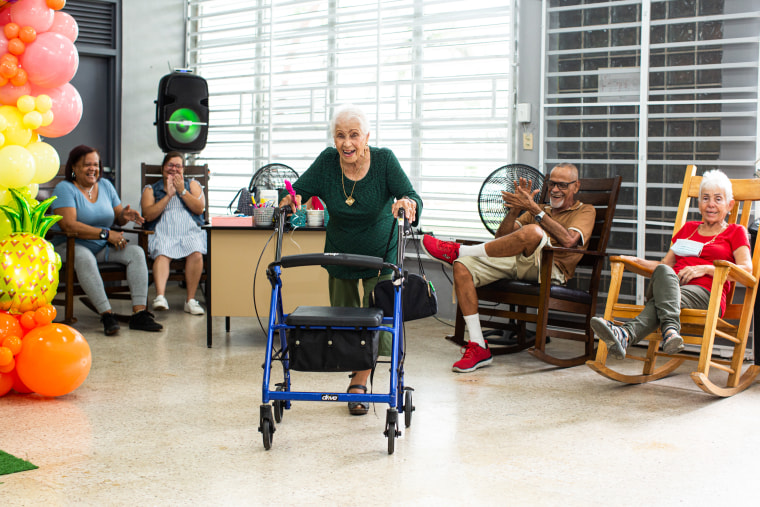 Under the Puerto Rico Department of Family, there are 922 licensed nursing homes, according to Sánchez Salgado. Nursing homes cost an average of $1,500 a month, she said. Under the federal housing department, there are 165 independent living facilities in Puerto Rico, also known as "égidas."
"There are not enough of these facilities to meet the demand," Sánchez Salgado said, adding there's no good data on at-home care services. "But there's a great shortage of professionals."
The shortages are evident in San Juan and other cities, which have the highest number of older adults, as job listings seeking caregivers for elders pile up. The same pattern is emerging in Hormigueros, Rincón and Guánica: three towns with the island's highest concentrations of older adults.
'They have to leave for a better life'
Irma Martínez, 74, has lived in Guánica, on the southwest coast, her entire life. She has seen her hometown lose residents, describing it as "a semi-ghost town" following multiple natural disasters, including a string of devastating earthquakes in early 2020.
"I almost never see a soul wandering around after 2 p.m.," she said. "But almost all of us are elders here, and we like to stay in early."
Residents like Martínez must travel to other towns to run errands like going to the bank, seeing the doctor or even shopping for clothes. Her 67-year-old husband drives 27 miles to nearby San Germán every 21 days for Martínez to get treatment for her lung cancer.
"The situation of our people is sad," Martínez said.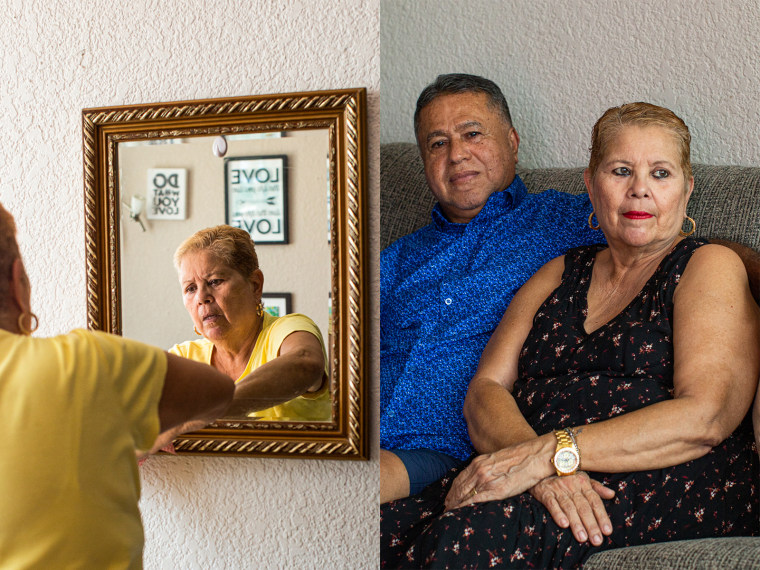 Hundreds of thousands of working-age Puerto Ricans have left the island seeking better paying jobs, more educational opportunities and a higher quality of life. Such migration has resulted in "a reduction of support systems" for older adults, Sánchez Salgado, said.
"A lot of young people who have worked very hard to study, whose parents have sacrificed so much for their education, many leave after graduating because wages here are not worth it," said Martínez, who has a son in Texas working in construction.
Ellaine Laboy, 35, moved to the U.S. almost a decade ago after her husband, a mechanical engineer, got a job that paid way more than the $12 an hour he was making in Puerto Rico.
Her mother, Carmen Feliciano, 71, said she and her husband, a recently retired public school teacher, are OK for now, living in their hometown, Yauco.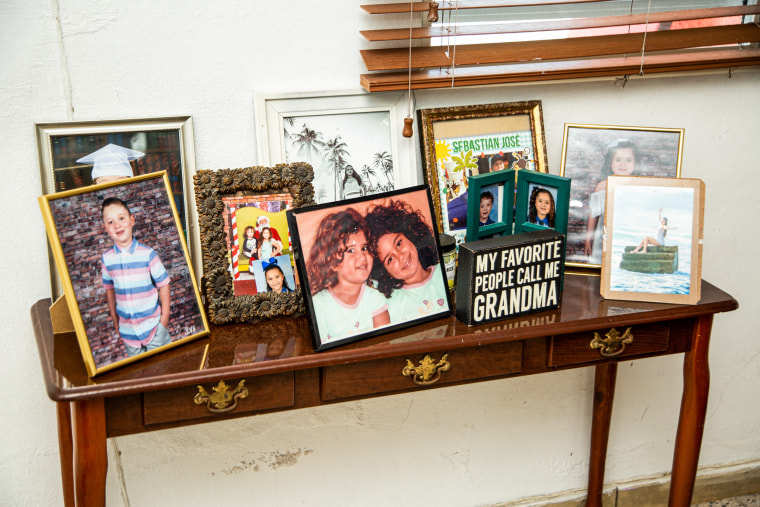 "We miss them when they're not here, but we understand they have to leave for a better life," Feliciano said in Spanish about her four children, who all live on the U.S. mainland.
But that's not stopping Laboy, a health services coordinator in Texas, from starting to financially plan for her parents' anticipated elder care needs. As the youngest of the four children and the only daughter, she feels that the responsibility disproportionately falls on her shoulders.
The pressure became more top-of-mind for Laboy after her father fell in the shower recently and her mother was unable to drive him to a hospital. The mother called Laboy's aunt, who then advised her to call an ambulance.
"My mom told me what happened the next day, and I'm over here telling her everything they need to make changes around the house to live better," Laboy said. "Sometimes I feel like they're too relaxed about it, while I'm here worrying."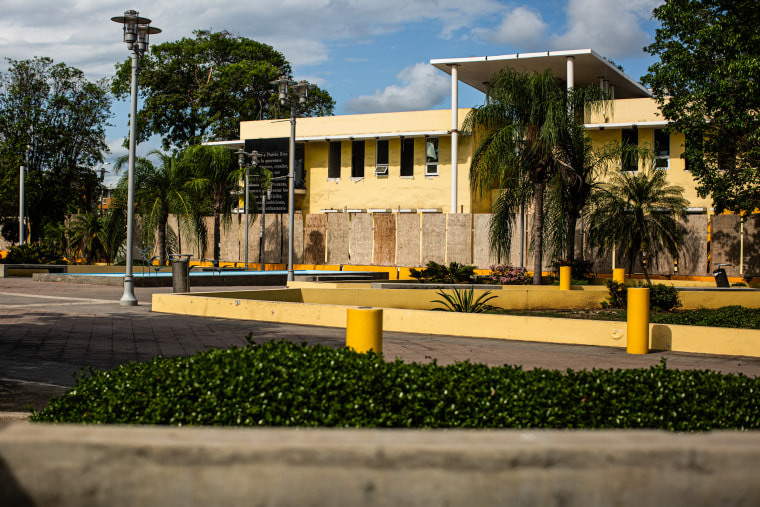 Older adults who grew up in the countryside "are used to living without everything they need," Laboy said about her parents, worried that they underplay their needs.
Despite the distance, Laboy regularly calls her parents on FaceTime and tries to visit them once a year, in part, to have her 2-year-old son spend time with his grandparents.
Redirecting services to changing needs
Marya Rivera, the director of a municipal senior center in Toa Baja that's run with federal funds, has been scrambling to allocate resources to better serve an increased need for at-home care.
About 60 senior citizens are participating in an in-person program Rivera runs at the Centro de Envejecientes (Center for the Elderly) that provides meals as well as educational, recreational and spiritual activities to residents aged 60 and older.
The program is short of the 115 seniors it could serve "because the health of our elderly people has deteriorated," Rivera said in Spanish. "To be able to join the senior center, they have to be very independent and have some kind of mobility."
In contrast, the wait for housekeeping and other at-home services for older adults is so long that Rivera and other directors running similar programs are forced to identify and serve only the neediest. Currently, Rivera has four housekeepers for 50 older adults in need of services.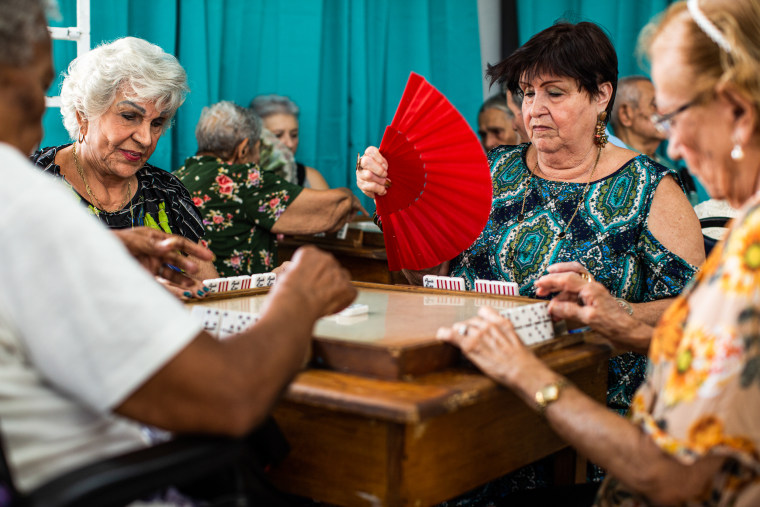 "I am more interested in having an impact in the homes of those elderly people who cannot leave, who have no one to visit them or families to help them," Rivera said. She saw the benefits of serving people at home during the pandemic while running a home food service program for older people.
The food program serves 245 seniors, despite having an authorized enrollment of 175, Rivera said. During the height of the pandemic, they delivered up to 450 lunches to older adults.
While at-home services are reaching a new level of demand, face-to-face programs like the senior center in Toa Baja are also crucial to curbing social isolation and ensuring older adults enjoy a high quality of life by increasing their "disability free life expectancy," Matos-Moreno said. "It marks how many years they can live without any disability."
"That's one of the markers of successful aging," he said.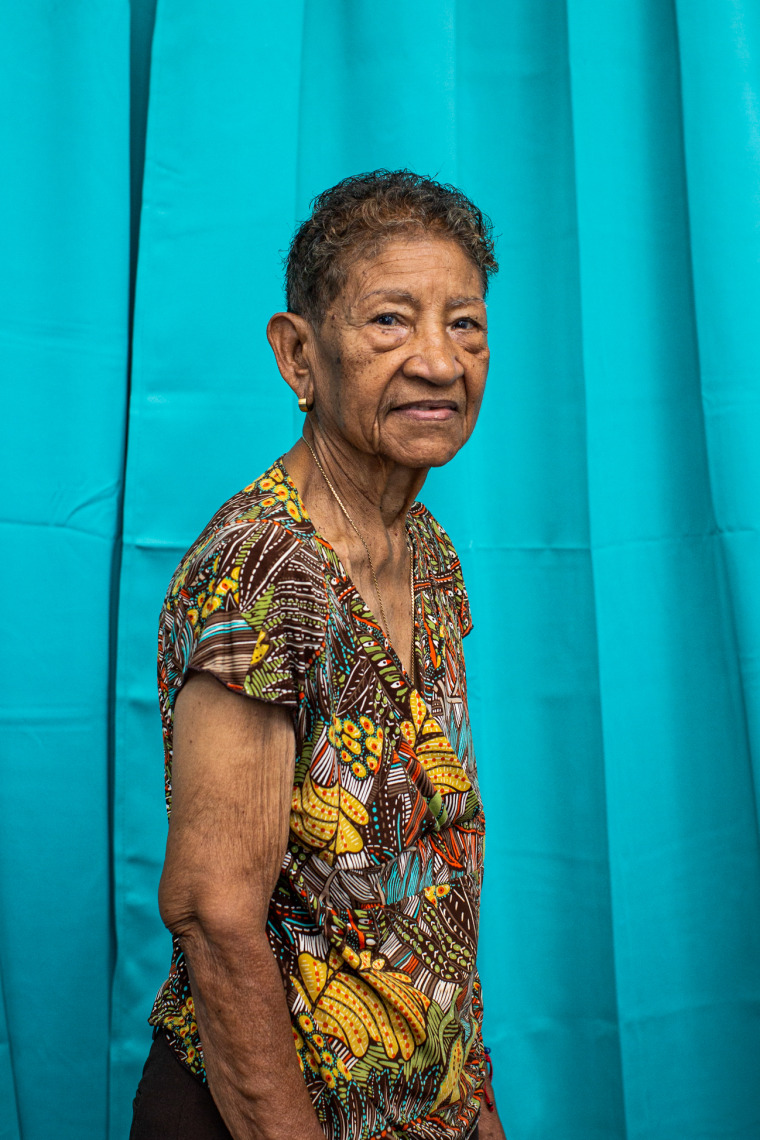 Felipe Deliz, 63, a retired security guard who has lived in Georgia for nearly 16 years, enrolled his 86-year-old mother, Julia Pérez, at the Centro de Envejecientes over a month ago. As a widow, Pérez said spending time at the center helps her cope with the solitude of living on her own.
"I have a lot of fun here," Pérez said of the center, where enrollees can play billiards or dominoes, go to the mall and attend educational workshops about nutrition and managing medications, among other activities.
For the Rev. Samuel Pérez, a young Catholic priest in San Juan, elders' needs were hard to ignore during the aftermath of Hurricane Maria — prompting his church to start SFM Charities, a nonprofit focusing on helping older adults, in 2018.
Even some elders who are somewhat independent need supervision because they can easily end up on a slippery slope toward living in "inhumane conditions," Pérez said in Spanish.
The goal is to strike a balance between quickly coordinating to help older adults avoid "the worst" while also "looking for the best alternative in the long term," the priest said.
This was the approach he used to help Pablo Luna, 68, one of the more than 500 cases the nonprofit has managed since its start.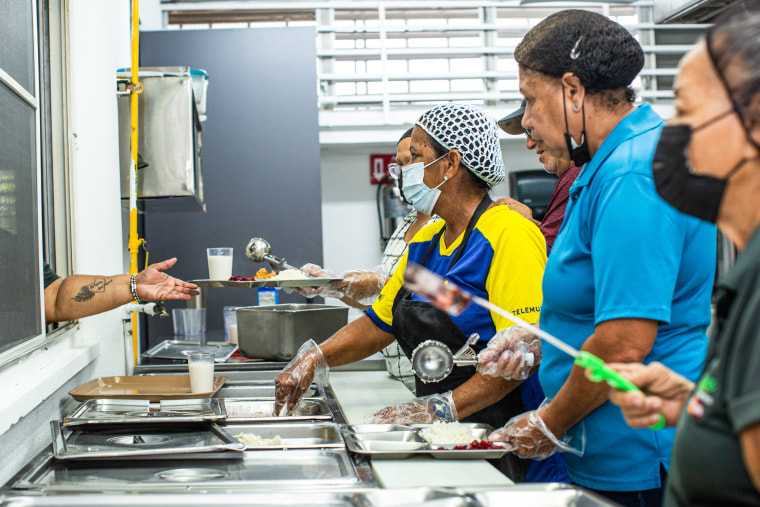 Two years ago, the priest got a call from Pablo's younger sister, Carmen Luna, who was living in Orlando. Florida. A court ordered Pablo to be discharged from a hospital after spending six months recovering from his second leg amputation.
Carmen, 66, said hospital staff dropped her brother off at the same house where he had been found lying unconscious for an unknown period of time months before. The two-story wooden structure had no water or power. 
In a matter of hours, Pérez and the staff at SFM Charities were able to place Pablo in an elderly group home in Bayamón. "Once they're out of danger, the recovery process starts," Pérez, who used to work for the local school system in Orlando, said. 
Since then, Pablo has been living a stable life. Carmen recently paid him an impromptu visit with his favorite food: Burger King Whoppers and fries. 
"He eats it with such enjoyment," Carmen said in Spanish. "And it brings me joy because, at the end of the day, those are the moments we take with us."