Puerto Rico has taken drastic measures to contain the spread of the coronavirus, such as implementing an islandwide curfew, banning cruise ships and closing schools and all nonessential businesses.
The island's governor, Wanda Vazquez, wants to go a step further: She has requested that the Federal Aviation Administration suspend domestic and international flights to Puerto Rico for 14 days to stem the pandemic's spread.
The FAA told NBC News in a statement that they're reviewing the island's request.
The effort comes as officials focus on not overwhelming Puerto Rico's already fragile health care system. Beyond that, experts worry that the government needs to also tackle the potential economic impact on an island that has been in bankruptcy amid a decadelong financial crisis.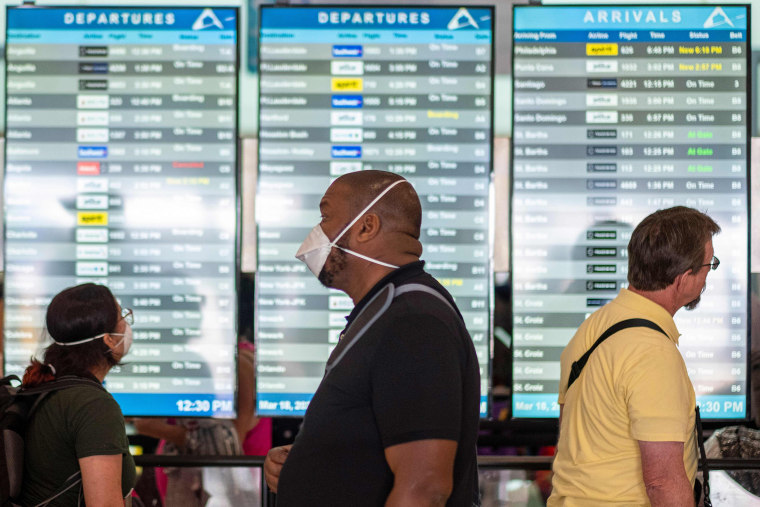 Access to resources and medical services has been a problem in Puerto Rico well before the coronavirus outbreak. According to the Health Resources and Services Administration, 72 of the island's 78 municipalities are considered to be medically underserved and face "unmet health care needs."
"The greatest concern has been limited access to physicians," according to a report from the Urban Institute. It found "substantial health professional shortages throughout Puerto Rico" mainly due to a massive exodus of doctors to the mainland U.S. It was later exacerbated by the financial crisis that triggered budget cuts and austerity measures, further straining the island's health care system.
Puerto Rico is relying on the few physicians who are left to independently decide whether someone should be tested for the coronavirus disease, COVID-19.
"Could be worse than Hurricane Maria"
"The main concern is whether this pandemic would be the last straw that causes the collapse of our health care system because our system has been deteriorating," Dr. Victor Ramos, president of Puerto Rico's Physicians Association, told NBC News. "Hospitals, clinics, doctors' offices, labs have no money. They have been biting the bullet for a while now and many are being recruited in the U.S. because there are shortages everywhere."
Under these circumstances, Puerto Ricans have survived through the swine flu pandemic, the zika virus outbreak and epidemics of two different mosquito-borne viruses over the last decade, said Ramos.
But the coronavirus pandemic is set to test Puerto Rico even more.
"The risk of this pandemic getting out of control is higher on an island. If we need more resources, we can't easily go to another state and have access to another hospital. If hospitals get saturated, we have nowhere else to go," Arturo Massol-Deyá, a microbiology professor at the University of Puerto Rico in Mayagüez, told NBC News. "That's a big reason why our approach needs to be aggressive from the start instead of waiting for things to get as bad as they did in Italy or Spain."
Experts agree that Puerto Rico has been riding the coronavirus crisis blindly since officials haven't been able to determine specific infection projections on the island, partly because of significant delays in testing.
At least 83 people in Puerto Rico have been tested. Six have been diagnosed with COVID-19. Forty-one tested negative for the disease, and 36 others are still waiting for their results.
"That's virtually nothing. You can't really make any projections with this amount of tests," said Massol-Deyá. Estimates suggest that if no precautionary measures are taken, Puerto Rico could see up to 20,000 coronavirus-related deaths. "If this gets out of control, it could be worse than Hurricane Maria," he said.
The economy's "nail in the coffin?"
Vazquez has said the pandemic's economic impact can be addressed later "unlike the death of a loved one." Her plan deviates from the one states such as New York have implemented, simultaneously trying to address both the health and economic repercussions of the virus.
Miguel Soto-Class, founder and president of the Center for a New Economy, a nonpartisan think tank, told NBC News he finds Vazquez's approach troublesome since it seems to ignore that Puerto Rico has been bankrupt for years.
"Puerto Rico is going to get clobbered by this pandemic and I'm very worried that the government is saying it'll be easy to come back from this when that's not the case. It will be particularly devastating for small businesses and locally led NGOs," he said. "It's another nail in the coffin for small and local businesses in Puerto Rico."
The island has been grappling with negotiating the restructuring of debt with creditors who were owed $120 billion in bond and pension obligations, after the Puerto Rican government declared the debt unpayable in 2015 and filed for the biggest U.S. municipal bankruptcy in history in 2017.
Making matters more complicated is that Puerto Rico's allies, who normally advocate for the island in Congress as well as the philanthropic sector, "are busy at home," Soto-Class said.
"Puerto Rico is no one's priority in Washington. Even in the best scenario, we are the second priority of our champions in Congress, because they also have a responsibility to their constituents. In the case of the foundations, many are global entities. Puerto Rico is not their first priority," he added. "Puerto Rico is going to be ignored."
The island has only one nonvoting member of Congress representing 3.1 million Puerto Ricans from the island.
With this in mind, the Center for a New Economy is redirecting resources to their Washington offices, "to make sure that Puerto Rico gets included in the fiscal stimulus packages" passed in Congress as well as to promote policies specific to the island, Soto-Class said
Due to Puerto Rico's territorial status, it doesn't get included in many pieces of legislation automatically. Similar efforts are being put in place to engage foundations in helping Puerto Rico, he added.
Follow NBC Latino on Facebook, Twitter and Instagram.