Puerto Rican Gov. Ricardo Rosselló endorsed Sen. Bill Nelson of Florida for re-election and Andrew Gillum for governor on Monday, giving both Democrats a boost as they court the state's growing Puerto Rican population.
The announcements took place in Orlando and Kissimmee respectively, regions that are considered the heart of the state's Puerto Rican communities.
"I am proud to say that I am endorsing Bill Nelson for, once again, being the senator of Florida and helping represent the people of Puerto Rico," said Rosselló at Nelson's campaign office in Orlando.
Rosselló referred to Nelson's work helping Puerto Rico's Medicaid program avoid bankruptcy, his efforts to secure additional funding for the island's recovery after Hurricane Maria through the Community Development Block Grant program and other federal food assistance programs in the wake of last year's storm.
Rosselló's endorsement could sway some of the tens of thousands of Puerto Ricans who have moved to Florida since Hurricane Maria devastated the island.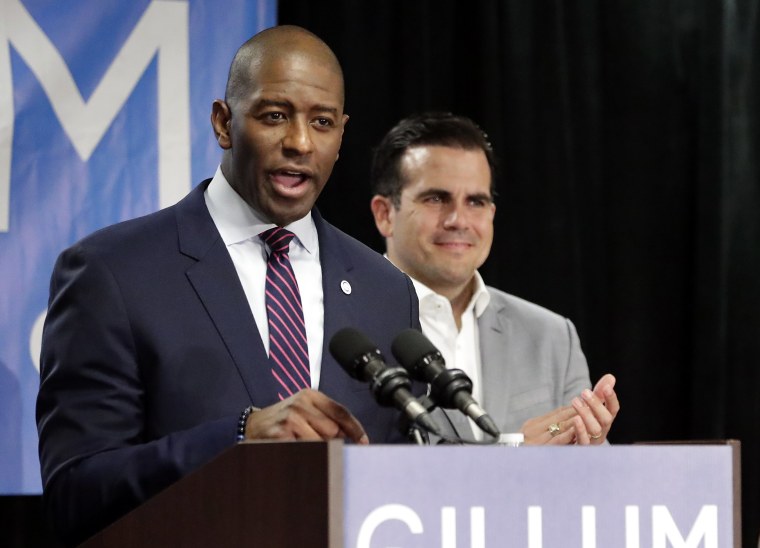 Nearly two hours after endorsing Nelson in Orlando, Rosselló headed to Kissimmee to endorse Gillum, the mayor of Tallahassee, for governor in his race against Republican U.S. Rep. Ron SeDantis. Gillum would be the state's first African-American governor.
"Truly honored to have Ricardo Rosselló's endorsement in this race," Gillum tweeted.
During his endorsement message in Orlando, Rosselló did not talk down Nelson's Republican opponent, Gov. Rick Scott, who in the wake of Hurricane Maria assisted Puerto Rico with relief efforts and programs to help the thousands of Puerto Ricans who were forced to move to Florida after the storm.
"This was a tough decision for us," Rosselló said. "Governor Scott has also been a friend."
But, Rosselló said, "I believe in Bill Nelson."
After Rosselló's endorsement of Nelson, Scott touted his own support from the Puerto Rican community, saying that "helping Puerto Rico has never been about politics — it is about helping the island recover and ensuring every family displaced to Florida has the resources they need to succeed."
He also called Rosselló "a friend" and pledged his commitment to "continue to work with him in any way I can to support Puerto Rican families both in Florida and on the island."
Scott has been endorsed by other Puerto Rican officials such as Jenniffer González Colón, Puerto Rico's nonvoting member of Congress, and the island's secretary of state, Luis G. Rivera Marín.
About 20 Puerto Rican supporters of Scott protested outside in Orlando, waving Puerto Rican flags and signs that said, "Rossello Ungrateful" and "Do Nothing Nelson."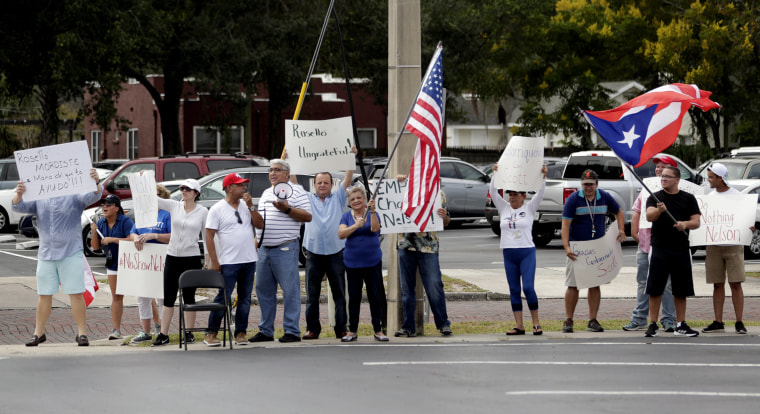 Other current and former Puerto Rican officials who have endorsed Nelson include Alejandro García Padilla, a former governor; San Juan Mayor Carmen Yulín Cruz; and Rosselló's father, Pedro Rosselló, also a former governor.
More than 1.1 million Puerto Ricans live in Florida and, according to POLITICO, as many as 500,000 of them could already be registered to vote.
Over 56,000 Puerto Ricans relocated to Florida after Hurricane Maria, according to the Center for Puerto Rican Studies at Hunter College in New York. Many settled in Central Florida, mainly in the Orlando area.
A judge recently ordered 32 Florida counties to provide election materials and assistance to Spanish-speaking voters ahead of the midterm elections in November, particularly Puerto Rican voters who have moved from the island and can register to vote since they are born U.S. citizens.
FOLLOW NBC LATINO ON FACEBOOK, TWITTER AND INSTAGRAM.