SAN JUAN, Puerto Rico — U.S. Supreme Court Justice Sonia Sotomayor addressed a standing room only audience of students and women entrepreneurs on Friday, encouraging them to own their mistakes, be unafraid to ask for help and be fearless in the pursuit of their dreams.
In an Oprah-esque question and answer session at San Juan's Caribe Hilton hotel, the first Latina Supreme Court Justice hugged, kissed members of the audience and autographed copies of her best selling memoir, My Beloved World, as she doled out advise on everything from how to navigate law school (learn to write well, befriend the smartest student on campus) to how to overcome fear and believe in yourself to achieve your goals.
Sotomayor visited the island and hosted a conversation with local businesswomen as well as students.
"When I am down and out I look back and so I can look forward and say I have more I can do," said Justice Sotomayor in a room buzzing with excitement. The justice, whose parents migrated from the island in the 1940's to the Bronx, delivered her remarks in Spanglish, mixing English and Spanish with motherly advice.
"We are not all good at everything, not everyone is a superstar in every single way, everybody has their strengths and everyone has their weaknesses," she said. "The hard part is not being honest with other people but with yourself," she told a young student. "There are things that you have to work on," said Sotomayor, who confessed to the crowd that she spent her entire four years at Princeton learning how to write well when a professor told she did not know how to write.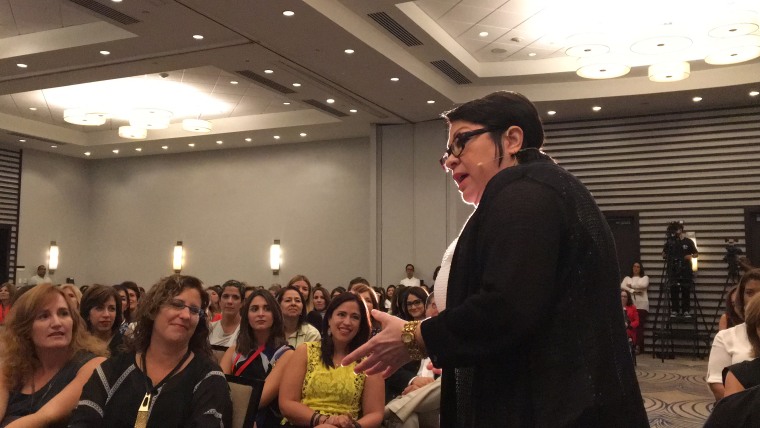 "It's so exciting to have a role model like the justice inspiring and aspiring women and children," said Lucienne Gigante, an entrepreneur and co founder of two women''s economic development platforms who served as host of the morning session.
"We have school children, millennials, and baby boomers so eager to listen to the Justice. This day is all about empowering women to be engines of their economic development."
RELATED: Sonia Sotomayor, Junot Díaz Among Hispanics Honored At Heritage Awards
Sotomayor, who has been visiting schools and courthouses on the island, did not address reporters. Before opening up to the audience, she warned participants that she would not answer questions about politics or cases on the high court, past or present.
Sotomayor's visit comes as the island is battling a fiscal crisis with a $78 billion dollar debt. Prior to her arrival to the hotel, hundreds of protesters snarled traffic demonstrating against a U.S. appointed controversial board known on the island as Promesa.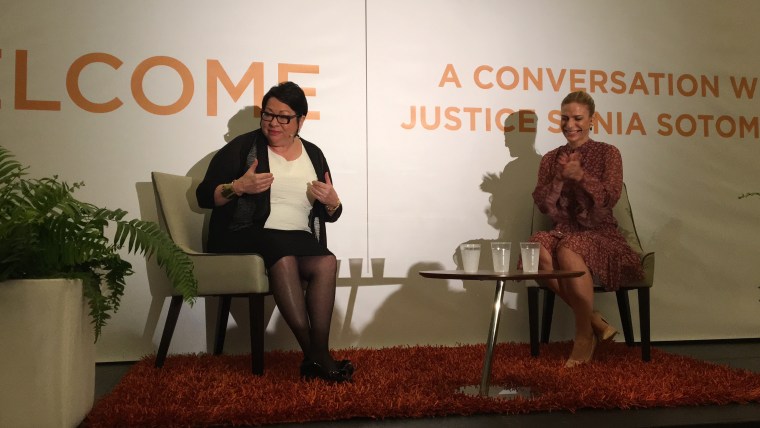 The closest Justice Sotomayor came to talking about politics was when she addressed university students. She encouraged them to study subjects that will allow them to become wiser, better, and more interesting people and told them that political theory might be a good subject to study since what the island is experiencing is very complicated.
"You can't have an opinion," she said in Spanish, "unless you understand the basic issues. You will not be able to make changes unless you have an informed opinion."
Angelique Sina, who traveled from DC to the event, was thrilled to have heard the remarks from a fellow Puerto Rican woman. "The most inspiring thing I heard from Justice Sotomayor was to ask for help, and she said that so many times," she said. "Being afraid is out biggest obstacles and we should not be afraid to ask for help."