Puerto Rico's financial oversight board on Friday approved a fiscal plan for the struggling U.S. territory's Government Development Bank, which would wind down the bank's operations over 10 years.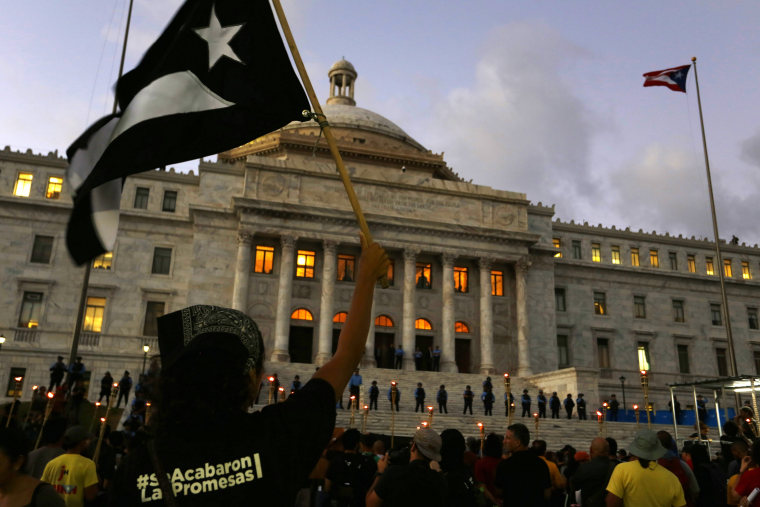 The oversight board, appointed under the Puerto Rico rescue law known as PROMESA, also approved turnaround plans for the island's highway and water authorities, as well as power utility PREPA, though those approvals were contingent on changes the agencies must make in the next several weeks.
The GDB, which had served as the island's primary fiscal agent, has been a shell entity since April 2016, when Puerto Rico's former governor declared a state of emergency at the bank. The bank defaulted on $422 million of debt the following month.
Board member David Skeel said it was "with sadness" that the GDB be wound down, "but I think it's the most effective way to disentangle GDB from the rest of the economy."
RELATED: Puerto Rico Officials Slam Trump for Tweets On Island 'Bailout'
PREPA, which last month reached a deal with its own creditors to restructure $8.9 billion in debt, was told by the board to tweak its plan to ensure it can lower customer rates to 21 cents per kilowatt hour by 2023.
Water authority PRASA, whose plan will seek to reduce a 10-year funding gap of $3.5 billion, was ordered to raise rates, while highway authority HTA must alter its blueprint to address its fiscal sustainability asset by asset.
HTA must also come up with better solutions for losses at its mass transit system, the board said.
Puerto Rico is trying to escape a crisis marked by $70 billion in debt, a 45 percent poverty rate and unemployment more than twice the U.S. average. It faces a deadline on Monday to either reach debt restructuring deals with creditors or open itself up to lawsuits from those creditors.
It could also file a so-called Title III proceeding, an in-court restructuring process akin to U.S. bankruptcy, which would protect it from lawsuits.
At Friday's meeting, the board adopted a mechanism to file a Title III proceeding for the island or its public agencies without holding a public meeting.