In a tough gubernatorial primary, Puerto Ricans chose the son of a former governor who opposes a U.S. House plan for fixing the island's debt crisis, over their representative in Congress who supports it.
Ricardo Rosselló Nevares won 51.08 percent of the vote, while Resident Commissioner Pedro Pierluisi, Puerto Rico's congressional representative, won 48.92 percent in the Sunday election.
Rosselló is the son of former Puerto Rico governor Pedro Rosselló, who served from 1993 to 2001.
Pierluisi and Rosselló had taken opposite views on legislation approved by a House committee, known by its acronym PROMESA. The complex legislation proposes to appoint a board to take over Puerto Rico's finances and return it to solvency, which has drawn opposition for the extent of power it usurps from the U.S. territory's government. A House vote on PROMESA could come this week.
Both candidates are members of Puerto Rico's New Progressive Party, (PNP in Spanish) which supports statehood for Puerto Rico.
Pierluisi is supporting the latest version of the bill, drafted by Republicans, but parts of which were negotiated with Democrats and the administration. Pierluisi has given his support, despite opposing parts of the bill, because he said not taking action would be worse for Puerto Rico.
Rosselló is one of several candidates who will face off in the general election in November, but he and David Bernier, the pro-commonwealth Popular Democratic Party (PPD) candidate, are considered the frontrunners. Bernier also opposes the bill – and has threatened to sue to block it – as do the other candidates on the ballot: María de Lourdes Santiago of the Puerto Rican Independence Party (PIP), Rafael Bernabe of the Puerto Rico Working People's Party (PRTP) and independent candidates Alexandra Lúgaro and Manuel Cidre.
Rosselló opposed the legislation in his campaign. He has been pushing for Puerto Rico statehood to be part of any congressional action on the island's financial crisis, according to reports.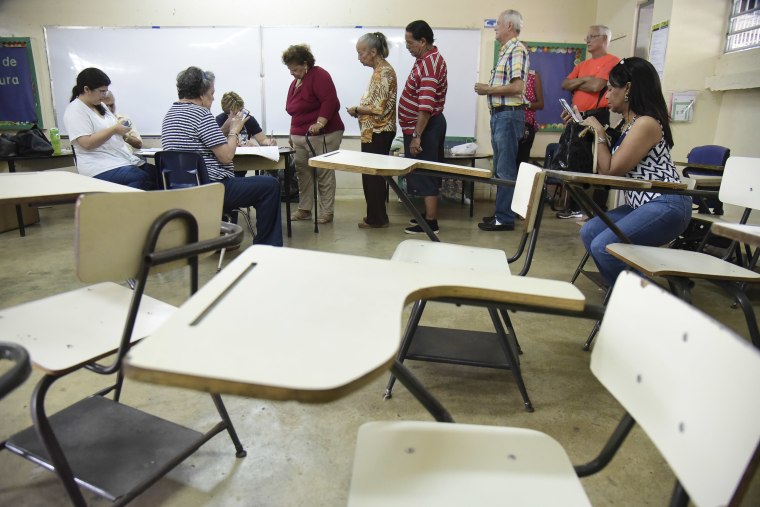 The primary had been bitter and turned negative, which Rosselló acknowledged in his victory speech.
"I would like to make it very clear to all 'progresistas' (members of New Progressive Party), what happened in the primary, whatever small fight that could have existed ends and today we go forward totally united," Rosselló was quoted as saying in a report Monday by El Nuevo Día.
Just before the election, Democratic presidential candidate Bernie Sanders had said he would introduce his own legislation to assist Puerto Rico and criticized the House committee bill.
RELATED: Hillary Clinton Edges Closer to Clinching Nomination After Puerto Rico Win
Clinton has expressed concerns with the bill, similar to Pierluisi, but is supporting it. The administration also backs the bill.
Clinton won the primaries in Puerto Rico with 59 percent of the vote to Sanders' 37.5 percent.