At least 1.2 million power customers in Puerto Rico remain without electricity on Thursday afternoon after an overnight fire at a main power plant caused the biggest blackout so far this year across the U.S. territory, forcing it to cancel classes and shutter government offices.
The outage enraged Puerto Ricans already frustrated with an electricity system which was decimated by Hurricane Maria in 2017. Emergency repairs were made at the time, but the reconstruction and essential work to modernize the island's antiquated and unreliable electric grid has not yet begun. Power company officials blame aging, ill-maintained infrastructure for the ongoing outages.
The two entities in charge of providing electric services to 3.2 million Puerto Ricans have not been able to say with certainty when will power be fully restored or what caused the circuit-breaker failure at the Costa Sur generation plant, one of four main plants on the island, that triggered the massive blackout.
Luma Energy, the Canadian-American private company that took over Puerto Rico's power transmission and distribution last year, said their crews have been working nonstop to restore the service. As of early Thursday afternoon, at least 300,000 customers had their power restored, but restoration efforts "could extend into Thursday and Friday in some locations."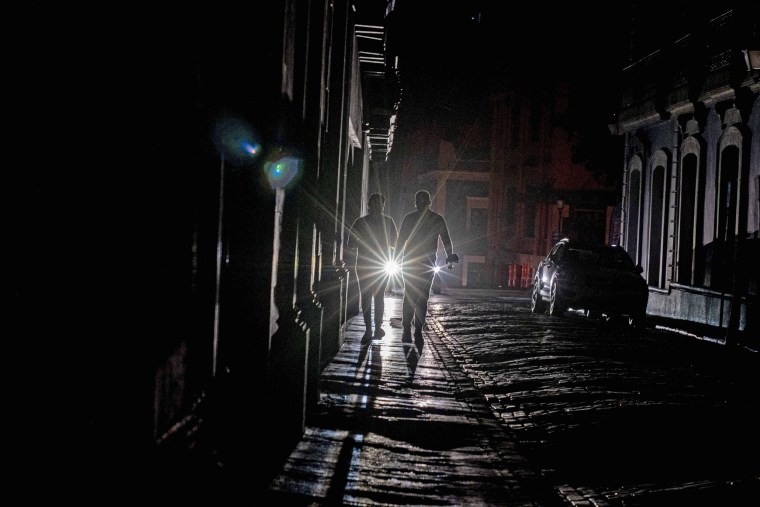 The Puerto Rico Electric Power Authority, the bankrupt public corporation in charge of controlling power generation units, said the island municipalities of Vieques and Culebra have been fully energized through a "submarine cable."
The blackout also left roughly 168,000 customers without water and snarled traffic across the island, where the roar of generators and smell of diesel filled the air.
NBC's sister station Telemundo Puerto Rico reported on late Thursday morning that about eight gas stations on the island ran out of fuel after consumers rushed to get fuel to power generators.
In a press conference Thursday evening, government officials said the island counts with enough fuel to last 60 days.
'This is horrible'
Those who could not afford generators and have medical conditions such as diabetes, which depends on refrigerated insulin, worried about how much longer they'd be without power.
"This is horrible," Luisa Rosado, a mother of two who lives in Río Piedras, a San Juan neighborhood, said while also decrying higher electricity bills. Puerto Ricans already pay almost twice as much as customers in the U.S. mainland for unreliable electricity.
"To increase bills when you don't provide a perfect service...the level of impunity is absurd," Rosado said.
Luma Energy Vice President Kevin Acevedo said the "system is being restored little by little," said Kevin Acevedo, adding that the company is trying to complete the work within 24 hours.
"The people of Puerto Rico have to understand that it's a system with a lot of years," Acevedo said. "Bringing back Puerto Rico's system is a delicate and complicated process."
Acevedo said "an exhaustive investigation" is underway to determine what exactly caused the circuit breaker to catch fire at the damaged power plant, adding that the equipment there "had been properly maintained."
Officials said at least three generation units were back online by Thursday, with crews working to restore more.
The outage occurred two months before the Atlantic hurricane season starts, worrying many about the condition of Puerto Rico's electrical grid.
"The people of Puerto Rico have to understand that it's a system with a lot of years," Acevedo said. "The system is fragile, no one is denying that, but we're prepared."
The federal government has already committed $12 billion in federal aid toward revamping Puerto Rico's energy sector. According to LUMA, part of that money is currently being used to replace outdated breakers like the one that caught fire at the Costa Sur generation plant.
In a press conference Thursday afternoon outside the damaged power plant, a LUMA official said many of the breakers being replaced are over 40 years old — though this piece of equipment normally has a 30-year lifespan.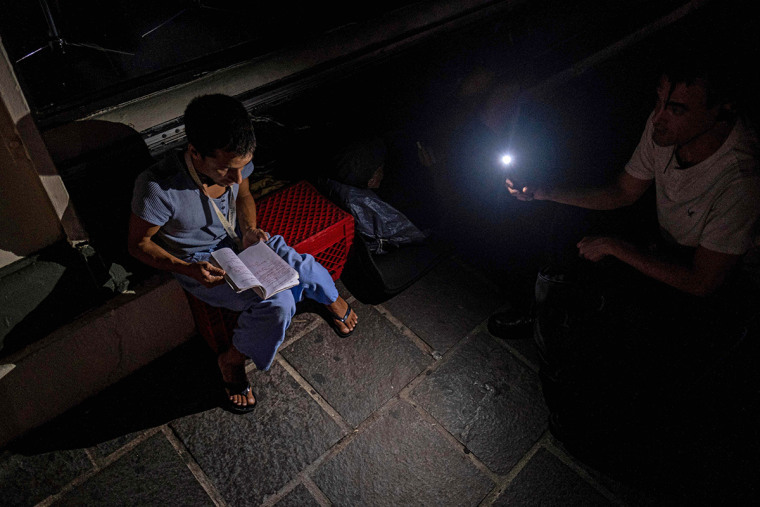 In 2020, a series of strong earthquakes that struck southern Puerto Rico where the Costa Sur plant is located also had damaged it.
The Electric Power Authority is trying to restructure $9 billion worth of public debt to emerge from a lengthy bankruptcy. The company has struggled for decades with corruption, mismanagement and a lack of maintenance.
In June of last year, a large fire at a substation in the capital of San Juan left hundreds of thousands without power. Another fire at a power plant in September 2016 sparked an island-wide blackout.
Follow NBC Latino on Facebook, Twitter and Instagram.