Classes were not in session in Puerto Rico's public schools Friday as heat advisories and record-breaking temperatures forced government officials to scramble for ways to protect students.
The Department of Education announced the closure last week, as a measure to better prepare and equip schools — most of which lack air conditioning — ahead of an upcoming heat wave.
According to the National Weather Service in San Juan, Puerto Rico stands to endure temperatures that could feel as hot as 114 degrees Fahrenheit next week.
In a recent survey of 2,500 Puerto Rican teachers, 83% said they lacked air conditioning in their classroom. Heat-related emergencies have been reported in about half of the public schools on the island, the survey also found.
Over the summer, heat records were broken almost every day in Puerto Rico. The island reported a record 47 nights with temperatures above 80 degrees Fahrenheit.
Last month was also Puerto Rico's hottest August since record-keeping began, according to the National Weather Service in San Juan.
The conditions have pushed the Puerto Rico Teachers Association, better known by their Spanish acronym AMPR, to advocate for a change in school hours that would allow students to be released earlier in the day, before the heat worsens.
The Department of Education has said it will consider adjusting school hours to avoid having classes during times of overwhelming heat.
Changes in school hours to release students earlier "is a measure that has been used in several states of the United States," Raúl González, AMPR's vice president, said in a news conference Thursday outside an elementary school in San Juan.
Elsewhere in the country, schools in states such as Connecticut, Pennsylvania, Maryland and New Jersey dismissed students early this week due to extreme heat.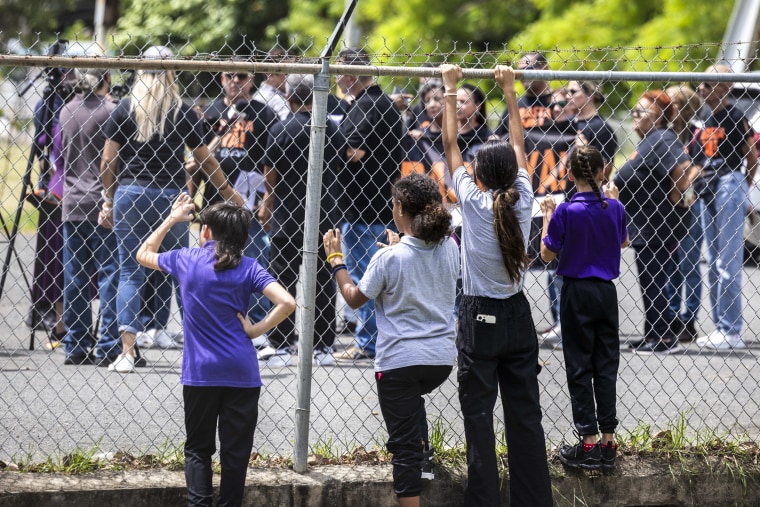 Three of Madelie Rivera's grandchildren attend the Santiago Iglesias Pantín elementary school in San Juan.
"When our kids get sick, they call us," Rivera told Telemundo Puerto Rico, NBC's sister station on the island, speaking in her native Spanish. "But why? Because there are no fans, there is no air conditioning, there is nothing."
According to the U.S. Environmental Protection Agency, children are more susceptible to extreme heat than adults because they lose fluid quicker, making them more likely to become dehydrated.
The Department of Education said it invested more than $1.4 million in buying and delivering 21,000 fans to various schools and continues to distribute them along with water and filter replacements.
The agency has also put in place new measures, like allowing students to wear Bermuda shorts and adding fresh fruits and more liquids to school menus, among others.
What about air conditioning?
Many public schools with air conditioning have inoperable cooling systems due to recurrent power outages, teachers and parents have said. Puerto Rico's patched-up power grid has not been permanently rebuilt after hurricanes Maria and Fiona destroyed it in 2017 and 2022, respectively.
A bill that sought to ensure air conditioning systems for all public schools was vetoed last month by Gov. Pedro Pierluisi.
Sheila Angleró, the governor's spokesperson, told The Associated Press that any project with a "significant fiscal impact" needs to undergo a budget analysis from the Legislature, a requirement for an island emerging from the largest U.S. municipal bankruptcy.
Without air conditioning, students in public schools depend on fans and the breeze blowing in through the classrooms' metal shuttered windows.
Myriam Gaud, the mother of a high school student in Ponce, told Telemundo Puerto Rico that her child often complains to her about the heat he endures in the classroom.
"It's too hot in here," her son tells her, adding, "How do they expect me to function and be able to concentrate when I feel dizzy?"