The head of Puerto Rico's largest public university announced on Tuesday that she has resigned just hours before she faced arrest for failing to reopen an institution that has been shut down by a student strike for nearly two months.
Interim president Nivia Fernandez stepped down along with three members of the board of governors of the University of Puerto Rico, including the board's president and vice president.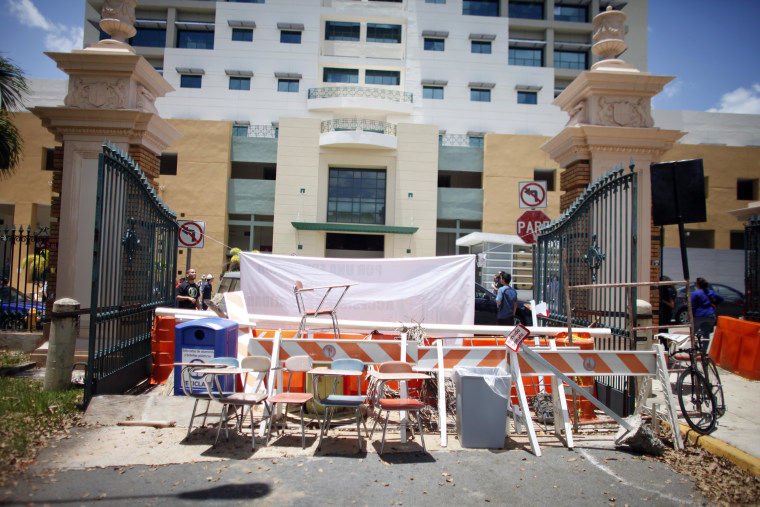 The university's gates have remained locked and blocked by piles of desks and tires since late March as students protest $450 million in budget cuts sought by a federal control board overseeing the island's finances. The island's governor has proposed the cuts be reduced to $241 million, but no deal has been reached.
RELATED: Puerto Rico Oversight Board Approves GDB Liquidation Plan
"Unfortunately, the university is being targeted by a disproportionate ... and unfair funding cut that not only places the university's physical integrity at great risk, but also the capacity it still has to attract top-quality teachers," the board members who resigned said in a letter to Gov. Ricardo Rossello.
The University of Puerto Rico serves more than 50,000 students across 11 campuses. The system already has been hit with nearly $350 million in cuts in recent years, and professors have been denied sabbaticals and salary increases.
The proposed cuts are among several measures the federal control board is pursuing to reduce government spending as the U.S. territory prepares to restructure a portion of its $73 billion public debt load.
A judge had threatened to arrest Fernandez if she did not present a plan to end the strike by Tuesday afternoon. Fernandez had asked police and justice officials for help in reopening the school, but they refused to intervene.
Fernandez said she met with board members until late Monday night but said they chose not to proceed with possible strategies to reopen the university. She provided no further details.
RELATED: Board Orders Furloughs, Pension Cuts, More for Puerto Rico
"I have full confidence in a prompt and fair conclusion to the current and unusual situation that we find ourselves in," she said in her resignation letter.
Fernandez served for 13 weeks after the previous president resigned along with several top-ranking university officials in late February, also in protest of the looming cuts.
The university has been fined $1,000 daily ever since a judge ordered it be opened by May 11. Students voted earlier this month to indefinitely extend the strike, and they are scheduled to hold another meeting on the issue on Thursday.
Late last week, the Middle States Commission on Higher Education placed eight of 11 University of Puerto Rico campuses on probation in part because of the strike. The island's university system remains accredited.