Puerto Rico is warning state and federal officials it is about to run out of Medicaid money, which will plunge it into a major health crisis, while Puerto Ricans in the U.S. have planned protests in several U.S. cities against a ordered austerity plan.
Officials from the U.S. territory planned to pay visits to Congress Wednesday to get action on its looming medical crisis and hold a news conference on the Capitol grounds featuring several Puerto Rican state legislators, the U.S. territory's governor, its secretary of health and leader of its health insurance administration.
Meanwhile, Puerto Ricans in seven cities planned to stage demonstrations against the debt restructuring plan devised by the Financial Oversight Board, with input from Puerto Rico Gov. Ricardo Rosselló. It makes major cuts to its government agencies and calls for worker furloughs and pension cuts. The protests were scheduled to coincide with the anniversary of the abolition of slavery in Puerto Rico.
The plan by the congressionally appointed oversight board is intended to help pull the commonwealth out of its economic crisis and begin paying off the $70 billion it owes. The plan was approved last Monday in New York.
The Puerto Rican office holders' Washington, D.C. visit comes after Rosselló sent a letter to Florida Gov. Rick Scott March 17 asking for Scott's help "activating" Florida's congressional delegation "as a voice of reason" on the looming health crisis.
RELATED: Board Order Furloughs, Pension Cuts, More for Puerto Rico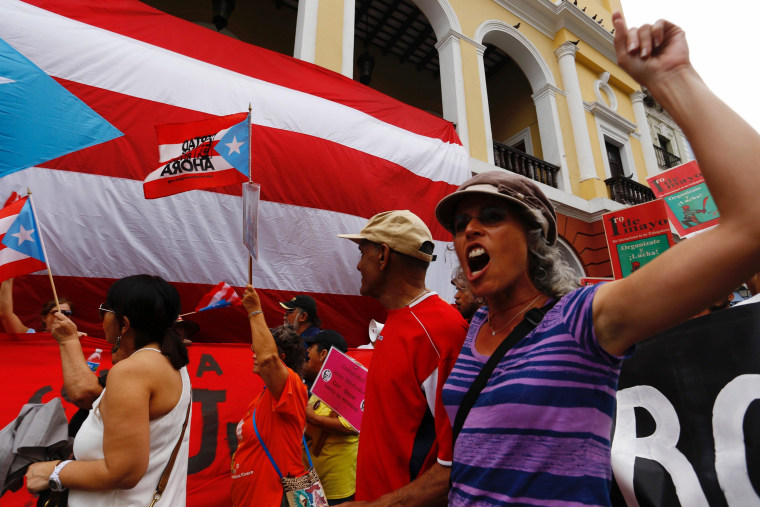 Puerto Rico could use up all its funding for Medicaid, the health care program for the poor and elderly, pushing it off the Medicaid "cliff" in a matter of months.
Puerto Rico Medicaid and Medicare rates are about half of what states get, though the Affordable Care Act tried to remedy some of that. But nearly all that money is in danger of being exhausted.
In his letter to Scott, Rosselló noted that 440,000 Puerto Ricans have moved from the island to the mainland U.S. and some 128,000 people ended up in Florida between 2010 and 2015. Their relocation could put a strain on Florida's budgets, Rosselló said. He also sent letters to governors from California, Connecticut, Georgia, Illinois, Massachusetts, New Jersey, New York, Ohio, Pennsylvania, Virginia and Wisconsin.
"Our projections on the Medicaid expenditures Florida needed to serve this population (from 2011 to 2025) could exceed $6 billion, with $3.7 billion coming from the federal government and the remaining $2.5 billion from your state funds," Rosselló wrote. "If Congress allows "the Medicaid cliff" to take effect these numbers will only increase further as the rate of migration from the island to the states inevitably grows."
The cities where the protests against the austerity plan were schedueld are Boston, New York, Hartford, Connecticut; Chicago, Orlando, Florida; Seattle and San Juan, Puerto Rico.
"On the anniversary of the abolition of slavery in Puerto Rico, we are saying it's time to break the chains of economic injustice and unite Puerto Ricans on the island and across the U.S. in fight for a fair economy for all," the coalition Vamos4PR said in a statement announcing the protests.
The coalition says the payment plan puts debt holders before people. The coalition also said it is raising awareness of conflicts of interest among some members of the oversight board who are deciding how Puerto Rico should repay debt that is due in part to predatory loans and bonds those same board members sold the country.
RELATED: Task Force to Congress: Fix Puerto Rico Health Crisis Early in 2017
Scott's media office said Thursday morning it is reviewing the March 17 letter.
The Trump administration is trying to push through the House legislation to repeal Obamacare, officially known as the Affordable Care Act.
The replacement offered by Republicans would make significant changes to Medicaid.
The bill, referred to as the Ryan bill after House Speaker Paul Ryan, R-Wis., does not address Puerto Rico's issue, said Federico de Jesus, a political consultant and principal at FDJ Solutions.
Puerto Rico's problem could be addressed in an amendment or an omnibus spending package next month or at the latest in legislation reauthorizing the Children Health Insurance Program, CHIP, expected in December, but de Jesus said the CHIP bill may be too late.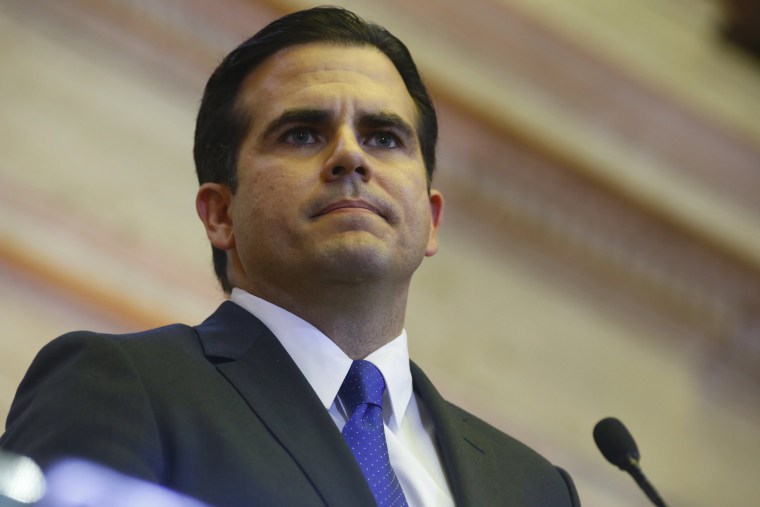 A subcommittee of the House Natural Resources Committee was reviewing the Puerto Rico Electric Power Authority's $9 billion debt and its plan for dealing with it. Rep. Raul Grijalva of Arizona, the ranking Democrat on the full committee, said in a statement they planned to urge assistance for the island, question the debt restructuring plan and "call for an end to Republican overreliance on privatization as a means of fiscal austerity." Roselló was among those testifying on Wednesday morning.
Rep. Darren Soto, D-Fla., who is the only member of the state's delegation of Puerto Rican descent, said he feels a "special duty to help our brothers and sisters on the island."
"Florida also has a direct interest in the economic recovery of Puerto Rico as a likely destination for many who are leaving there due to economic hardship," Soto said in a statement.
Rep. Mario Diaz-Balart, R-Fla., said his office would work with Puerto Rico's representative in Congress, Resident Commissioner Jenniffer González-Colón.
Joanna Rodriguez, spokeswoman for Rep. Carlos Curbelo, R-Fla., said his staff has been in contact with the appropriate House committee and Curbelo is "looking at different solutions to address this problem."
"It is his (Curbelo's) firm belief that assisting the people of Puerto Rico is of critical importance and is exploring all options to benefit those on the island," Rodriguez said.
Christina Mandreucci, a spokeswoman for Sen. Marco Rubio, R-Fla., said Rubio and a congressional task force working on stimulating economic growth for Puerto Rico have warned congressional colleagues that Puerto Rico's Medicaid funding "is detrimental to economic growth on the island and he is committed to continuing to work with leadership, the administration and the state on a solution."