A magnitude 5.9 shock hit Puerto Rico on Saturday morning as the island's residents were already reeling from a series of major quakes this week, including one on Tuesday that was the biggest in a century.
The latest quake, which came around 9 a.m. local time, has caused even further damage, mainly in areas around the southern coast where hundreds of homes and schools had already collapsed from the Tuesday temblor that had a magnitude of 6.4.
Download the NBC News app for breaking news and politics
Saturday's quake, which was initially calculated at magnitude 6.0, also left roughly 59,000 customers without power, according to the island's power authority.
Witnesses said the temblor caused concrete debris from damaged buildings to topple into the streets, mainly around the southern area.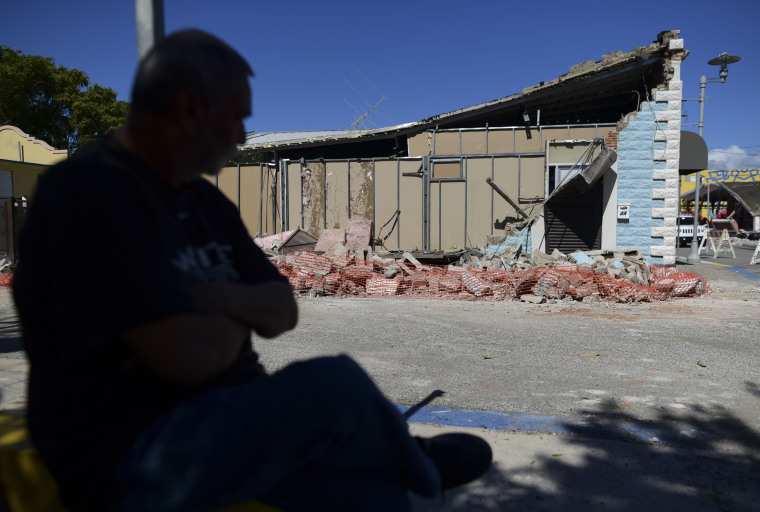 Randy Baldwin, a geophysicist at the U.S. Geological Survey, said that the 6.0 magnitude quake is considered an aftershock along with several other 5.0 magnitude aftershocks overnight.
"The one this morning is the strongest one" since the big earthquake on Tuesday.
Gov. Wanda Vázquez said Saturday afternoon that she had declared a major state emergency after an initial assessment of damage following the latest temblor.
The governor also announced the immediate disbursement of $2 million for the hard-hit towns of Guánica, Utuado, Guayanilla, Peñuelas, Ponce and Yauco, which are all near the epicenter of the quakes, to meet their most pressing needs.
Jennifer Gonzalez, Puerto Rico's commissioner to Congress, and five members of Congress sent a letter to President Donald Trump on Saturday, asking him to sign a major disaster declaration that would bring federal funding to the recovery effort.
The quakes have caused $110 million in damages and have destroyed at least 559 structures islandwide, she said.
Hundreds of quakes and aftershocks have shaken the island since the new year, according to U.S. Geological Survey data.
While the epicenter of the latest quake was centered off island's southern coast, its tremors were felt as far north as San Juan. People in the island's capital city felt a shock that lasted about 10 and 15 seconds.
The latest quake comes as thousands of people across the island, mainly in southern towns, have been sleeping outdoors since Tuesday.
Many people whose homes have collapsed or who fear their houses could crumble with another aftershock have sought refuge in government-run outdoor shelters. Others take their beds to the sidewalk to sleep outside their homes until dawn.
Some others have moved in with relatives in towns further away from the most-damaged areas.
Telemundo Puerto Rico reported that people in an outdoor shelter in the Peñuelas ran for their lives after the Saturday morning temblor triggered a landslide. In the town of Ponce, part of an 1800s historic building collapsed, and streets in the southern part of Guánica ruptured.
So far, at least one person has died and nine others have been injured as a result of the seismic activity this week.
Follow NBC Latino on Facebook, Twitter and Instagram.