She had little national recognition, but those who knew her remember Helen Chavez as having been a critical part of the campaign for humane working conditions and wages for farm workers led by her husband, the late civil rights leader Cesar Chavez and the "rock" of her family.
Helen Chavez died Monday in Bakersfield, California leaving an imprint that only recently received some attention with the release of a film on the life of her late husband, but her legacy is held tightly by her family and friends. She was 88.
Her picketing and protests and her arrest for her civil disobedience, along with her work in helping keep the accounts of the union and its members through the union credit union, helped bring about humane working conditions for the nation's farm workers, many who at the time were American citizens of Mexican descent or Mexican immigrants.
She had the added duties of caring for the Chavez children, and those of other family and friends, and running their household. Family and friends recall that she cared for them when parents were in the fields or out on strike or protesting.
"Because she raised my aunts and uncles, people say somehow she was a traditional Mexican woman and I would say she was everything but that," said Julie Chavez Rodriguez, her granddaughter who is the White House deputy director in the Office of Public Engagement. "She was such a powerful role model for all of us."
"She was the woman behind the throne. The foundation, the rock of the movement because she was so strong," said Dolores Huerta, who organized farmworkers along with Chavez.
Chavez Rodriguez said she remembers the pride her grandmother had in her work because it was for the farmworkers.
"That was a big part of who she was. She was really fierce in her own right and oftentimes she was one of the few people in our family who could sort of bring everybody together immediately. She was kind of a rock in our family," Chavez Rodriguez said.
She said she made sure she and other children understood the hardships of their parents and of farmworkers, something she understood because she had worked in the fields as a young girl.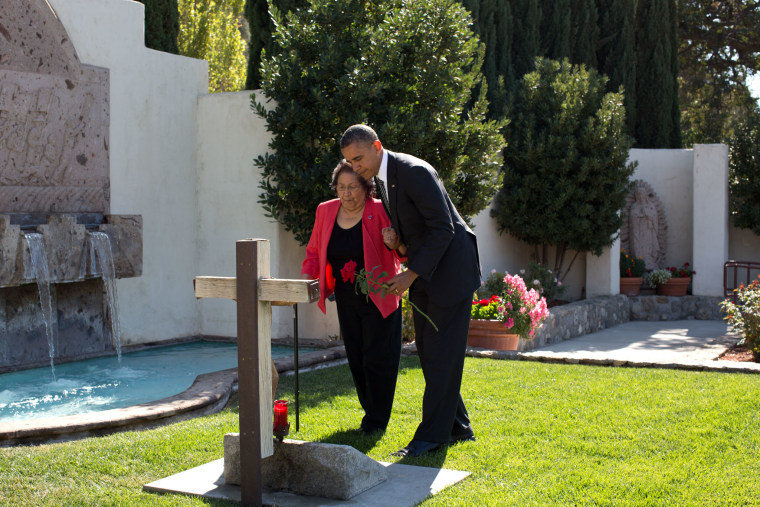 "Helen, a humble girl from Delano, used her fierce determination to help change the lives of thousands of farm workers and millions of others who were inspired by La Causa (the cause)," said a statement issued by the United Farmworkers, the union that she and Chavez and other activists such as Dolores Huerta helped form.
According to UFW and the Cesar Chavez Foundation, Helen Chavez and her family lived in a converted horse barn when she was young. She was born Jan. 21, 1928 in Brawley to Eloisa and Vidal Fabela, one of Pancho Villa's colonels during the Mexican Revolution, the Cesar Chavez Foundation said in a statement. Her father died when she was 12, leaving her to raise her siblings.
She ended up dropping out of high school in her sophomore year to work in the fields and a packing house.
"People say somehow she was a traditional Mexican woman," said her granddaughter Julie Chavez Rodriguez. "I would say she was everything but that."
She met Chavez in Delano, California in the mid 1940s and married in 1948. They had eight children, seven who have survived her.
According to the Cesar Chavez Foundation, Cesar Chavez would return home after working in the fields and experiencing its abuses and mistreatment and tell Helen "somebody's got to do something about it." The foundation and UFW said the two left middle-class life in Los Angeles to live in poverty to organize and bring better living conditions to farm workers.
"During the earliest years when he would sometimes return home to Delano, California after days on the road feeling alone and demoralized, not having recruited anyone into his new union, she would encourage him, saying, 'Cesar, you have to have faith in God that what you're doing is right.' he would feel better, go out and try again," the foundation said in its statement on her passage.
One of Helen Chavez's key roles was running the credit union that they created for the farmworkers, which she ran after picking all day in the vineyard fields.
Chavez Rodriguez said working with her grandmother to help out at the credit union and fold receipts is one of her earliest memories of her. She said Chavez's experiences with discrimination while she worked in the fields were part of her makeup.
"Some of those early experiences helped her have a real love for justice, to do what she could to right the wrongs in the world," Chavez Rodriguez said. When Cesar Chavez decided to return to the fields and that she would too, she backed him despite knowing they would return to backbreaking work, she said.
The Chavez Foundation said she ran the Farm Workers Credit Union for more than 25 years and that the credit union loaned more than $20 million to farm worker members over the years.
Apart from that work, "Helen was known for her prowess in the kitchen and good food. She cooked for countless union events and conventions as well as weddings, baptisms and Thanksgiving and Christmas meals for movement volunteers who couldn't make it home," the Cesar Chavez Foundation stated. "Like all union staff, including Cesar, Helen made $5 a week plus food and housing."
Chavez Rodriguez spent a year and a half with Helen Chavez after Cesar Chavez died, and learned many of her recipes in that time, including her favorites Helen Chavez's "famous" salsa and refried beans.
"I've been able to cook (the salsa) almost to a 'T'. I would say her rice is like none other and her refried beans, that's all I wanted to eat. It was like butter," she said.
Huerta, who lived with the Chavez with her children for some years, said that while Helen Chavez did get arrested and participated in the protests, she was happiest as a homemaker and put family first.
"She reminded me of a lioness. Her children and her grandchildren were the most important thing in the world," Huerta said.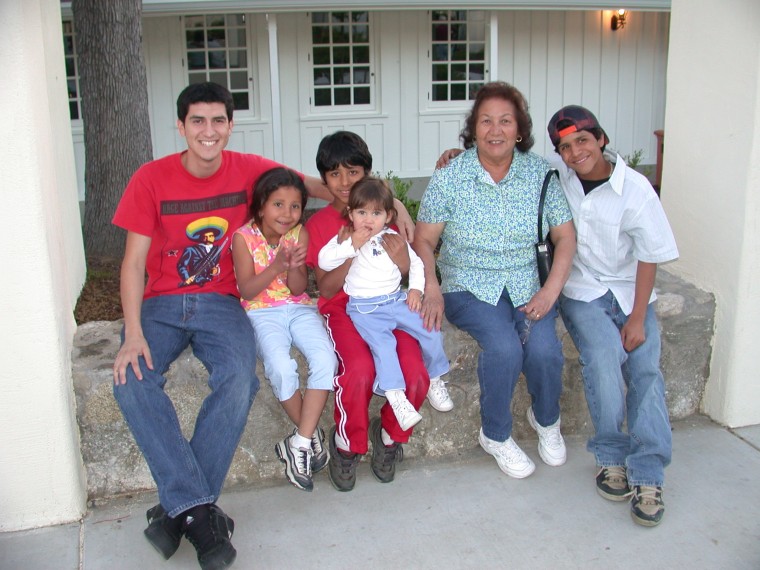 The Cesar Chavez Foundation said that when she visited her husband's gravesite with President Barack Obama on Oct. 8, 2012, where he'd gone to dedicate the Cesar E. Chavez National Monument, she asked him to promise to do something on immigration reform.
Chavez Rodriguez chuckled recalling that her grandmother took some credit for Obama using executive action to provide deportation deferrals to millions of immigrants, actions now tied up in court. After he announced the actions, she sent the president an email thanking him, she said.
In an essay on the UFW website that was written before Helen Chavez's death, Abby Flores Rivera included a few sentences about Helen Chavez when she first started working with her at the credit union.
Flores Rivera says in the essay she found Helen Chavez unable to close the month's books because of a missing 17 cents and that she helped her find the error so the books would balance.
"Helen was grateful, 'I've been pulling my hair going crazy!'" Flores Rivera wrote, quoting Helen Chavez. Flores Rivera said she worked tirelessly, through long hours, caring for eight children and doing thing sfor her husband, along with helping the many workers coming in and out of the office all of the time.
Helen Chavez was portrayed by actor America Ferrara in the biopic "Cesar Chavez." In an interview, Ferrara said Helen Chavez had worked in the fields since she was 7.
"When she was out there protesting, picketing, pamphleting, getting arrested, running the credit union (of the farmworkers' union), that was about a fight for her own dignity," she said in one interview.
Ferrara, who is active in politics and Latino civic engagement, said that growing up in California she knew of Cesar Chavez but had been less informed about Helen Chavez and the role she played in the movement. She said in another interview that through research and talking with the family and Helen Chavez, "it became very clear that this was an incredibly able and capable and active woman in both the cause and the movement," she said.
Flores Rivera saw those same attributes in Helen Chavez.
"How did she ever manage?" she wrote in her essay. "As I soon learned, a lot of people may have given themselves all the credit or taken it without asking, but it was Helen who did most if not all work."
The Chavez Foundation said she met many famous people such as Robert and Ethel Kennedy, actor Anthony Quinn and Coretta Scott King.
"But she was most comfortable spending Saturday afternoons with family and friends enjoying a barbecue and a cold Olympia beer or two, listening to oldies and rancheras and occasionally belting out a grito," the foundation said.
She remained politically active, right up until this year's election, Chavez Rodriguez said. As soon as she got her absentee ballot she cast it and "everyone who came to her home in the course of the last six months, she told them the needed to register to vote," she said, " ... they need to support another historic presidency and to make sure we're protecting a lot of the great work ... that has been in place."
Service details were pending but Marc Grossman, spokesman for the Cesar Chavez Foundation, said she would be buried next to Chavez at the Cesar Chavez memorial monument.