HOUSTON — For a few moments, Aleida Ramos, wearing her rose-colored tiara, coral dress with the scalloped bell skirt and cowgirl boots, floated above family and friends, uplifted by tradition, community and family.
It was Aleida's quinceañera — her 15th birthday celebration — and at this moment, the men and boys had lifted her straight up as her guests applauded, a high point in a day dedicated to her.
But even though she had permission to soak up all the attention, she dedicated a part of the event to a bigger cause. In the entry of the family-owned event hall where her party was being held, Aleida had made room for the Latino youth advocacy group Jolt Initiative so it could register her mostly Hispanic guests to vote.
Slipped between the speeches of thanks to family and friends and the dances with her uncles, Aleida and her father spent a few minutes urging their guests to register to vote.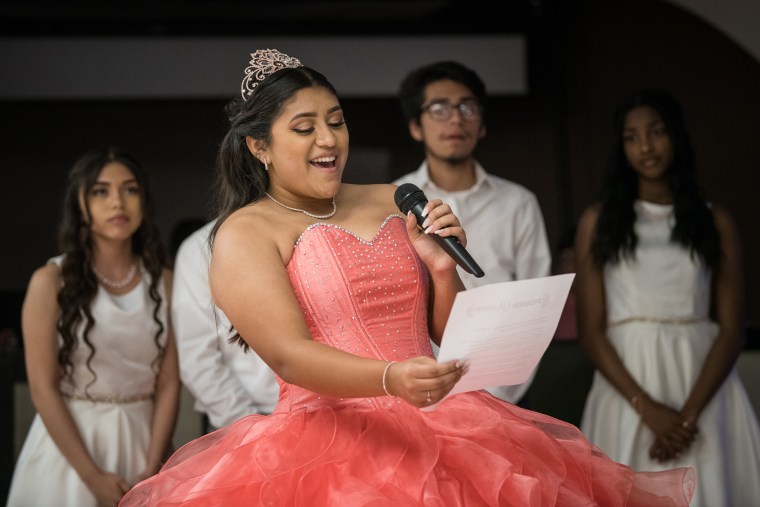 Nothing was said about who should or shouldn't be in the White House or about the job being done by Congress. Instead, Aleida and her father, Marco Ramos Jr., focused on the potential political influence of Latinos, who turned out in record numbers in 2018, but still have some of the worst turnout among eligible voters.
"We want to get as many votes out there for the next election," Marco told his guests.
Aleida said she wanted to support the family, friends and community that has been supporting her "with what I can, and that is my vote."
"Our vote ensures we continue to protect our community and those who matter to us most," she told her guests.
The Latino voting challenge
Jolt's aim is to make voting as much of a part of the Latino culture as a quinceañera.
Jolt launched its "Poder Quince" (Quince Power) initiative in May, noting that 50,000 quinceañeras are held each year and that the celebration has become mainstream in Texas.
Jolt is a Texas-based nonprofit that organizes and mobilizes Latinos to build their political power. It has a political arm that supports a progressive agenda and leaders.
Aleida's quinceañera was the first in Harris County, which includes Houston, to incorporate the Poder Quince project. Harris County has the second-largest Latino population in the country, about 2.02 million, behind Los Angeles County's Latino population of about 4.91 million.
The county set a turnout record in last year's midterm elections and performed better than recent presidential elections, helped by increases in young voter and Latino turnout.
"That's why we are so focused on energizing the Latino vote in Houston. The Latino vote lives here, and we have to mobilize them and there is so much riding on them," said Antonio Arellano, Jolt's spokesman.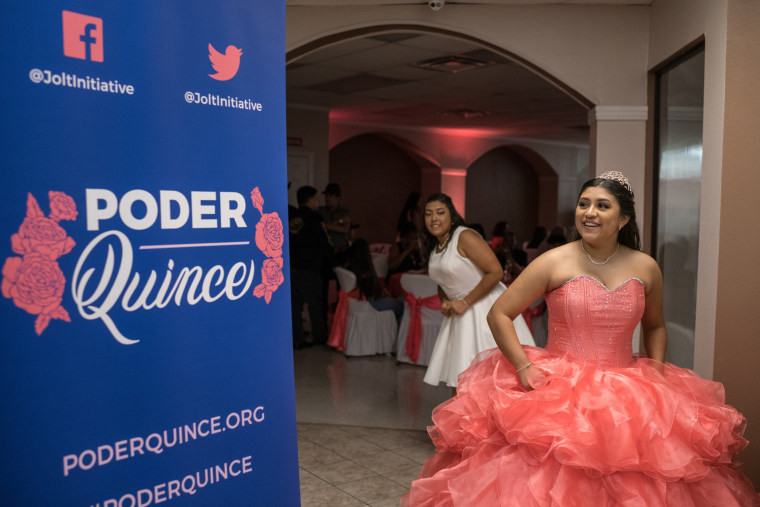 Latinos are set to be the second-largest minority group of eligible voters in the 2020 election, about 13 percent of the electorate, or 32 million people, while one in 10 voters will be members of Generation Z — Americans 18 to 23 next year, according to Pew Research Center.
But in every presidential election since 1996 more Latinos who were eligible to vote did not vote than did, according to Pew. With the Latino population skewing younger, turning out younger voters will long be crucial to increasing Latino voter turnout.
Although the group has a challenging task, it undertakes it at a time of great opportunity. Trump won Texas by 9 percentage points in 2016, and his campaign's internal poll for 2020 showed him up by only 2 points in Texas over Joe Biden, the former vice president who is the front-runner in the polls for the 2020 Democratic presidential nomination.
At Aleida's quinceañera, Jolt staffers trying to register voters had to compete with a catered taco dinner, cumbias and the sharing of chisme (gossip) with friends and family.
Their lure was a photo booth. As guests wandered over later in the night, Rey Beltrán, Jolt's voter registration manager, and Angela Borges, a University of Houston student, were able to sign up a few people, including some already registered who updated addresses.
A father's advice
Aleida knows she's too young to vote. Politics is barely on her radar. Her big concern is playing soccer and whether her ball skills will measure up to the girls in the new league she's joining.
She was intrigued, though, by the young Latinas who donned their quinceañera gowns for a Jolt-organized protest against an immigration bill, now a law, at the state Capitol last year. Jolt staffers had shown Aleida slides of the protest while discussing Poder Quince with her and how she could incorporate it into her celebration.
"I liked their stories and what they said about everything, and I wanted to do something that would help us — trying to make a difference in things for our community," Aleida told NBC News. "It inspired me."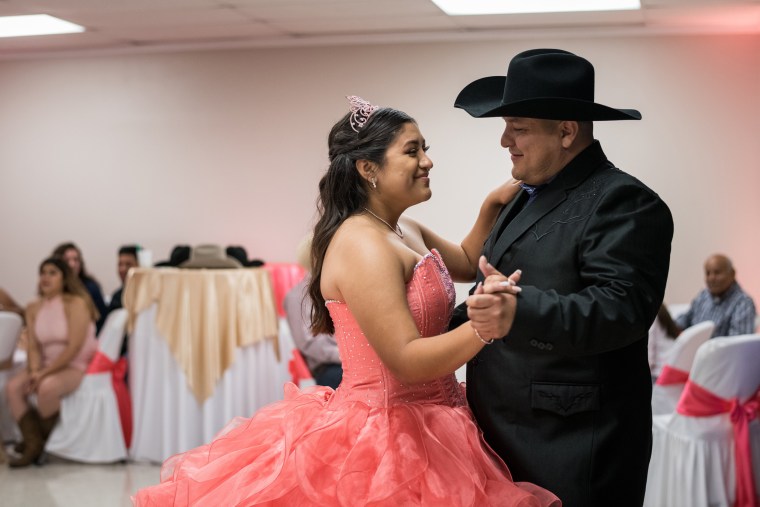 It wasn't the first time Aleida had been told she could make a difference.
"My dad tells me I have to be educated to vote and have to know what I'm voting for and about the person," Aleida said. "He says, 'Emancipate yourself from mental slavery and no one but yourself can free your mind,'" Aleida said quoting her Dad — who was quoting reggae musician and singer Bob Marley.
"He tells me that before school, 'Be educated so when you vote you know who you are voting for and everything they are doing so you are not stupid before you vote,'" she said. "And when people ask you why you are for that person, you don't stutter. You know because you are educated."
During the ceremony, the two shared a father-daughter dance.
Aleida's father doesn't consider himself politically active, but has regularly voted since he was 18 and has encouraged his daughters to do the same. He was born in Del Rio, Texas, but every summer until he was 14, Ramos' parents would send him across the border to Ciudad Acuña, Mexico, his mother's hometown. His grandfather brought the family to California, then Houston, where he started the first Spanish language radio station, KLVL.
"Aleida, what can I say, mija? I love you so much," Ramos said to his daughter in a speech at the quinceañera. "The first day I met you was the first time I had tears of joy. ... There was two things I wanted to accomplish by raising you. One of the things was to educate you. I want you to be a well-educated independent woman. … Second, I wanted to make you happy."
Start a trend, educate a community
Aleida's sister, Bethany Cano, 21, who was already registered, was impressed with the idea and thought her sister might be able to launch a trend, one that might become a trend on Instagram.
"It's a good idea that every Latina can have this speech and empower girls to know that when they turn 18 they can have a voice," Cano said.
Angelica Sanchez, 42, a friend of Aleida's mother, Angela, stopped at the Jolt booth for a photo and updated her address on her voter registration. "It's been a while and it's kind of an inconvenience to go redo everything, so this was easier," she told NBC News.
She liked the idea of mixing voter registration with a happy occasion that didn't center around politics. Having registration at a quinceañera helps out the Hispanic community, taking the pressure off those who may not be voters and who have questions about how to register or about elections, she said.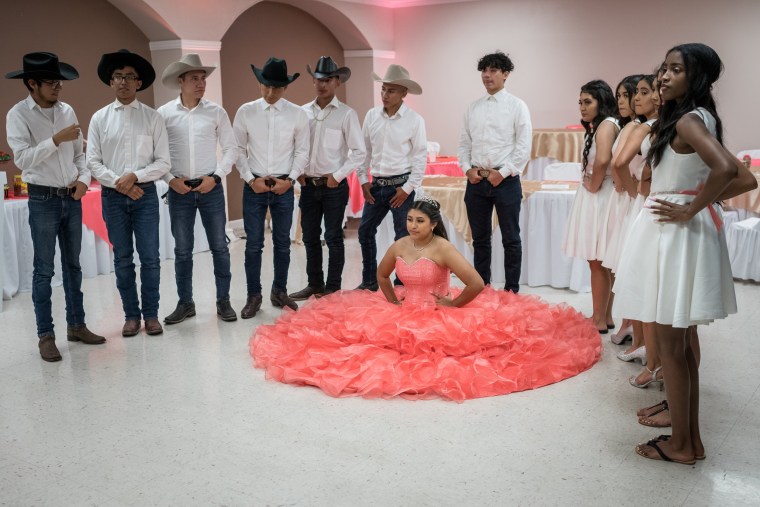 Jolt's photo booth and the colorful feather boas and funny oversized hats guests could don proved popular with Aleida's younger guests, even though many were too young to vote and most were interested in the photo.
Olivia John said she found it "cool" that she had the opportunity to register, which she learned she could do at 17. She's turning 18 on June 22. Coming from an immigrant family, she said she wasn't happy with the current backlash against immigrants. "But I try not to talk about it because it gets me so mad," she said.
On the other hand, 15-year-old Nikita Varughese said, "I don't care," when asked about the chance to register.
"It's not an issue in my life right now," she said. "I probably will start voting. … When I turn 18, I think I should."