ALAMO, Texas — After weeks of making calls, Priscilla Mendoza, a law clerk with the Texas Civil Rights Project, got a break Monday in one of the missing child cases the nonprofit is working on after family separations on the U.S.-Mexico border.
Mendoza was on the phone Monday afternoon pumping a government official for information, when she confirmed that the child a father had been trying to find since May 29 was indeed in federal custody.
The scene took place in the bare-bones, single-story office the project shares with other nonprofits, as the federal government was on the other side of the state telling reporters it was "fully aware" of the whereabouts of every parent and child separated at the border.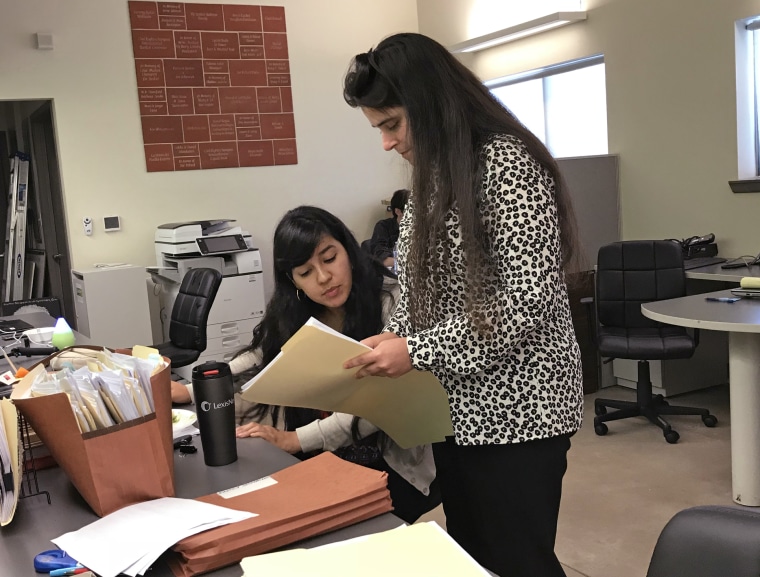 Mendoza and her colleague Alexis Bay are spending their summer in the Rio Grande Valley. They're among the attorneys trying to help track down the children who were separated from their parents as a result of the Trump administration's policy of prosecuting immigrants caught crossing the border illegally, a misdemeanor.
On Tuesday, Health and Human Services Secretary Alex Azar said in a Senate Finance hearing, "There is no reason why any parent would not know where their child is located."
This follows statements on Monday in Tornillo, Texas, where HHS spokesman Mark Weber said the agency was "fully aware" of where the separated children and parents are.
"I will emphasize, we know where their parents are, we have connected with their parents in almost every case," Weber said, speaking at the compound where the government is keeping some of the children who were separated from their parents. He said they are aggressively looking and if a parent has a hard time finding the child, "we are going to find them."
Advocates and attorneys say that may be the case, but that information about the children's whereabouts isn't being shared with them.
"That's a low bar. They know where they are?" Efrén Olivares, director of the Texas Civil Rights Projects' racial and economic justice program, told NBC News. "They took them."
'There is no claim ticket' to find children
The work to connect children and parents and get them an attorney is "a race against the clock," said Olivares, because in some cases, when attorneys and advocates have made checks, the parent is no longer with Immigration and Customs Enforcement and the child is no longer with the Office of Refugee Resettlement.
"That means they were released or deported — I can only hope that means together," he said.
M. Lucero Ortiz, director of legal services of the Central American Resource Center, or Carecen, based in Washington, said she fears that reunifying the parents won't go smoothly because documentation in the transfer of immigrants from Customs and Border Protection (CBP) and ICE is minimal and often has mistakes.
"When people are processed through CBP, they have to turn in their possessions and they give them their receipt and are told they can pick up these items later. We value those items more than children," Ortiz said. "People weren't even given a basic piece of paper. … There is no claim ticket."
The Texas Civil Rights Project started in earnest searching for children after the Trump administration announced its "zero tolerance" policy for illegal immigration last month and as attorneys here found that the number of parents separated from children was growing.
After weeks of pressure, the Trump administration stopped the separations.
Attorneys with the Texas Civil Rights Project have been going to the federal court in McAllen, Texas, since May 24 to gather as much information as possible from migrants who were prosecuted on charges of crossing the border illegally, a misdemeanor of first entry.
They have 381 cases of parents or guardians separated from their children, a tally derived from being in the court daily and interviewing parents who raised their hands when asked if their child was taken when they were arrested.
Even though getting confirmation that a child is in federal care is a far cry from reuniting the child with a parent, Mendoza saw it as a small victory Monday.
"We are trying to find information on any kid," she told NBC News. "This is the first time (in a while) they were able to give me some kind of information."
The Office of Refugee Resettlement (ORR) won't automatically release information on children to protect them. Callers must have names, birth dates and other information on the child, and it must largely match what ORR has.
ORR can confirm to a parent or an attorney whether the child is in a shelter. A caseworker has to call back to put the parent and child in touch. Mendoza said she expected the caseworker to set up a call for the child she located by Wednesday.
"We have some, where the child is with ORR and the parent is no longer with ICE, so my fear there is the parent may have been deported," she said. "We keep checking every day, because you check them in the system and they are there and you check again and they are not there, before we can place them with an attorney."
The Texas Civil Rights Project said it cannot confirm the Department of Homeland Security statements that it has reunited 522 children who were separated from adults and ended up in government custody. The group said it can only verify four reunifications of parents the group interviewed.
The project filed a complaint with the Inter-American Human Rights Commission on the separation policy and included five parents and their children in the petition. Olivares said three of the five parents are no longer in Immigration and Customs Enforcement's system and their children are not with ORR.
Olivares said he is skeptical of a statement released by the Department of Homeland Security that outlines its reunification efforts. The plan focuses on reunifying parents and children "for purposes of removal," Olivares said.
Attorneys create a "census" or database
Ortiz said she and other attorneys who deployed to the border to assist separated families are creating a grass-roots "census" of all families and children that they can find.
A group of 10 attorneys she deployed with to the border interviewed nearly 200 parents at the Port Isabel Detention Center.
In the first few days, the families did not have any idea where their children were and had not had contact with them at that time, she said.
The Port Isabel Detention Center has forms that immigrants can fill out to ask for such things as clergy visitations, dietary needs or other things. Attorneys created a request so parents could ask to speak with their children, Ortiz said.
Eileen Blessinger, a Virginia attorney, said she and her colleagues encouraged parents to fill out the forms every day requesting contact with their children.