Chicago Mayor Rahm Emanuel won a historic runoff over challenger Jesus "Chuy" Garcia in a Tuesday election seen as a battle between the city's Democratic establishment and its progressive grassroots.
Emanuel returns to a second term with the city facing serious financial and social issues - from significant pension debt to school budget problems and numerous shootings.
With about three-quarters of voting precincts reporting results, Emanuel had 56 percent of the vote compared to 44 percent for Garcia, The Associated Press reported.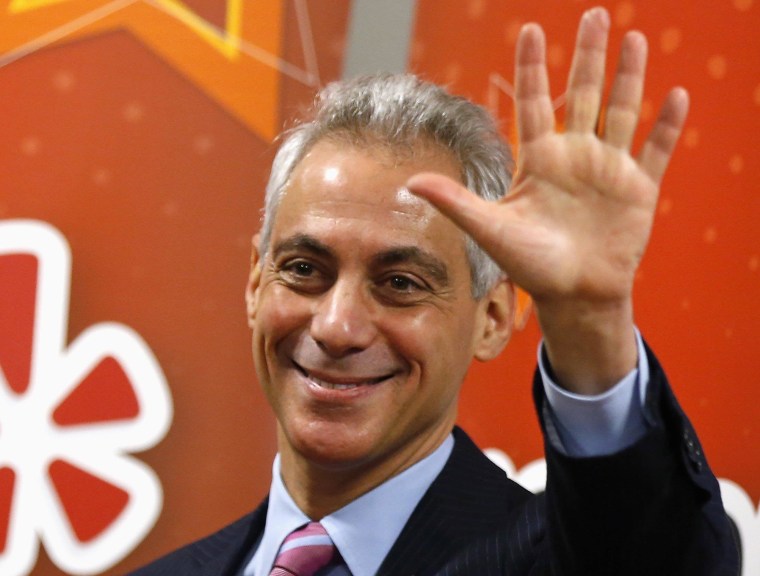 Emanuel's win dashes hopes among some that the race would produce the city's first Latino mayor and put a Mexican-born immigrant in charge of the nation's third largest city.
The race between Garcia, who has local and state elected office, and Emanuel, a former White House adviser to President Barack Obama and former U.S. House member, drew national and international attention.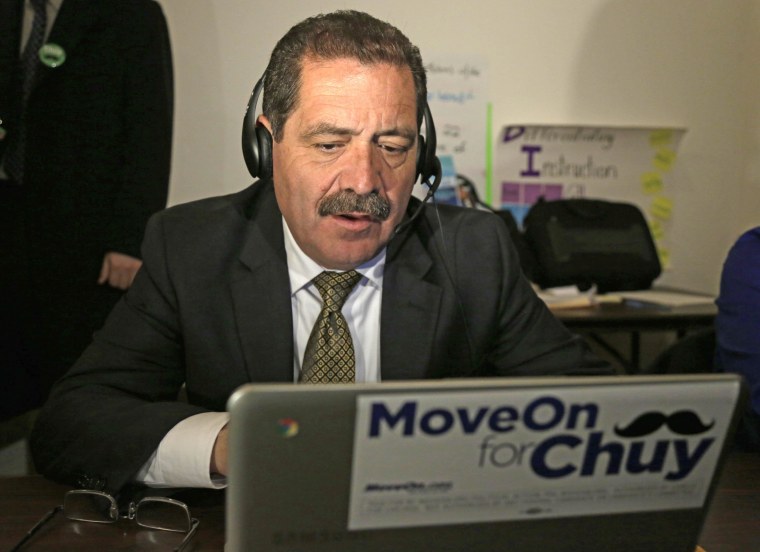 In the bruising race, Garcia attacked Emanuel's decision to close 50 schools and accused him of catering to corporate and wealthy interests and failing to pay attention to needs of the city's neighborhoods, tagging him with the moniker "Mayor 1 percent."
But Emanuel pushed back with criticisms that Garcia lacked detailed plans for dealing with the difficult issues the city faces and dubbed him "Hanukkah Harry" for making many promises that he said he couldn't deliver. "Such a deal!" Emanuel said in one of three debates of the race.
Emanuel had been the favorite going into the February, non-partisan mayoral primary, but failed to get a majority to avoid a runoff. Garcia finished second with 34 percent of the vote.
But the mayor once known as "Rahmbo" found himself having to explain his tough persona and to spend heavily to win. The Chicago Tribune reported Emanuel raised about four times the almost $6 million Garcia did.
Although Garcia was expected to get heavy support from the Latino community, some Latino leaders, including Rep. Luis Gutierrez, D-Ill., backed Emanuel. Still for Latinos, his candidacy was seen as an indicator of growing Latino political influence.
Despite chilly, wet weather and schools being on spring break, the election was expected to produce better turnout than the primary.
Follow NBC News Latino on Facebook and Twitter
Many of those who went to the polls Tuesday said the election should be a signal.
"Hopefully he (Emanuel) takes heed of the runoff when he should have been a shoo-in," said Richard Rowe, a 50-year-old, who planned to vote for Emanuel.
That was Jesus Fernandez's hope too. He voted for Garcia, but didn't think the challenger would garner enough votes to win.
"If he (Garcia) gets close, we might push Rahm to do something," Fernandez, a 44-year-old window washer, said before the results were tallied. "At least we pushed him a little bit."
Sylvia Puente, director of the Latino Policy Forum, who did not publicly take sides in the race, said the race had excited the city's residents who seemed more engaged and enthusiastic about the usually perfunctory mayor's race.