Parents often teach their kids to fit in. But for award-winning Latina talk show host Adrienne Bailon-Houghton—who grew up with Spanish-speaking parents from Ecuador and Puerto Rico and attended ESL classes until she was in second grade—standing out was her only path to success.
"Any time that I tried to blend in, mix in, or whitewash myself so to speak, the opportunities never opened up for me," she told NBC News. "But when I embraced my full Latinidad, used that part of me that stands out, things have always worked better."
Bailon-Houghton got her start in the entertainment business after Latin pop icon Ricky Martin asked her and other church choir singers to sing back-up at a concert.
She later joined the popular Disney pop group "The Cheetah Girls," as well as other music bands, before moving onto daytime T.V. Bailon-Houghton is the first Latina talk show cohost to win an Emmy for "The Real."
"I think that there is something to be said about being true to who you are," she said. "What is meant for you will be for you. And those doors will be opened because you are being authentic."
Bailon-Houghton said she owes much of her success to people who are looking for that diversity and authenticity and is now using her experience to seize on new opportunities.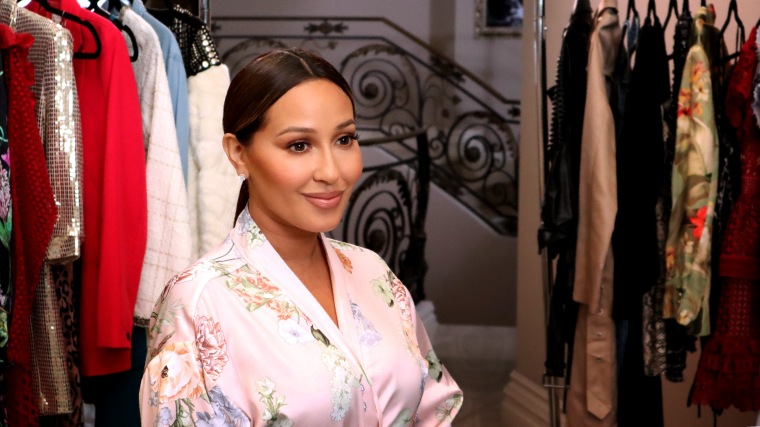 In 2018, the daytime television host teamed up with the lifestyle production company Kin to launch her first digital show—All Things Adrienne. The beauty and fashion show accrued over 100 million views and 1.5 million followers on YouTube, Facebook, and other platforms.
Last week, Bailon-Houghton teamed up again with Kin to launch a second digital show on Facebook. Wear It Well, which follows the daytime television host and her girlfriends as they try to find that "perfect fit" in clothes. And just like "The Real" and "All Things Adrienne," the show is driven by diversity.
"We want women to get comfortable in their own skin. To know that there isn't anything you can't wear. It's just finding the right fit and making you feel comfortable in it," she said.
Bailon-Houghton hopes that her success will inspire women to embrace and celebrate their differences, just like other groundbreaking women inspire her today.
"I'm a huge fan of the Puerto Rican actress Rita Moreno. She was the third person to win an EGOT [the winner of an Emmy, Grammy, Oscar, and Tony]," she said. "And as a talk show host, I owe a lot to Cristina, our Latina Oprah," referring to talk show host Cristina Saralegui.
Bailon-Houghton can't resist, though, giving another shout-out to her parents.
"My dad actually came to this country when he was 35 years old," she told NBC News. "That's how old I am now [she actually turned 36 this week]. I can't imagine going to another country, not speaking the language, and creating a new life for myself at that age."
And when she thinks about the ways her Ecuadorian dad and Puerto Rican mom persevered in New York, Bailon-Houghton looks to the future with confidence.
"You ask me what I want to do in the future? I have a list of goals. I can read them off to you," she said laughing. "I'd love to branch off into fashion and home and decor. I'd like to become the little Latina Martha Stewart. And maybe even write a book."
Follow NBC Latino on Facebook, Twitter and Instagram.