Growing up, actress America Ferrera had only a passing knowledge of the country's most famous Latino civil rights leader. "I knew of Cesar Chavez, and I knew of the movement because I grew up in Southern California and it was part of our standard history. I didn't know the details."
At the New York press premiere for the movie "Cesar Chavez", Ferrera admitted that, as a kid, she had never heard of the late labor leader's wife Helen, who she portrays in the film. "I learned a lot doing this movie."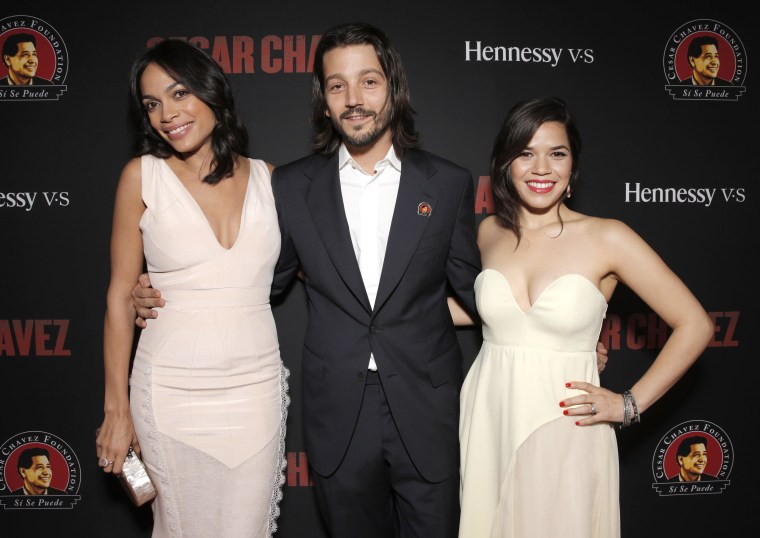 "Cesar Chavez," directed by Mexican actor and filmmaker Diego Luna, premiered in Hollywood last week and opens nationwide on March 28. Coincidentally, a Chavez documentary and a major biography are also out, part of a latter-day renaissance for the late labor icon. Chavez died in 1993 at age 66.
"Cesar Chavez" tells the story of Chavez's greatest triumph, when he used strikes and consumer boycotts to force agricultural growers to recognize the United Farm Workers union (UFW, which he co-founded). His efforts led to the passage of the 1975 California Agricultural Labor Relations Act, which is still the country's only law protecting farm workers' right to unionize.
Chronicling Chavez's experiences for a new generation was an important focus for the film's producers and actors. There are over 52 million Hispanics in the U.S., many of them Mexican American. Issues of immigration, labor and political empowerment resonate today as they did two decades ago.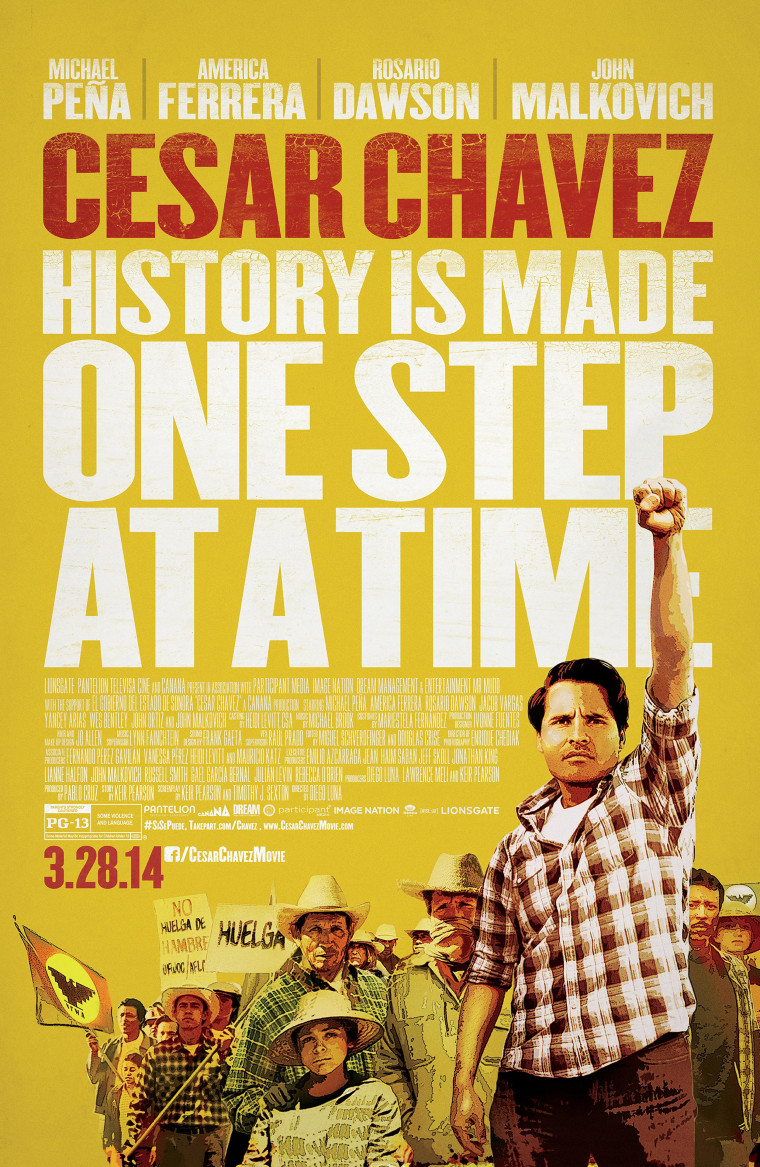 "Cesar himself was a very reluctant hero," said actress and activist Rosario Dawson, who plays civil rights leader Dolores Huerta in the film. "He wasn't the best orator, he was very shy."
His greatest achievement, though, was giving a voice to those who had not been at the forefront of the American labor movement. "He thought that even though these (farm workers) - really marginalized, uneducated, illiterate people - have a power. They can have a voice, and they can be a very loud voice," said Dawson.
The actress and Voto Latino co-founder noted that Chavez's success with the UFW took years, and that along the way, they had a lot more failures than successes. Dawson said it's unfortunate that Chavez is not as well known as his contemporaries, though he worked alongside the Kennedy family and Dr. Martin Luther King Jr.
"It's time that we understood the man behind Cesar Chavez Boulevard. His non-violent movement spread across America, and hit around the rest of the world – just like Gandhi's." Dawson said that Chavez's recognition of people's potential, regardless of social status, is something that resonates today, especially to a younger generation.
Director Richard Ray Perez offers a different take on Chavez with his documentary, Cesar's Last Fast. His film focuses on Chavez's 1988 "Fast For Life," when, at age 61, the labor leader embarked on a 36-day fast to protest the use of pesticides in the agricultural industry.
For Perez, the connection to Chavez is deeply personal; his father and other family members were farm workers. "My father worked in the fields for 22 years, starting as a child," he said.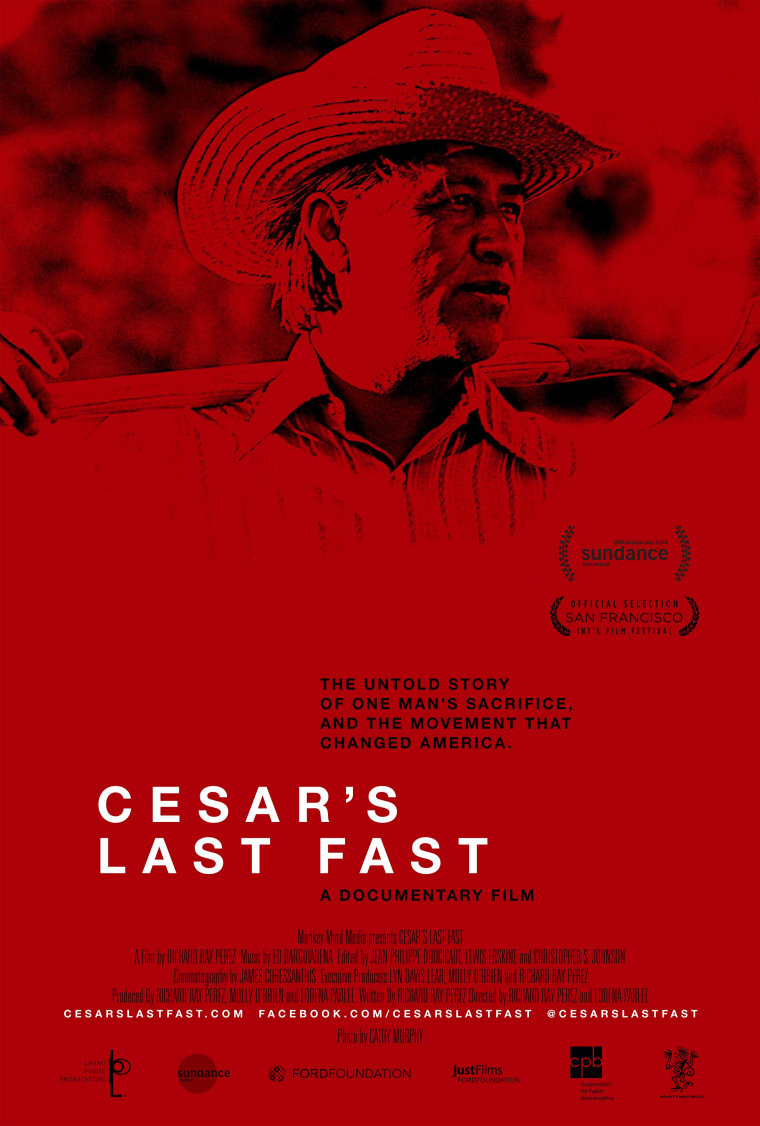 "Cesar's Last Fast" contains never-before-seen footage of Chavez's water-only fast, which Perez said gives the film a unique power. "With documentaries, we are working in the arena of actual images, it is the closest we can get to reality - I was lucky to have footage to convey the experience of fasting." He hopes that audiences, especially those not familiar with this particular time in history, will take away a simple message - "that one person, even an imperfect person – with faith, determination, and inspiration – can accomplish amazingly powerful things to move society."
In the past few months, immigration activists, some who worked alongside Chavez, have been participating in hunger fasts to call for immigration reform legislation.
"Cesar's Last Fast" which has already drawn praise from reviewers, premiered in January at the Sundance Film Festival and opens April 18 in New York and April 25 in Los Angeles. The film will also have a simultaneous television broadcast on the cable network Pivot (in English), and on Univision (in Spanish).
"There could be another Cesar Chavez out there," Perez said, when asked about the possibility of another high-profle national Latino leader emerging from today's diverse community. "But we can't wait for him. We have to tap into the Cesar within ourselves."
Pulitzer Prize-winning author Miriam Pawel thought there wasn't enough of a thorough examination on Chavez's life and career. "One of my friends went to her local library to read about Cesar Chavez – and there were only children's books about him!"
In her new unauthorized biography, The Crusades of Cesar Chavez, Pawel was able to draw on a wealth of archival information about his life, from tape recordings of organizing sessions to original UFW documents.
The book does not shy away from tackling controversial aspects of Chavez's life, such as inter-union squabbles and his misguided association with Synanon, a California drug rehabilitation program. "I want people to see Chavez as a brilliant, heroic figure - who also had flaws," said Pawel.
She added that this does not detract from his legacy or his accomplishments, which she describes as remarkable and extraordinary. "But he was complicated, like all people. Human beings have flaws, and there is nothing wrong with that."
More than twenty years after his death, the book seeks to fill an existing void. "The lack of serious scholarship about Chavez has contributed to people not knowing who he is," said Pawel. "Turning him into a saint or protecting his legacy has done him a disservice. He is far more interesting than that."