MEXICO CITY -- Even when we saw the end coming, Gabriel García Márquez' death still hits you in the gut.
The author of, among other novels, "Love in the Time of Cholera" and "One Hundred Years of Solitude" had been sick for the last few years, and recently, he went home from the hospital in what was understood as his wish to die in his house, situated in the San Angel neighborhood.
It is hard to believe that "Gabo", who with his presence and his books has accompanied generations of Latin Americans, will no longer be with us.
The novelist, of Colombian origin, winner of the 1982 Nobel Prize for Literature, and resident, for a large part of his life, of Mexico City, died Thursday of complications from cancer and pneumonia. García Márquez was 87 years old.
It is hard to believe that "Gabo", who with his presence and his books has accompanied generations of Latin Americans, will no longer be with us.
There are many books for which García Márquez will be remembered, but none quite like the acclaimed "One Hundred Years of Solitude," the novel that the author once remarked was sold literally in every corner of the world "como pan caliente," (like hot bread). The book was written during the early years that García Márquez lived in Mexico, a period of hard times, as the budding writer made a living in publicity, journalism, and screenplay writing. The novel was not just a tremendous literary and commercial success; it was also to become the backbone, the essence, of the so-called literary genre of magic realism, the unique Latin American style of story telling where reality and fantasy are intertwined.
It is not possible to speak of, or to understand, García Márquez the novelist, without referring as well to García Márquez the journalist. Not only because it was in journalism that his career as a writer started, but because he himself always said that he never stopped being a journalist – even after having won the Nobel Prize, and so much more.
It was through journalism, both in Cartagena, Bogotá, and later in Europe as the correspondent for the daily El Espectador, that thanks to him, many of us outside of Colombia came to know the term "cachacos", as residents of Bogotá are known. It was as well through journalism that García Márquez would acquire the craft of novel writing and hone his imagination for what would come later: to be known as the most important writer of Latin America, the inventor of "Latin America," "its only prophet," as he would be described by the Mexican writer Jorge Volpi.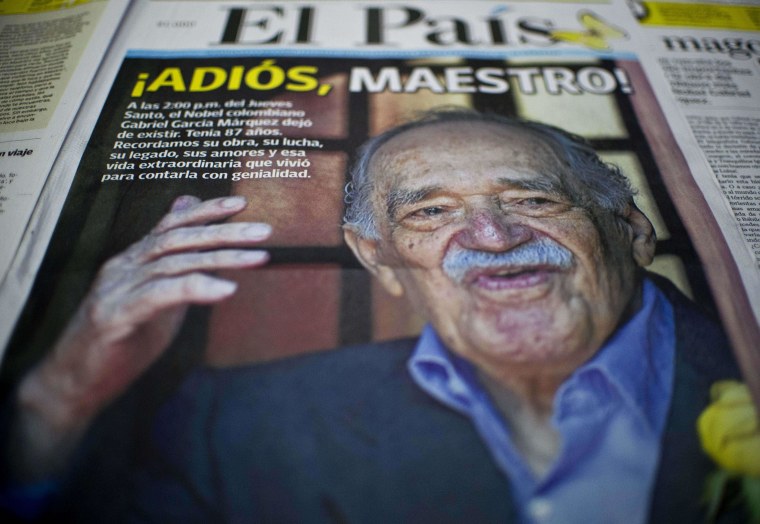 It is also not possible to speak of García Márquez the writer without referring to García Márquez' proximity to power. Not in the way other famous Latin American writers sought to be political protagonists, as in the case of Mario Vargas Llosa, Rómulo Gallegos, or Pablo Neruda, but rather in his true proximity to power. And not necessarily to take advantage of this proximity, but to analyze it, to observe it, and to listen to it, through the great figures of power, beginning with, of course, Fidel Castro. (Many of those who admire García Márquez have never forgiven him for not having renounced his friendship with Fidel or for not having openly questioned Castro's Cuba.)
But Gabo also dined, drank wine with, and shared long and deep conversations with among others, President Bill Clinton, the Spanish Social-Democrat politician Felipe González, the ex-Venezuelan President Carlos Andrés Pérez, President Francois Mitterrand of France, various Mexican presidents, as well as with Omar Torrijos, the Commander of the Panamanian National Guard and its de facto dictator from 1968-1981. His novel, Autumn of the Patriarch, though written well before he ever met any of these famous personalities, is a good reflection of a writer's obsession to be up close to power.
There is nothing unusual about García Márquez dying in Mexico. Since he arrived to the Mexican capital in the early 1960's, García Márquez always had ties to Mexico. Before the fame that One Hundred Years of Solitude brought him, he barely survived in a modest apartment. After he became a writer with means, he moved to a spacious house in the southern part of Mexico City, an area where much of the intelligentsia and political class live.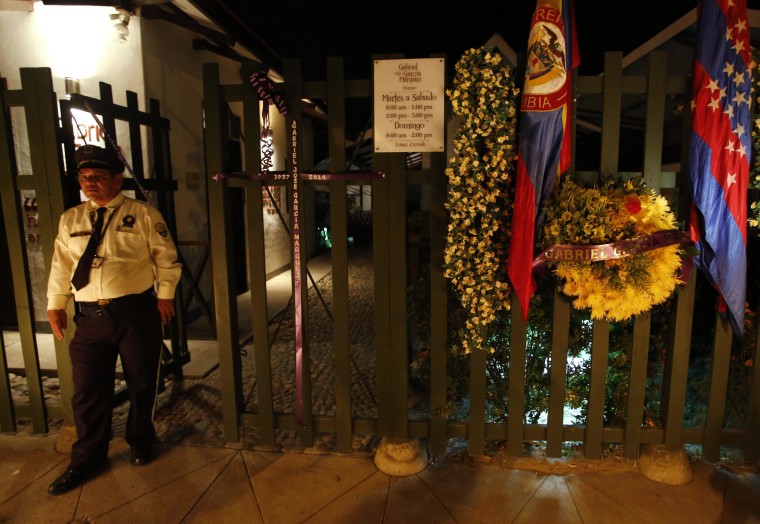 As a reflection of life's twists and turns, García Márquez came to Mexico, accompanied by his wife Mercedes and their first son, Rodrigo, as a result of a very last minute decision. The family was in New Orleans at the time, where they had stopped after a trip they took, via Greyhound bus, throughout the southern United States. Without any apparent reason, they decided that instead of crossing Central America and returning to Colombia, as was the original plan, they would instead go on to Mexico (García Márquez was returning from New York where he had been a correspondent for the Cuban Press Agency, Prensa Latina).
"We only had four friends," in Mexico, Gabo would write years later in a chronicle, one of them being the now deceased Alvaro Mutis, also a Colombian writer. His second son Gonzalo, was born in Mexico in 1962. Thus, as Gabo would once refer to the country that saw him die, "It is here (in Mexico) where I have written my books, where I have raised my sons, and where I have planted my trees."
But let there be no confusion. It is true that García Márquez made Mexico his second homeland, something common for many writers who throughout history have had to leave their countries to become known, to find success, or to simply save their lives. But at the same time, the Nobel Prize winner, the world-renowned writer, the legendary personality, the author of books that in centuries to come will continue to remain as references about Latin America, never stopped being Colombian.
A case in point: when he went to Sweden to receive the Nobel Prize in Literature, he did not wear the expected black tie suit. Instead, he wore the traditional attire of Los Llanos, the Colombian plains - white pants and a white long-sleeved shirt – better known as the "liqui-liqui." And of course he took along dozens of compatriots, including musicians with accordions and other instruments to play the Colombian folk music, Vallenato.
"He is the universal Colombian," as he is called in his country of origin, and this is how the world remembers him today.