LOS ANGELES, California — Artists like renowned muralist Barbara Carrasco are like prophets, said Maria Elena Chavez, the daughter of Chicano civil rights activist and American labor leader, Dolores Huerta: They're visionaries whose work often appears at the exact moment in history when they most need to be heard and seen.
Carrasco's landmark mural "L.A. History: A Mexican Perspective," has been having a kind of second coming, and it couldn't feel more current with America's debate over which symbols of the country's history are worth maintaining and whose should be demolished.
The mural is part of an exhibit titled "Murales Rebeles!" L.A. Chicana/o Murals under Siege," curated by LA Plaza de Cultura y Artes and the California Historical Society. Murales Rebeldes! is one of the many exhibits that form part of the Getty Museum's Pacific Standard Time: LA/LA, a wide-ranging initiative of Latin American art showing in diverse venues around L.A.
Carrasco's 80-foot portable mural is currently on display at Union Station in downtown Los Angeles, 27 years after it was originally commissioned and then censored by the Community Redevelopment Agency (CRA) of the city of Los Angeles in 1981.

"After being censored by the CRA, Barbara stored her mural safely away awaiting a time it could brought to the public again," said Jessica Hough, curator and Director of Exhibitions, California Historical Society.
"Artists like Barbara who made murals as part of a broader Chicano movement that aimed to reflect their own experience and also imagine an empowered future, have not had their work properly documented, collected or incorporated into the art of our city or our nation," said Hough. "This particular work has barely seen the light of day. This ambitious and stunning work of art memorializes both the devastating failures and heroic triumphs that define humanity."
Carrasco's mural, comprised of 43 panels containing 51 scenes depicting the history of L.A., was considered controversial in its day, and the CRA asked if Carrasco would remove 14 of the scenes, saying the mural was "too busy" and focused too much on "negative images." The mural was meant to hang on the exterior of a McDonald's on Broadway in downtown L.A.
RELATED: Denise Sandoval: Lowriders Tell the Story of the Chicano experience
Carrasco refused to paint over her piece, and the mural project was canceled. For ten years Carrasco's mural was kept in storage at Cesar Chavez's compound, which Carrasco says was thankfully free to her after her many years working with the Chavez's group.
In 1990, the mural was displayed for several weeks at Union Station. The mural's latest recent installation at Union Station is a sort of "un-censoring."
With a focus on the experiences of marginalized groups in and around Los Angeles, the mural's vignettes are woven into the hair of a Latina woman — Carrasco's sister Frances was the muse. From left to right, the timeline begins with indigenous peoples from the founding of the city in 1781, and ends with scenes of the whitewashing of muralist David Alfaro Siqueiros' work "America Tropical," the internment of Japanese Americans during WWII, the Zoot Suit Riots and the image of former African American slave-turned-entrepreneur and philanthropist Biddy Mason.
"The only unique thing about this mural is that I waged a public fight for the right to keep my copyright and to keep the integrity of the mural intact," Carrasco said.
"People asked me why I didn't just agree to take out some of the images, but as artists and muralists we're representing the community, and this is a historical mural," said Carrasco. "Everything in this mural is historically accurate," she adds.
Carrasco, 62, is a Chicana artist and activist who lives and works in L.A. Her work critiques cultural stereotypes involving socioeconomics, race, gender and sexuality.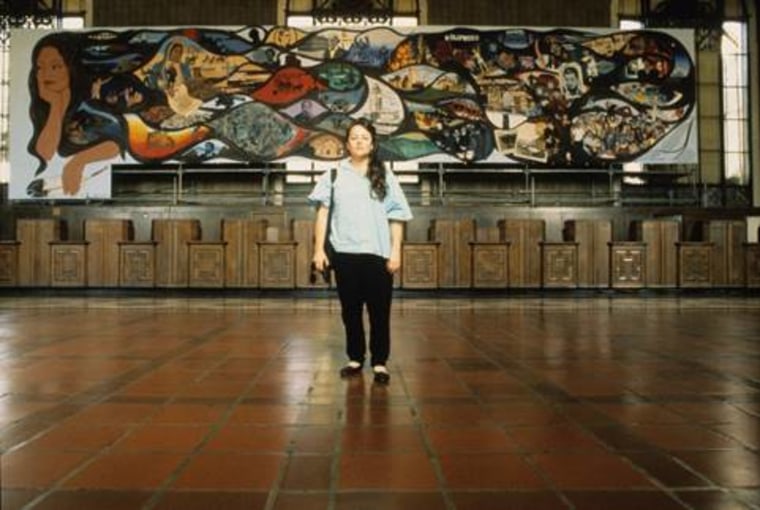 Carrasco's works have achieved national prominence. Her original mural sketches and drawings are included in the Permanent Collection of Works on paper at the Library of Congress, in Washington D.C., and documentation of her mural work is archived in the California Murals Collection at the Smithsonian Institution.
A permanent collection of her papers has been established and archived at Stanford University and her oral history is archived at the Archives of American Art at the Smithsonian. The Girl Scouts of America created a merit patch based on Carrasco's image of Dolores Huerta.
RELATED: Documentary Gives Labor Activist Dolores Huerta Her Place in U.S. History
There's currently a strong push within the arts community in Los Angeles to find a permanent home for Carrasco's mural.
"In our current political moment when we're seeing so many arguments about whose memories should be preserved and stories should be told, a mural like this takes on increased importance," said Erin M. Curtis, Senior Curator, LA Plaza de Cultura y Artes. "This mural has survived attempts to erase the histories of people of color of Los Angeles and it's still here today as a testament to those stories and the fact that they matter."
Carrasco feels it's a unique time in American history, with daily attacks from the White House on the media and history. But her mural and others like it tell the stories of the many people who don't have a voice, she said.
"We become their voice. Censorship is something we all have to fight against. We're Americans and we have every right to express ourselves," said Carrasco.