The first Latina elected to Congress, Republican Florida Rep. Ileana Ros-Lehtinen, has announced that she will be retiring after more than three decades in elected office — potentially paving the way for Democrats to take her congressional seat in 2018.
"It's been such a delight and a high honor to serve our community for so many years and help constituents every day of the week," Ros-Lehtinen said in an exclusive interview with the Miami Herald Sunday. "We just said, 'It's time to take a new step.'"
She will be retiring at the end of her term next year.
A spokesman at Ros-Lehtinen's Miami office also confirmed to NBC News that the congresswoman would be retiring.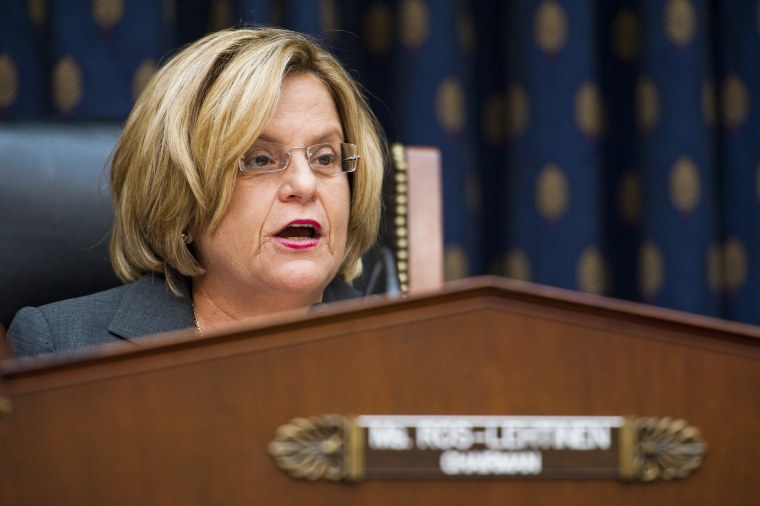 The moderate Republican congresswoman, who turns 65 in July, is the most senior U.S. Representative in Florida and was elected last November to state's 27th district, which the Herald noted leans so Democratic that Hillary Clinton beat President Donald Trump there by 20 percentage points.
Still, she said she did not doubt she would win if she were seeking re-election in 2018, but staying in office no longer appealed to her.
"There was no epiphany. There was no moment, nothing that has happened that I've said, 'I've got to move on,'" she said. "It was just a realization that I could keep getting elected — but it's not about getting elected."
She also said her retirement was not because of her differences with the president.
"I've served under all kinds of different dynamics in all these years that I've been in office here," she said "Though I don't agree with many, if not most, positions of President Trump."
House Speaker Paul Ryan, in a tweet, said it was "such a privilege to serve with her."
Ros-Lehtinen, who is Cuban-American, became the first Latina elected to the U.S. House of Representatives in 1989, according to the Library of Congress.
Prior to that, she had served in the Florida State House of Representatives and the Florida Senate.
Nevada's Catherine Cortez Masto, a Democrat, became the first Latina elected to the U.S. Senate this November.