Republican Rep. Steve King of Iowa set off a firestorm of resounding criticism with a tweet saying civilizations can't be restored with "someone else's babies," a comment seen by some as indicative of racism that permeates the administration's toughened policies on immigrants.
From Republican lawmakers to immigration groups to Hispanics in his home state and Asian lawmakers in office, there was plenty of blowback for the comment and his doubling down on it in a CNN interview Monday. Lawmakers who are immigrants or children of immigrants took the comments personally.
King sent the tweet over the weekend to express support for far right Dutch politician Geert Wilders, sometimes called the Dutch Donald Trump and for his views.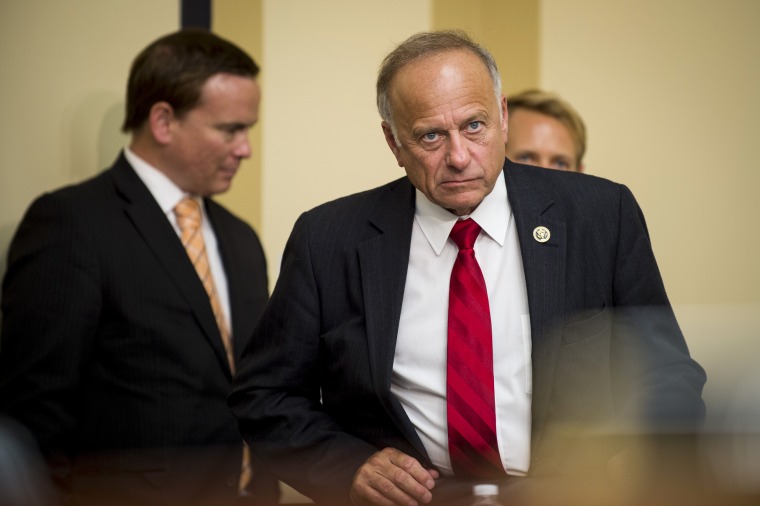 "Wilders understands that culture and demographics are our destiny. We can't restore our civilization with somebody else's babies," King said in his tweet. He then followed up in the CNN interview saying he meant exactly what he said and criticizing immigrants who "don't assimilate into America."
That was retweeted by David Duke, white nationals and former Imperial Wizard of the Ku Klux Klan, with the comment: "GOD BLESS STEVE KING!!"
America's Voice Education Fund, an immigrant advocacy group, issued a news release headlined: "Steve King Gives Voice to the White Nationalist Worldview at Heart of Trump Immigration Policy Agenda."
RELATED: Rep. Steve King Defends 'Somebody Else's Babies' Remarks
"Let's stop pretending that what we have is a more conservative version of what previous presidents have done and said on immigration," said Frank Sharry, America's Voice Education Fund executive director. "Steve King represents his president and his party. The Trump administration, through the Steve Bannon/Jeff Sessions/Steven Miller trio, (is) explicit in (its) goal of trying to Make America White Again.They aim to change the racial and ethnic composition of America by reversing immigration policies instituted in 1965 to reverse decades of racialist exclusions."
King's doubling down came on the same day that the Mexican American Legal Defense and Educational Fund was holding its annual Latino State of the Union, an event that focuses on the condition of Latinos in the community across issues from voting to education to immigration.
MALDEF president and general counsel Thomas Saenz called King's comments "the quintessence of nativism and racism."
"Babies demonstrate our common humanity far better than any other age and the fact that he focuses on babies is just despicable," Saenz said.
Rep. John Lewis, D-Ga., a civil rights leader, called King's comment a "deeply disturbing statement because it ignores the truth about the history of this nation."
"Western civilization did not create itself. It was founded on traditions that emerged from Africa, Iran, China, Greece and Rome and other nations," he said.
Joe Enriquez Henry of Des Moines, the national vice president of the Midwest Region of the League of United Latin American Citizens, pointed out the ancestry of many Hispanics dates back more than 500 years and said that their ancestors have been in the U.S. longer than King's.
Democratic Rep. Ted Lieu of California, born in Taipei, responded on Twitter with a photo of his two children.
Rep. Carlos Curbelo, R-Fla., who was born in the U.S. to Cuban exiles, reacted swiftly, asking in a tweet whether he qualifies as "somebody else's baby" and then tweeting again in response to King's Monday morning CNN interview.
The Southern Poverty Law Center, a civil rights group that monitors hate groups and waged legal cases against the Ku Klux KIan, tweeted a portion of the interview transcript with the comment: "Rep. Steve King stood by his explicitly white nationalist comments on CNN today."
Other Republicans also reacted and the Republican Party of Iowa sought to distance itself from the comment: "
"First of all, I do not agree with Congressman King's statement. We are a nation of immigrants, and diversity is the strength of any nation and any community," said Jeff Kaufmann, the state GOP chairman. "Regarding David Duke, his words and sentiments are absolute garbage. He is not welcome in our wonderful state."
Others Republicans also weighed in.
Democrat Adriano Espaillat, originally from the Dominican Republican and who at one time was not legally authorized to be in the country, called on House Speaker Paul Ryan, R-Wis., to denounce King.
Ash Lee Strong, spokeswoman for Ryan, said in response to King's comments: "The speaker clearly disagrees and believes America's long history of inclusiveness is one of its great strengths."
Enriquez Henry said he and other from Iowa LULAC have tried to sit down with King to discuss his rhetoric. King has previously likened immigrants to drug mules, saying they have canteloupe-sized calves from hauling drugs across the border and has said electrified fences like those used for cattle should be used to keep immigrants from illegally entering the U.S.
"This is wrong in so many ways, to attack people who have come here from other countries," Enriquez Henry said of King's comments. "This is the immigrant experience of United States. How dare he say no to our history, to try reinvent it to something that doesn't exist?"
Rep. Sheila Jackson Lee, D-Texas, told MSNBC's Ali Velshi after listening King's comments on CNN said his statement is "a racist, unbelievable statement that should not come out of the mouth of a a member of the United States Congress."
"If he wants to join another civilization of singular, monolithic background, this is not the place to be and I don't think Europe is the place to be," she said.
This story includes reporting by Kasie Hunt and Alexandra Moe.