Texas Democratic congresswoman Veronica Escobar says there's a reason why she'll deliver the Democrats' State of the Union rebuttal in Spanish on Tuesday night from a neighborhood health clinic in El Paso.
"It's important for me in my Democratic response, that I remind the country that it's Democrats who've been fighting for their health care," said Escobar, who is choosing to clap back at President Donald Trump from the Centro de Salud Familiar La Fe, a clinic in the Segundo Barrio neighborhood in the heart of the city that sits on the U.S.-Mexico border.
Trump will deliver his State of the Union address less than a day before the U.S. Senate is scheduled to vote on two articles of impeachment against him stemming from charges of withholding aid to Ukraine until it investigated his political rival, Democrat Joe Biden. Rep. Adam Schiff Schiff, D-Calif., acknowledged on Monday that he and his fellow House managers would probably not get enough votes — a supermajority of 67 senators —needed to convict the president.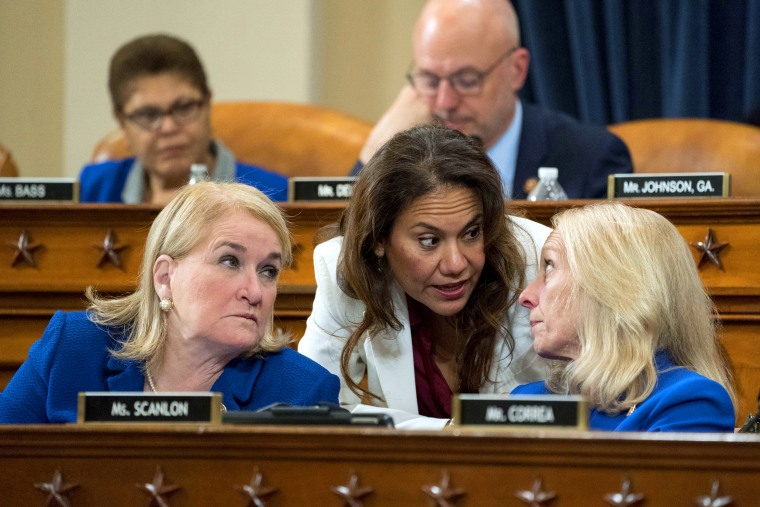 While health care gets buried by "the daily scandals coming from the White House," Escobar said, she hears plenty about it in her home state of Texas.
"I hear on the ground here in my community, every town hall meeting, every cafecito — folks are really afraid that Trump administration is going to erase the gains made by the Affordable Care Act," said Escobar. People are crying out for help over rising prescription costs, she told NBC News in an interview before the speech.
The clinic where Escobar will deliver her rebuttal traces its beginnings to 1967, when a group of El Paso mothers and grandmothers came together to establish a health care center in their low-income community. It continues to help both insured and uninsured people.
The high rate of uninsured Latinos — higher than most other population groups — dropped substantially after the Affordable Care Act under the Obama administration, also known as Obamacare. Some 4 million Hispanic adults and 600,000 Hispanic children gained health coverage and care under Obamacare, UnidosUS reported. In 2018, 82.2 percent of Hispanics had coverage, up from 40.5 percent in 2013, according to the Census Bureau.
But in the years since Trump has been in office, insurance coverage gains for all Americans have stalled or are reversing. The number of Americans without health insurance rose in 2018 — the first increase in a decade — despite a strong economy and relatively low unemployment.
Between 2017 and 2018, the insurance coverage rate for Hispanics dropped 1.6 percentage points, while it did not statistically change for other racial groups, the census found.
Many of those who are currently uninsured may be lower income, but Escobar said that middle and upper income HIspanics with health coverage and people benefiting from low unemployment and good economic times should not dismiss the issue.
"I hope everyone listening to the president during his State of the Union address — as he champions this idea that we have this tremendous economy — I want them to take a look at the cost of their own health care and how costs have gone up since the president took office," she said.
Escobar said they should also consider the cost of prescription drugs, particularly medications such as insulin, as well as the ballooning national debt and the household income divide occurring in the country.
"What we are seeing unfold before our very eyes is two Americas," she said.
Though the focus of Escobar's rebuttal will be health care, she's also addressing the nation about Pres. Trump's impeachment trial.
Escobar, a member of the House Judiciary Committee, voted to impeach the president. Republican senators "eroded and diluted" the impeachment and the Constitution, Escobar said.
"The Senate is saying we can have a lawless president for four years," she said. She said a vote to acquit him is not a "true" acquittal, because "this was a sham trial and without a trial, there is not an acquittal."
Escobar has faced off with Trump after her hometown became the target of white supremacist gun violence last year.
Michigan Gov. Gretchen Whitmer is giving the Democratic response in English. No Latino Democratic congressional member has delivered the televised English language response, according to the U.S. House Archives. Sen. Marco Rubio, R-Fla., delivered the GOP's English- and Spanish-language responses in 2013.
Follow NBC Latino on Facebook, Twitter and Instagram.