A new report out of USC's Annenberg School for Communication and Journalism reveals striking data about inequality in Hollywood.
While Hispanics purchased 23 percent of U.S. movie tickets in 2014, the report finds that Hispanic/Latino characters on screen in film continue to be the most underrepresented ethnic group.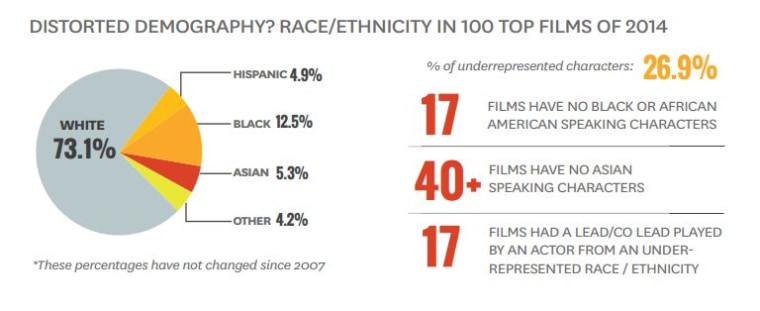 In the report's analysis of 4,024 speaking or named characters across the 100 top films of 2014, it finds 73.1% were White, 12.5% were Black, 5.3% were Asian, and 4.9% were Hispanic/Latino. The researchers said that this represents "no change in the portrayal of apparent race/ethnicity from 2007‐2014."
The report also shows that only a fifth of the top 100 films of 2014 featured a female lead, and not one film in 2014 included a female lead over 45 years old. LGBT representation was extremely low with only 19 lesbian, gay or bisexual speaking characters appearing across the 4,610 total speaking characters in the 100 top films of 2014; there were no transgender characters in this bloc.
The USC report ends with the following conclusion:
"The landscape of popular cinema in 2014 remains skewed and stereotypical. Across 700 films and over 30,000 speaking characters from 2007 to present, movies continue to distort the demographic reality of their audience. Film characters are overwhelmingly White and male, despite both population statistics and viewing patterns."
Read the full report on annenberg.usc.edu.