Puerto Rico's drinking water system is on the brink of crisis, an environmental group said Wednesday.
Elevated lead levels, bacteria, chemicals and lax adherence to regulations have created a toxic mix for the American territory's 3 million-plus citizens, Natural Resources Defense Council Health Director Erik Olson told NBC News, citing his group's latest research.
"Puerto Rico just clearly has the biggest challenges of any state or territory in the United States," Olson said.
Related: Donald Trump Wants to Rebuild America? Here Are 8 Places to Start
The drinking water fails lead safety regulations, while 70 percent of the island is served by water that violates federal health standards. The government-run water utility also routinely fails to conduct the required safety tests, while failing the safety tests they do conduct, according to a new NRDC report.
Following the NRDC's May water safety report, data provided to NBC News showed San Juan, Puerto Rico to be the worst big-city water system in the nation. There, the Puerto Rico Aqueduct and Sewer Authority (PRASA) had more violations than any other big city, with 64 safety violations, including 24 different health violations, in 2015.
And Olson said he expects the situation to deteriorate further, because President Donald Trump's has proposed big cuts to Environmental Protection Agency programs that fund the Puerto Rican water system and federal safety enforcement mechanisms.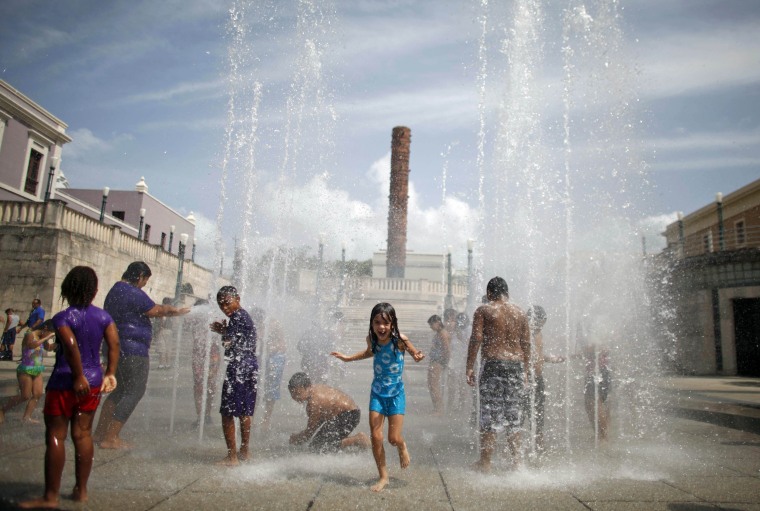 "If you've got a system that's in violation repeatedly with the drinking water standards, you're playing with fire," Olson said, adding that it could bring on a medical crisis, like the 1993 Cryptosporidium outbreak in Milwaukee that infected 403,000 and killed 69. "That's exactly what we don't want to happen in Puerto Rico."
The data indicates a faulty water treatment process that left behind too much bacteria and carcinogenic chemicals that are also linked to birth defects, as well as aging pipes that contaminated the water with lead and copper. The same utility that provides the island with water manages the sewage system, too, and leaky pipes likely lead to cross-contamination, Olson said.
After the Justice Department and the Environmental Protection Agency sued PRASA and concluded in 2015 they had been dumping six million gallons of sewage into waterways untreated daily, PRASA agreed to invest millions to make big upgrades to the sewage system. The water system, however, isn't slated for the kind of repairs it needs.
"Puerto Rico is in such an economic crisis," said lawyer and environmental activist Hiram Ramirez, whose work focuses on toxic landfills that may also undermine water safety. "The environmental problems — people don't have [water] on their short list of problems in Puerto Rico. We focus on the debt, health, and education …The government's not paying attention."
Years after the nation was outraged by lead contaminates affecting nearly 100,000 residents in Flint, Michigan's water system, one of America's neediest places is largely overshadowed by both mainland infrastructure problems and the territory's economic woes. It's the kind of "crumbling" infrastructure Trump railed against on the campaign trail and vowed to fix, but there's no plan to combat the unsafe water filling millions of Americans' faucets there.
"It's an out of sight and out of mind problem for most Americans," Olson said of water system problems facing America. But it "poses very real public health risks, especially to vulnerable people like young children, elderly, and the immune compromised."
Ramirez believes that because Puerto Rico is a territory — lacking the funding and representation that comes along with statehood, or the ability to tax like an independent nation — its citizens are especially vulnerable.
"Look what happened in Flint, Michigan. The EPA got involved. It took awhile, but I mean, they got involved. In Puerto Rico, they know what's going on," he said. "They just turn a blind eye."
The EPA didn't respond to queries about Puerto Rico's potential loss of funding, instead blaming Obama for problems with America's water systems.
"Unfortunately, this is an area in which the past administration failed," an EPA spokesman said. "Administrator Pruitt is committed to helping modernize our country's outdated water infrastructure in order to ensure we maintain safe drinking water for the more than 300 million people that depend on it daily."