Latinas who provide reproductive services in areas with few options for low-income women and women of color are grappling with a new Trump administration rule that can limit clinics' access to federal funding, making it harder to offer affordable care to women.
In the Rio Grande Valley of Texas, where 92 percent of the population is Hispanic and many are immigrants or lack health insurance, "our bodies and our health have become political pawns," says Lucy Ceballos Félix, associate director of field advocacy in Texas for the National Latina Institute for Reproductive Health.
At issue is the "domestic gag rule" that went into effect at the end of August, stating that health clinics can't receive specific federal funding — known as Title X — designated for family planning and other reproductive health services if abortions are performed at the facility or if specialists refer patients to centers where they can get abortions.
Clinics are now facing a choice: halt family planning consultations or services that include abortion as a viable option and keep receiving Title X funds; or, like Planned Parenthood, withdraw from the federal family planning program and continue to offer full services at their facilities while looking for alternate sources of funding such as donations or private grants.
For centers such as Planned Parenthood, losing Title X money can mean that "clinics will become more expensive and women will face longer waits for appointments," Estefany Londoño, a Masters student at the University of Central Florida and a longtime reproductive justice advocate, told NBC News.
This would defeat the purpose of Title X, which was created to help low-income women.
Impact on contraceptive services
Nearly 4,000 health centers in the United States specializing in reproductive health care receive Title X funds, and about half are state, county, or local health departments.
Over 80 percent of Title X funds go toward birth control services as well preventive care such as breast cancer screenings and HIV tests, among other reproductive and preventive health care services.
Women of color make up more than half of all Title X patients, while Latinas make up about a third.
Regions of the Rio Grande Valley, where Ceballos Félix works, are considered a "contraceptive desert," meaning they lack reasonable access to a health center that offers a "full range of contraceptive methods." According to the organization Power to Decide, which works to prevent unplanned pregnancies, about 19.5 million women live in these areas.
Many clinics in this zone are "swamped" and struggle to meet the needs of the women living in the area, said Ceballos Félix, adding that women normally have to wait a year to get an appointment for a pap smear.
"With the new restrictions, that wait will get longer," she said, adding that she is concerned that more funding regulations can lead to clinics shutting down.
When clinics are scarce, "people are more likely to self-medicate," instead of seeking medical advice or prescriptions. "That's very dangerous," Ceballos Félix said.
Federal funds can't be used to directly pay for abortions since 1976 and passage of the Hyde Amendment, which excludes abortion from the health care services provided to low-income people by the federal government.
The Department of Health and Human Services argues the new restrictions should not be considered a "gag rule" because it doesn't prohibit health care providers from counseling patients on abortion.
But the rule explicitly states that if a Title X funded center "encourages, promotes, advocates, supports, or assists with, abortion" the clinic would be considered one ''where abortion is a method of family planning" — therefore ineligible for federal family planning funds.
Some critics of the changes say they would trigger the diversion of $286 million assigned for federal family planning efforts away from organizations such as Planned Parenthood and toward faith-based providers, which are not necessarily required to provide medically accurate services.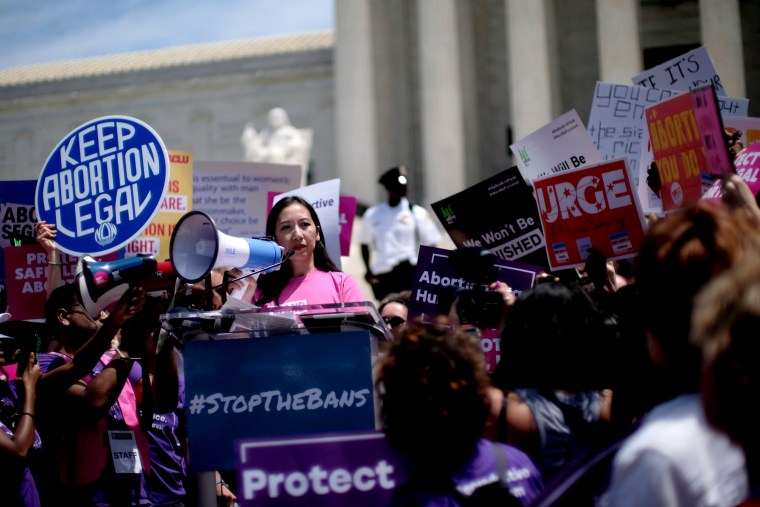 "The domestic gag rule is tragic, and its collateral damage would take years to fix," Ginny Ehrlich, chief executive at Power to Decide, told NBC News. "No one benefits when women can't get information in order to get pregnant on their own terms. Families thrive when women are able to plan their families."
In recent years, unintended pregnancies have fallen by 18 percent among women of all ages, incomes, races and ethnicities, mostly due to better use of birth control. Steep drops in unplanned pregnancies have driven the decline in abortions, showing "that supporting and expanding women's access to contraceptive services leads to a lower incidence of abortion," according to the Guttmacher Institute, a research group that supports abortion rights.
Even though abortions are legal, advocates say the Trump administration is using anti-abortion rhetoric to defund reproductive health services.
Most Latinos think it's "not up to politicians to make a judgment about when a woman should become a parent," according to a poll from the progressive group Equis Labs that found that a majority of Latino voters believe that "women's health care decisions, including abortion, should be made by her privately along with her doctors, family and her own beliefs."
As clinics continue to grapple with the new rule, reproductive health care organizations are coming up with other resources to try to ensure women's access to services.
Through the National Latina Institute for Reproductive Health, Ceballos Félix recently helped 25 to 30 women get "coupons" to afford pap tests and cancer screening tests to detect breast and cervical cancer.
Both Planned Parenthood and Power to Decide have put in place services to help women get birth control delivered to their door and locate emergency contraception. Other interactive tools help women find clinics across the country that offer family planning and reproductive health care services.
"If I didn't had access to this care, I don't know if I'd be able to access education," Londoño, the Masters student, said. "That's why we have birth control. It allows women to participate in society they way they want."
Follow NBC Latino on Facebook, Twitter and Instagram.