GUÁNICA, Puerto Rico — It could take more than a year to fix one of the largest and most damaged power plants in Puerto Rico after the worst earthquake in more than a century killed at least one person and triggered an islandwide blackout Tuesday.
The Costa Sur plant in the southern town of Guayanilla, located near the epicenter of the 6.4-magnitude quake, could remain offline "perhaps up to one year," José Ortiz, the head of Puerto Rico's power authority, said on a local radio show Thursday morning.
With Costa Sur out of service, Puerto Rico would need to rely on its other power plants to operate almost at full capacity in order to meet demand. Ortiz requested temporary generators from the Federal Emergency Management Agency to make up for the need.
The damaged power plant provided about a quarter of the electricity used by homes and businesses in the island.
"Costa Sur is a disaster," Ortiz said.
"There is structural damage and damage to equipment. Repairs could take months, perhaps up to one year," he said. "It's really unsafe to be there right now. It's life-threatening. Yesterday, when we were inspecting it with the people from FEMA, we had to leave when an aftershock started."
Early Friday, the island's power authority said it had restored power to nearly 80 percent of its 1.4 million customers.
Puerto Rico has felt more than 120 aftershocks since the earthquake two days ago, according to the United States Geological Survey. It's difficult to make repairs to Costa Sur as the aftershocks continue, Ortiz explained.
The water boilers used to generate electricity at Costa Sur came off their bases after the quake, according to El Nuevo Día, the island's largest newspaper. The structural damage at the plant includes cracks that prompted oil spills and pieces of metal and concrete that fell off the machines.
"I don't even have any more tears"
Meanwhile, residents in the southwestern part of Puerto Rico, which saw the worst damage, felt like they were reliving the aftermath of Hurricane Maria, which resulted in the deaths of at least 2,975 people and caused the world's second-longest blackout, which lasted over a year.
"This feels like another blow that we didn't see coming, another Maria in less than three years," said Carlos Camacho, a resident of the hard-hit southern town of Guánica, also near the earthquake's epicenter. "I don't even have any more tears."
Camacho is one of the more than 700 displaced residents seeking shelter. Many had initially sought refuge in a makeshift tent city located in the battered town because they had either lost their homes or were afraid their houses could collapse if another earthquake hit.
The earthquake and its aftershocks ruptured roads and knocked buildings down, including one of only three schools in the area, Escuela Agripina Seda, which serves more than 250 middle school students.
"We lost houses, we lost a lot of work, we lost everything, literally," Ryan Irizarry, an employee at a hardware store, said. "We are cleaning, we are helping."
A bright spot
Tuesday's earthquake destroyed the home of Nancy Siso, 62. It was the place she shared for many years with her husband before his death and it was a regular gathering spot for her children, grandchildren and extended family.
Luckily, she hadn't been home when the quake struck. A smaller earthquake Monday had made Siso anxious, so she spent the night at her daughter's home, thinking she would be back the next morning.
More than 24 hours later, Siso slowly drove up to her home, which was in ruins. She thought she had lost her beloved dogs, especially Mia, a light brown Yorkie that was her husband's favorite.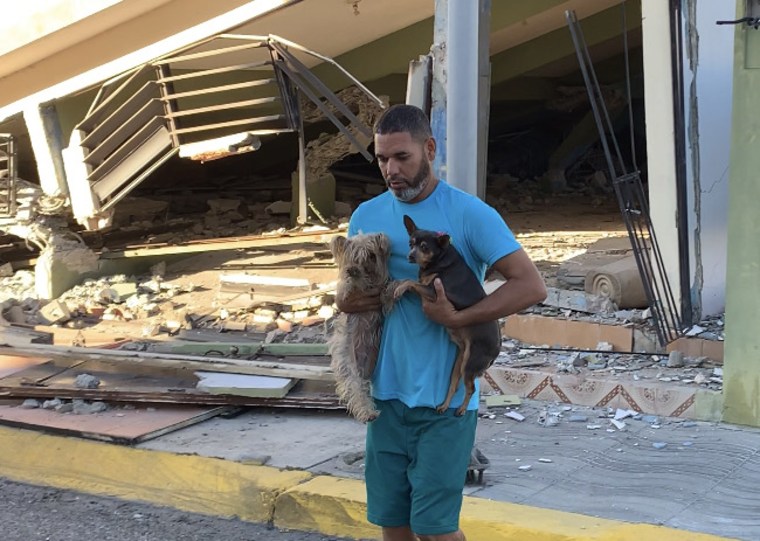 She found out that her neighbor, Jose Luis Casuano, had risked his safety and gone into the collapsed structure twice — including in pitch darkness since there's no power — to rescue her little dogs.
"All my life, I will be grateful," she said of Casuano.
For now, Siso will go live with her daughter and figure out what's next. But her dogs are with her.
"I'm so tired, but I'm so happy," she said, looking around the deserted street.
Nicole Acevedo reported from New York, Sam Brock and Erika Angulo reported from Puerto Rico.
Follow NBC Latino on Facebook, Twitter and Instagram.