WASHINGTON — In biographies and profiles, Rep. Ileana Ros-Lehtinen, R-Fla., is often followed by, "the first Latina" or "the first Cuban American" in Congress.
Ros-Lehtinen has always embraced the descriptions tagged to her name, but as she exits Congress, she goes out as a Latina who has stayed close to her community while keeping herself from being pigeonholed.
"She's really an icon in the community for a number of reasons," said Eduardo Gamarra, director of the Kimberly Green Latin American and Caribbean Center at Florida International University. "Not only is she a Republican congresswoman, but she's been able to transcend the rigors of just being (known as) a Cuban American woman."
In an interview Tuesday, she tried to answer the questions of an NBC News reporter while also being the doting grandmother, dressing up a Latina Barbie on her granddaughter's electronic device while they waited for the Natural History Museum to open.
Actor Richard Gere and the television personality and Olympic medalist Caitlyn Jenner were to be in Washington Wednesday for the annual Congressional Hispanic Leadership Institute's annual gala. But the star of the event is Ros-Lehtinen.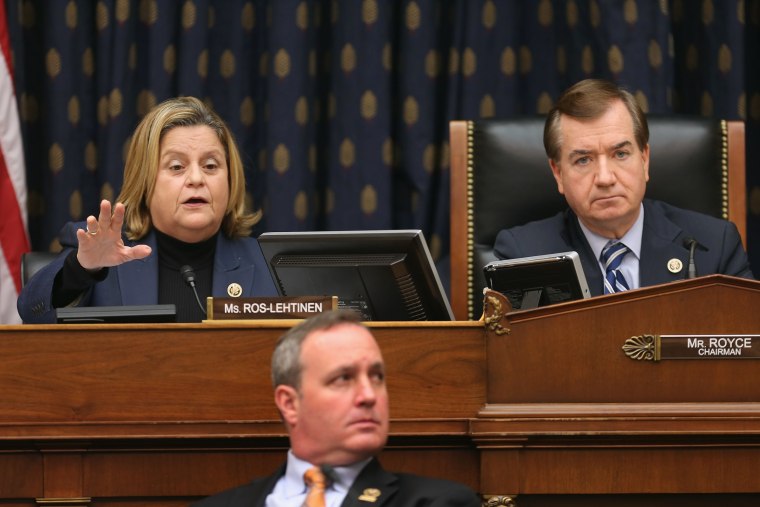 The institute is recognizing her with its Leadership in Public Service Award and Leadership in International Relations Award. The institute is renaming the latter award The CHLI Ileana Ros-Lehtinen International Leadership Award.
"Ileana has always stood for human dignity and freedom," Lincoln Diaz-Balart, a former Florida congressman and the CHLI chairman said in a statement. "The oppressed throughout the world have never had a better friend."
CHLI is generally aligned with Republican Latinos in Congress and is a counterpoint to the Congressional Hispanic Caucus Institute, aligned with Latino Democrats, although both are non-partisan, non-profits that help raise money to develop and train young Hispanics for future leadership roles and hold events to further the institutes' policy views.
A Latina first in Florida, then Congress
Ros-Lehtinen was elected to Congress in 1989 and voters have sent her back to Washington to represent her Miami area district ever since.
Born in Havana, Cuba, she fled with her family to the U.S. Her father had been a leader in the anti-Castro Christian Democratic Movement and had worked to topple Castro from exile, including writing about the regime and Cuba history in several books.
After opening the doors for Latinas in the Florida Legislature, Ros-Lehtinen — the first Hispanic woman to serve in the state's House or Senate — went on to become the first Latina in Congress and rose to be the first woman to chair the House Committee on Foreign Affairs.
Thirty years later, she's heading out of the Capitol as two Latinas from Texas hope to be the first elected to Congress from their state. Texas State Sen. Sylvia Garcia, a Houston Democrat and Virginia Escobar an El Paso Democrat, won their primaries and are expected to win in heavily Democratic districts in the fall.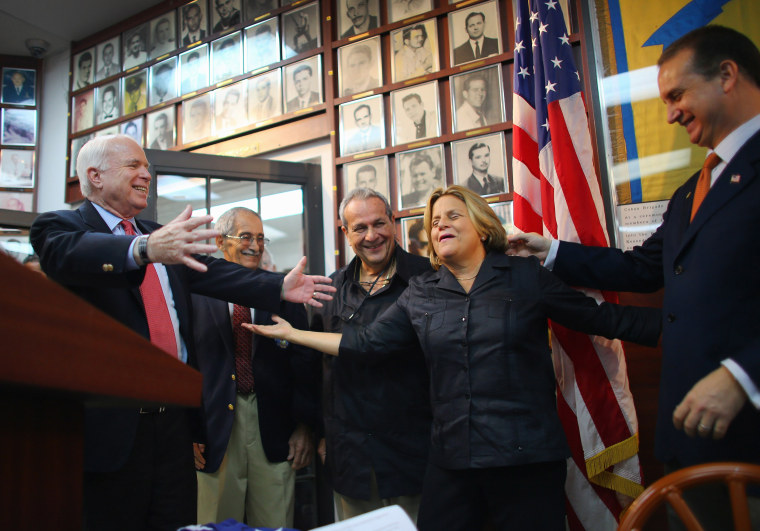 "It's so sad that we are talking about the Latina representation as if it's a novelty when we are such an increasing part of the population and Latina small business owners are a growing sector of our economy," Ros-Lehtinen told NBC News. "That's all right. It just means we are growing in numbers and it's getting better every day."
"Not that I think anyone should vote for a candidate based on gender," she said. "One should vote for the candidate's policies and positions...But a good cross-section of representatives in Congress is good."
When she arrived in the House, there were 30 other women and 14 Latinos serving. "It was worse than I thought," she said after an aide looked up the numbers; she had thought there were around 50 women. Today, there are 88 women in the House.
Pushing the issues at the 'good ol' boys club'
Ros-Lehtinen said Congress is still very much a dominant male culture and a "good ol' boys" club. She said she avoided being kept contained by stereotypes of women or Hispanics when she was assigned to serve as chair of the Africa subcommittee in the House Foreign Affairs Committee.
"When you can get outside of your comfort zone and not do what is expected and routine, for a lot of women to hold those committee posts and positions helps," she said. But she acknowledged that decades later she is just one of two women on the Foreign Affairs Committee. "Slim pickins," she said.
Ros-Lehtinen has been an advocate for women abroad, backing expanded freedoms for them including for Iraqi women to hold public office and increasing access to education for women in Pakistan through merit scholarships.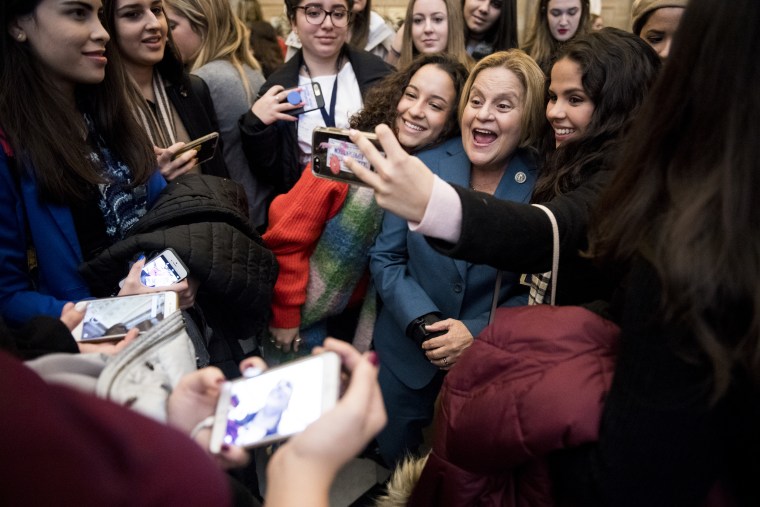 Her voting falls on conservative lines when it comes to issues such as Obamacare, embryonic stem cell research and the Lily Ledbetter Act. NARAL Pro-Choice America, a group that supports abortion rights, gave her a 9 percent rating for her votes and positions on abortion in 2016. The National Right to Life Committee, which opposes abortion, rated her 83 percent for 2017-18.
Along with almost all other Cuban Americans in Congress, she was a staunch opponent of Obama's policies for greater openness with Cuba. The New York Times once described her as a "fist-shaking anti-Communist" whose rhetoric earned her the moniker of "Lobo Feroz," (Fierce Wolf), in Cuba.
Ros-Lehtinen has applied her views on Castro to other issues, such as Tibetan autonomy. She was a House sponsor with Rep. Tom Lantos, of a bill to award the Dalai Lama with the Congressional Medal of Honor, which was presented in 2007.
"As a refugee who had to flee her homeland, I identify with the Dalai Lama, I identify with the plight of Tibet," she said. "There are different circumstances but the same exile mentality. I hope he's able to go to his home and the people of Tibet are able to practice their customs and traditions because that is what important to them." Gere, an advocate for Tibetan independence, was to attend to recognize that part of Ros-Lehtinen's work at the gala.
Jenner's appearance at the gala was planned to highlight Ros-Lehtinen's work in the LGBTQ community. Ros-Lehtinen's son, Rodrigo, is transgender, and she has done campaigns in English and Spanish exhorting families to support LGBTQ members. Last year, she slammed the Trump administration for changing protections for transgender students.
"I vote Democratic, but I have great admiration for her," said Gamarra, the FIU professor. "I disagree with her on just about everything, but she's been able to be a very, very effective voice" for the district, including the gay and lesbian community within it, he said.
Most recently, she has taken on the role of outspoken Trump critic — his policy on Syria is shizophrenic, she said — even though she agrees with him on issues, including ending Obama's Cuba policies. Despite her criticism of the president, Ros-Lehtinen said she's confident the country's checks and balances will prevail, although waiting for course corrections can be tiring.
"I just want a month of, "oh good, it's all working," she said.