With chants of "Ricky, renuncia!" ("Ricky, resign!") tens of thousands of Puerto Ricans marched and rallied in Old San Juan on Wednesday in a massive protest calling for the resignation of Gov. Ricardo Rosselló.
Puerto Ricans from across the island gathered in the U.S. territory's capital, joined by high-profile stars such as Ricky Martin, reggaeton stars Bad Bunny and Residente, award-winning actor Benicio Del Toro and beloved island celebrities like Tommy Torres, Karla Monroig and PJ Sin Suela, who rallied the crowd amid a sea of Puerto Rican flags, bullhorns and signs.
"I'm here in support of the people of Puerto Rico," Del Toro said during the rally.
Ashley Vadell, 27, said she went to the rally to take a stand against Rosselló's "lack of respect and lack of sensitivity."
Late Wednesday, protesters threw items at police including bricks, glass and fireworks, authorities said. Police responded by firing tear gas in an attempt to clear the streets. They also shot rubber bullets into the crowd.
According to authorities, at least seven protesters were arrested during Wednesday's protests and four police officers were injured.
In the early hours of Thursday, dozens of people in motorcycles, including Puerto Rican celebrities Residente, Rey Charlie, Ñengo, Noriel and Bryatiago, arrived in Old San Juan to continue protesting the Rosselló administration.
Thousands have been protesting for five consecutive days, urging for Rosselló's resignation in the wake of corruption investigations and the leaking of 889 pages of a private chat between the governor and some of his officials and close associates. The messages included profanity-laced, misogynistic and homophobic comments as well as barbed and cynical remarks about different topics, including the deaths following Hurricane Maria. The officials who were in the chat and were still in the administration have submitted their resignations.
Rosselló said the chats were private remarks made as a way to blow off steam after long days, but top island officials, including members of his own party, have been highly critical and have given the governor a deadline to "reflect" and prove he can stay in office.
"Fortunately the chat came out, because it unmasked everyone's real face," Martin said in a social media video in his native Spanish, summoning people to rally at the Capitol building. "They made fun of our bodies, they mocked women, the LGBTT community, people with physical and mental disabilities, they made fun of obesity… Enough."
"They made fun of our dead! Not even in the chats that I'm in with my friends I talk about the people in my country like that," René Pérez Joglar, better known as the multiple Grammy-winning artist Residente, told NBC News in Spanish ahead of Wednesday's rally. "People are angry with the things that the people in this Cabinet have done… The people don't want him there!"
"If he does not leave now, this is going to get worse," Residente said.
Carlos Vargas-Ramos, a researcher at the Center for Puerto Rican Studies at Hunter College-CUNY, said what's notable is the way the reaction to the scandal has mobilized people "from all walks of life," including different social classes, political parties and ideologies. "It seems unprecedented," he said.
The president of Puerto Rico's House of Representatives, Carlos Méndez Núñez, told Telemundo Puerto Rico he has appointed three lawyers to investigate the contents of the leaked chats and determine whether an impeachment process can be initiated.
Demonstrations started with hundreds of people, then grew to the thousands. The growth was reflected on Twitter as the hashtag #RickyRenuncia (Resign Ricky), a shortened version of his name, Ricardo, and it was trending worldwide Monday.
Until Wednesday night, the rallies had been largely peaceful. On Monday night, about two dozen police officers were injured during a protest, and at least five protesters were arrested, authorities said.
Residente joined forces with Benito Martinez Ocasio, better known as Bad Bunny, and Grammy-winning artist Ileana Cabra Joglar, artistically known as iLe, to release an explosive song slamming Rosselló prior to Wednesday's protests.
Martin and the other artists asked participants to show up and protest in peace.
"Puerto Rico, say present without fear. Let's march in peace and remain firm and assertive," he said. "When Puerto Rico unites, we accomplish wonderful things and we can change the course of history."
Protests have been taking place in U.S. cities including Miami, Orlando, Philadelphia and Nashville. In New York City on Wednesday, Lillian Gonzalez, 24, said her decision to attend the rally was a "no brainer."
"I've got to go," she says she told herself, since she couldn't be with family and friends in Puerto Rico.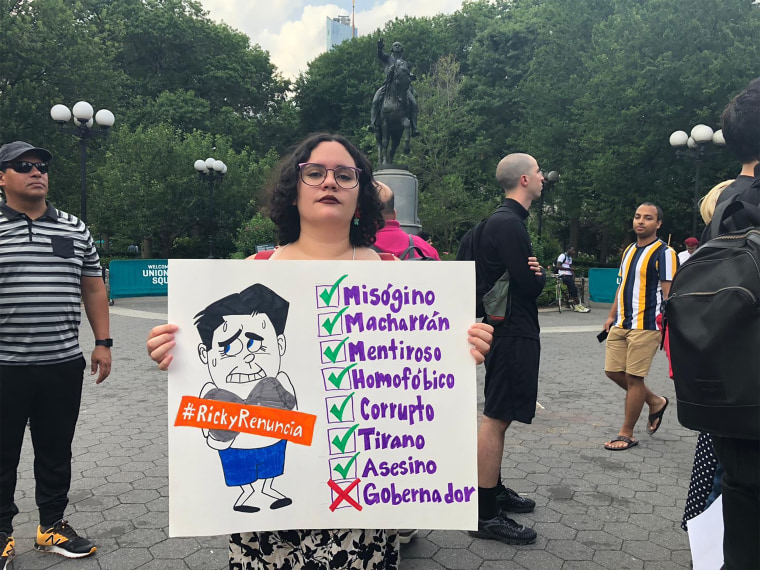 "Hamilton" creator Lin-Manuel Miranda joined the hundreds of protesters in Union Square Park.
"Rosselló has lost the people's trust in him and we are here to support that," Miranda told the crowd.
FOLLOW NBC LATINO ON FACEBOOK, TWITTER AND INSTAGRAM.