Rita Moreno was hooked when she was tapped to play a ghost in the television comedy "Lopez vs. Lopez," starring comedian George Lopez and his daughter, Mayan Lopez.
The show, which presents a funny but fictionalized version of the Lopezes' real-life father-daughter relationship, returns Friday with a new episode focusing on the family's connection to brujería, or Latin American witchcraft, and spirituality after their home is disturbed by a ghost.
Moreno guest-stars in the episode as Dolores, the ghost of George's late grandmother. Dolores' chancla-throwing spirit returns from the dead demanding a proper burial, a task that forces George to confront past traumas and dysfunctional family dynamics.
"I loved why she comes back from the dead," Moreno said about her character on the show, which airs on NBC (NBC News and NBC are part of NBCUniversal). "She came back roaring, nasty as always, in that family and demanding respect."
When "Lopez vs. Lopez" producer Debby Wolfe, whom Moreno worked with in Netflix's "One Day at a Time," shared the concept with her, she was moved by it.
"The idea really tickled my fancy," Moreno said, adding that the dynamic between Dolores and George is comical, but with a serious undertone.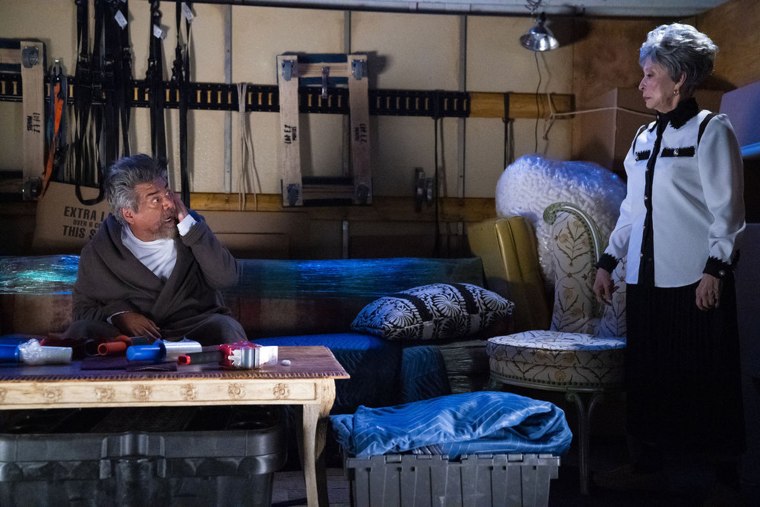 "Of course, I love the ending, which we don't want to give away," Moreno said. "That's the thing that really won me over. I thought that was so funny."
Like many Americans on Tuesday, Moreno was glued to her TV watching what became the first failed round of voting for speaker of the House.
"As a citizen, we have a responsibility," said Moreno, who likes to keep up with current events.
The moment echoed a scene from her 2021 documentary, "Rita Moreno: Just a Girl Who Decided to Go for It," in which Moreno is in her dressing room on the set of "One Day at a Time" watching Christine Blasey Ford testify in Congress during Supreme Court Justice Brett Kavanaugh's confirmation hearings.
"We really need to become very involved citizens of this wonderful country," Moreno said.
Moreno has accomplished a lot in a career spanning seven decades — trailblazing a path for many Latina performers.
From "One Day at a Time" and "Jane the Virgin" to "West Side Story" and other movies and TV shows, Moreno — an Emmy-, Grammy-, Oscar- and Tony-winning actor, making her one of the few Americans with what is called EGOT status — has joined countless projects that center on narratives of Latino families.
In her view, "Lopez vs. Lopez" has "all the makings of a successful family comedy," Moreno said. "I hope this works. I think it will."
She recalled asking Mayan what it was like acting scenes that resemble her real-life relationship with her father.
"She said, 'Sometimes it's not easy,'" Moreno said. 'I said to her, 'I think you're very courageous,' because some of this stuff has a real zing to it."
Being on the set of "Lopez vs. Lopez," was "wonderful," Moreno said. "Everybody was lovely. Everybody was like a real family."
But the real revelation, she said, is the comic timing of 6-year-old Brice Gonzalez, who plays Chance, George's grandson.
"That little boy absolutely slays me. What a bundle of talent," Moreno said of Brice, who became known for his funny videos on TikTok with his father under the name Enkyboys. "His delivery is unreal. It's so mature.
"He's not only adorable-looking, but he's an amazing comic actor," Moreno added. "That's what I came away with the most. I was astonished by him."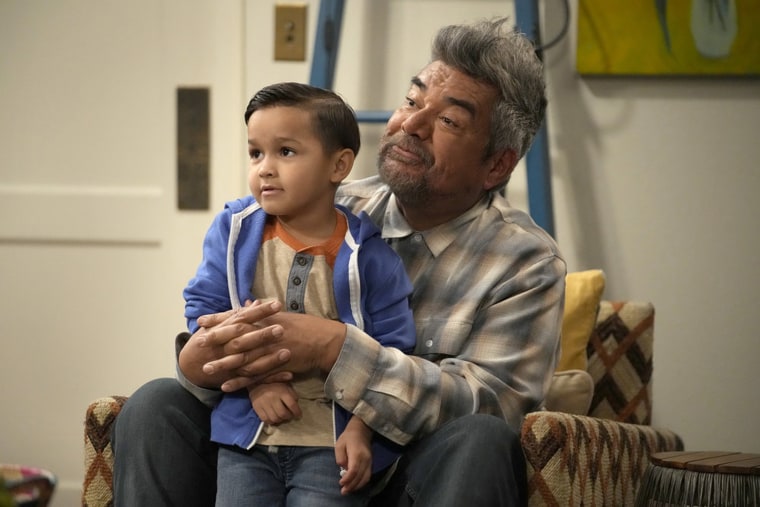 Despite the glimmer of hope the new show provides to Latino audiences looking to see themselves on screen, Moreno said she still feels "very strongly that we are underrepresented."
"It's better, yes," said Moreno, who turned 91 last month. "But better is a lot different from great. ... If I really stopped to think about it, I get so furious, because I don't get it."
Moreno made history as the first Latina to win an Academy Award, winning best supporting actress for her role as Anita in the 1961 movie "West Side Story." Having started acting as a young teenager in New York, she said, she has seen this pattern manifest for way longer than a decade.
"What is it that we have to do to be represented more?" Moreno said.
Latinos are almost 1 in 5 Americans, but an October report from UCLA found that Latinos "were the only group to be severely underrepresented" across broadcast, cable and digital TV. Hispanics have been underrepresented in front of and behind the camera at the same rate for a decade.
Latinos occupied only 7% of professional media industry positions, such as actors, producers, directors and writers, and 4% of media senior and executive managers, according to a report the Government Accountability Office released in October.
"It just amazes me that we're still having to struggle," Moreno said. "It would be so nice not to have to deal with that. It's hard enough to get a job as an actor. It's even harder to get a job as a writer for television."
Moreno was unable to celebrate her birthday in a big way — a tradition that started on her 77th birthday — yet again because of the Covid-19 pandemic.
"I was very sorry about it, but I can't. At my age, particularly, I'm very vulnerable," Moreno said, adding that she plans on staying strong and continuing to work for a long time.
"That is my aim. That is my objective."