SAN JUAN, Puerto Rico — Broadway legend Rita Moreno came to her native Puerto Rico in a visit that was framed between the devastation caused by Hurricane Maria and the opportunity to inspire women of all ages who are struggling to move their businesses and ideas forward despite living in the worst moment of the country.
Speaking to NBC News in an interview at the Animus Summit women's conference in San Juan, Moreno swiftly condemned the actions of President Donald Trump during his visit to the island three weeks after the hurricane devastated the island.
"Vergüenza," or shame, was the word Moreno used to describe Trump's time in the island.
"That visit was a nightmare. When that beast said that this was not 'as bad as' — it had not been a 'real disaster' like Katrina was, there are no words," said Moreno. "I have noticed that this person, because I do not even want to say his name, does not like Puerto Rico, even before the hurricane," she said.
The award-winning actress, singer and dancer was on the island to address women from Puerto Rico and the United States who had gathered at the summit, now in its third year. At the conference, more than 15 women who have excelled in different professional fields exchanged career advice and life experiences to encourage women who want to be an integral part of the recovery of Puerto Rico.
Carlos R. Cobián, one of the founders of the annual meeting, said that these kinds of meetings are essential at this moment in which, despite the negative impact of the hurricane, there are opportunities that should be expanded.
Co-founder Lucienne Gigante emphasized that governments and companies must begin to see women as key to the country's economic recovery and development.
"You have to think that 50 percent of the population is the solution to improve and rebuild the country," he said.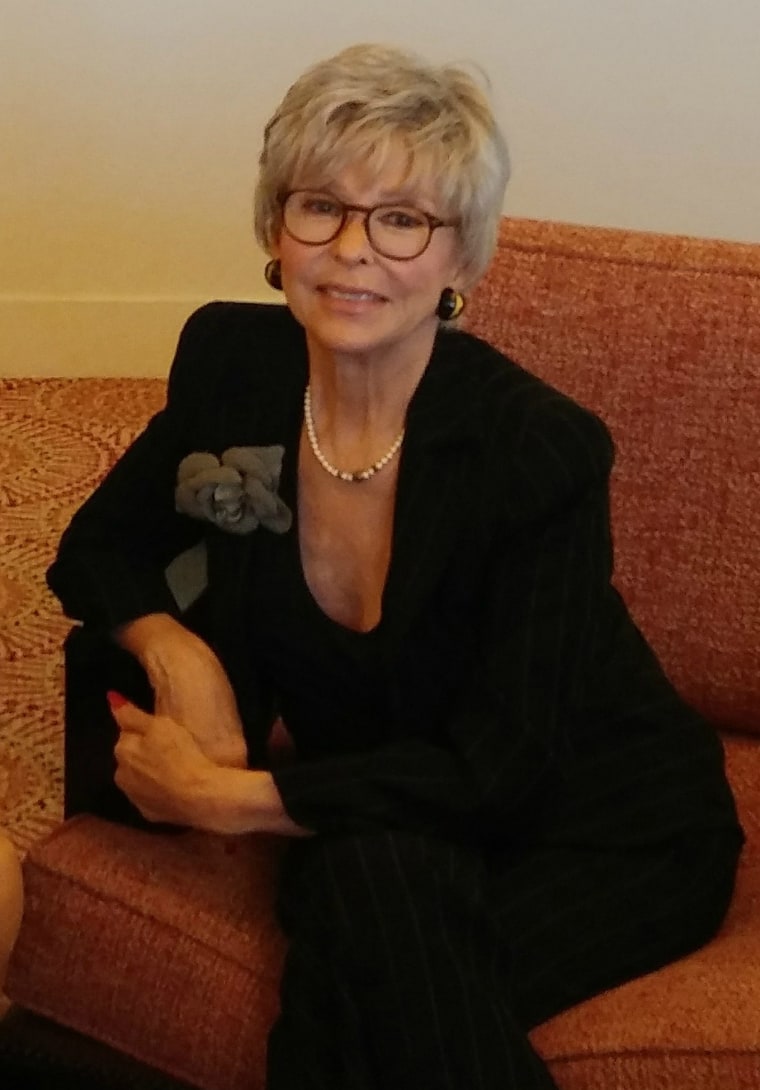 Among the speakers who shared the agenda with Moreno were nanoscientist and educator Yahaira Sierra, who is training as an astronaut, former communications director for Michelle Obama and Estee Lauder senior vice president Maria Cristina González Noguera, Master Chef winner and Food Network star Monti Carlo and island entrepreneur Bettina Mercado, who is now exporting her own makeup line to the United States.
Moreno, the eternal "Anita" from the movie West Side Story but better known to newer audiences as grandmother to Jane Villanueva on the TV show "Jane the Virgin", pointed out that she traveled to her village Humacao, about 60 kilometers southeast of San Juan, and was shocked by the destruction.
"The trees are destroyed. Everything is destroyed. And I cannot imagine how this was in the mountains. I can not think about it because it gives me such a deep sadness, I feel so bad," she said.
Her mission to her hometown was to bring necessities to a nursing home. Moreno regretted that the residents are without electricity, just like a large part of Puerto Ricans.
Moreno said, however, that she got the ultimate gift from the nursing home residents, who danced a salsa with her and shared several songs.
"The character of the Puerto Rican is something brave, because in spite of everything they are well. You can still laugh, they still have a sense of humor," said Moreno. "But I came to understand and see what I can do to help. She said she plans to return with lamps that are recharged with solar energy.
Moreno recently participated at a big rally in Washington D.C. organized by her friend, "Hamilton" creator Lin-Manuel Miranda. That event confirmed that the extensive and growing Puerto Rican diaspora in the U.S. is willing to help.
"We are going to do everything we can with the money we raise," she said.
At the conference, Moreno had one message for the women who aim to build on their businesses and ideas and be part of the much-needed economic development of the island: Changes can be achieved, but the trick is not to let oneself be overcome.
In her case, Moreno first had to overcome the racism she experienced when she arrived in the United States when she was 5. She described that time as "very cold and very sad."
After winning the Oscar and the Golden Globe for her role in the film "West Side Story," she said she was not offered a single role other than the stereotypical Latina woman role for years.
Far from being discouraged or retiring, Moreno said she remained firm in her desire to devote herself to the arts and little by little, she continued to break through. She knows many look up to her.
"I have become a 'role model' for Latino boys and girls," Moreno said. "It is a very big responsibility and I want to always be the example of a Puerto Rican or Latina woman who can show young people that everything is possible."
"But we have to persevere — you have to preserve, you have to have strength. I know that for me it is very easy to say, but at the same time they have to be strong and understand that all of this will one day change, I hope it will be very soon, this has to improve."