Almost a year since Donald Trump declared his presidential bid by calling Mexicans rapists, criminals and drug traffickers, the Republican Party is soon to be without its messenger to Latino media and is about to replace her with someone who has been publicly critical of the party nominee.
The impending departure of the GOP's Latino media spokeswoman Ruth Guerra, first reported by the New York Times, was being seen as a response to Trump and her discomfort working on his behalf.
On Thursday, liberal group Media Matters issued a news release that Guerra's replacement, Helen Aguirre Ferré, was scrubbing tweets critical of Trump from her Twitter account. Media Matters publicized 12 that it said were found in Google cache, including this one.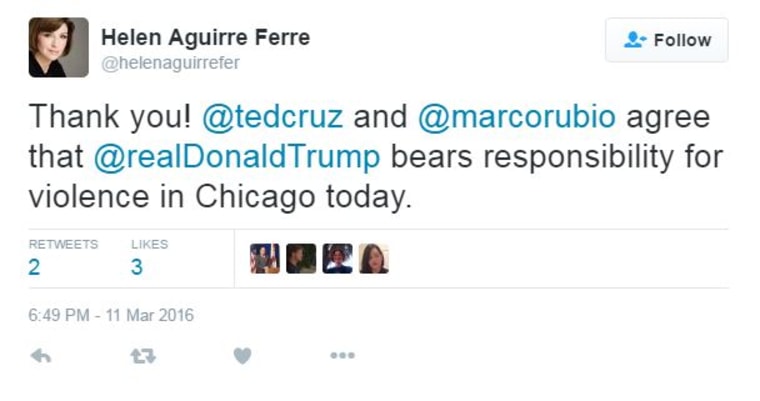 She had not deleted all Trump critical tweets as of Wednesday morning.
The Republican Party referred NBC News' questions about Guerra and Ferré to Guerra, who did not respond to a call, text or email Thursday morning. In a statement issued later, Guerra said she was proud to have worked for the RNC and on its Hispanic engagement and excited about her new job.
In a statement issued late Wednesday, Ferré had said she's "eager to make the case to the Hispanic community why Republican ideas and values are the way forward .." The statement did not address her previous criticisms of Trump.
The Democratic Party jumped on the personnel change, sending out a video of its new messenger, Ferré criticizing Trump in an appearance on Spanish-language television for saying women who have abortions should be punished.
In the segment, Ferré says the comment consolidated opposition to Trump, said it showed he was anti-women, that it was part of a pattern of comments against other groups and that "there's something that bothers him about strong and independent women," according to the DNC provided video.
"The Republican Party doesn't need a new spokesperson, they need a new candidate," said DNC spokesman Walter Garcia.
"The GOP's divisive campaign laid the groundwork over many years for Donald Trump's ugly and dangerous campaign, and even this new Republican spokesperson seems to agree that the GOP's standard bearer lacks the judgment and temperament to serve in the White House," Garcia said.
Guerra, who is Mexican-American and the daughter of Mexican immigrants, began work with the party nearly two years ago. News of her upcoming departure came Wednesday night by way of a party news release announcing her replacement.
Ferré, 58, is a former adviser to Jeb Bush's presidential campaign and a former journalist; she was a long-time host of a public affairs show as well as a Spanish-language radio show and wrote opinion columns for the Miami Herald. Of Nicaraguan descent, she is the daughter-in-law of former Miami Mayor Maurice Ferré.
It is well known that the candidacy of Trump has caused great discomfort among some GOP-voting Hispanics and even spurred a public condemnation of him by a group of Hispanic Republicans, many who had backed Jeb Bush, but not all.
Some Latinos who have worked on bringing more Hispanics into the party have lamented the detrimental effect Trump's candidacy is having on their efforts.
Guerra is leaving a little over a month after Trump won a decisive victory in the Indiana primary to become the GOP presumptive nominee.
She also goes just a few days since Trump, in criticizing a federal judge overseeing the lawsuit against Trump University, called the judge a hater and then commented, in error, on his country of origin: "The judge, who happens to be, we believe, Mexican, which is great." The judge is American. He was born in the U.S. and is of Mexican descent.
RELATED: GOP Hispanics to Unite Against 'Demonizing' Of Latinos Before Debate
The Times, citing two Republican Party aides who had requested anonymity, reported that Guerra had told colleagues she was uncomfortable working for Trump.
A party insider, who spoke to NBC News Latino on condition of anonymity, said while no candidate is considered perfect or will get 100 percent agreement on positions, "there is soul searching going on," about defending some of Trump's rhetoric and positions "and in my opinion it extends beyond the Hispanic staffers." The insider said in addition to staff, surrogates and even voters are troubled with his rhetoric that at times hits close to home.
Alfonso Aguilar, who led a group of GOP Hispanics who publicly condemned Trump earlier this year, said he had coffee with Guerra last week. "If there was any discomfort, she didn't communicate it," he said.
He was skeptical that her departure was tied to a discomfort with Trump and critical of the anonymous sources who spoke to the Times, saying they either betrayed Guerra's trust or may have misspoken.
He said he has talked to some Hispanics and other staffers working in the party who have expressed some discomfort, "but they are professional about it. They will support the candidate whoever that candidate is" because the alternative is Democratic frontrunner Hillary Clinton as potentially the next president.
Related: Analysis: Will Donald Trump Wall Out Latinos from the GOP?
Although probably relatively unknown to much of the public, Guerra was spokesperson for the party with media aimed at Latinos. Her job was to help sell the Republican brand and positions to the Latino community through comments and appearances on television news shows.
Since early in the election season, she has kept up the party's hammering of Clinton, shuttling its statements criticizing the Democratic frontrunner to Latino media in English and Spanish.
She begins work Monday at American Action Network (AAN), a center-right advocacy group and Congressional Leadership Fund, a super PAC tied to House Speaker Paul Ryan and House Republican Leadership, said Emily Davis, a spokeswoman for American Action Network and the Congressional Leadership Fund. The network previously housed the Hispanic Leadership Network that was folded into the larger AAN organization and supported the 2013 Senate-passed immigration reform bill, Davis said.
Both groups are focused on the House of Representatives, electing conservatives and helping relay their message. Davis said Guerra will be handling regional and local media in English and Spanish.
Asked whether in backing candidates the AAN considers whether they are supportive of Trump and his proposals, Davis said: "For elections, our focus is on winning House races for Republicans in any circumstances."