Never mind how few eligible Latino voters there are in New Hampshire. For Latinos, next Tuesday's primary is about who remains for GOP Hispanic voters can choose from and what, if any, lift the primary gives Democrat Bernie Sanders in the community.
Just 2.2 percent of New Hampshire's electorate is Latino, about 22,000 people, according to Pew Research Center.
A number of Hispanics have supported Jeb Bush, but his 3 percent performance in the Iowa's caucus last Tuesday has raised Marco Rubio as a potential alternative for GOP-voting Latinos unlikely to back Donald Trump or Ted Cruz. Some already are making the jump.
Massey Villarreal, a Houston Bush backer influential in Latino GOP circles, told NBC News Latino he is now backing Rubio and plans to work to get other Latinos to back him.
"I'm going to put my chips on the Marco campaign and go defend his record and his conservative record," Villarreal said. "He's the guy who can really beat Hillary or Sanders or Hillary/Sanders."
While he wanted Bush to do well and said he'd back him if he's the nominee, Villarreal said he likes Rubio's vision and "I like that he's Hispanic."
Although Donald Trump and Ted Cruz have some supporters among Latinos, there is significant opposition to them in the community because of their extreme right views on immigrants and the rhetoric they have used.
Villarreal, whose father immigrated from Mexico, was active in helping turn out the record high Hispanic vote that former President George W. Bush won. But when Mitt Romney campaigned on self-deportation in 2012, Villarreal knew Latino support was lost. The Trump rhetoric and Cruz backing an "attrition through enforcement" immigration plan has soured Villarreal on those candidates as well. He said he wants to bring together a similar coalition of GOP Hispanics behind Rubio as he did for George W. Bush.
"I really am going to get the band back together and we are not going to be Latinos for Marco Rubio. We are going to be Americans for Marco Rubio ... We are going to play in the big bucket," he said. Villarreal is a businessman and former Republican National Hispanic Assembly national chairman.
Bush could stick it out past New Hampshire, but how long he can remain in the race with a less than stellar finish will depend on how long he has the backing.
In a UMass Lowell/News 7 tracking poll of 467 registered New Hampshire voters, Trump led with 36 percent, followed by Rubio with 15 percent, Cruz with 14 percent, Bush with 8 percent and Kasich with 7 percent. Undecideds were 8 percent.
"I think New Hampshire is critical for Bush," said Alfonso Aguilar, executive director of the Latino Partnership for Conservative Principles. "He said New Hampshire restarts his campaign, so he needs to restart his campaign and needs to win or arrive second."
Rubio's challenge in becoming an option for Latino voters would be to clarify his position on immigration, said Carlos Gutierrez, former Secretary of Commerce under George W. Bush.
Aguilar served in the George W. Bush administration and has endorsed Jeb Bush, but is not hired by the campaign.
Aguilar said he endorsed Bush over Rubio because he thinks it is Bush's time, but he said "I think Marco is a phenomenal candidate and very popular."
Rubio particularly connects with Hispanics in Florida and Nevada, he said. "Even in general he would do well, not only because he's Hispanic, but he's constructive."
In a New Hampshire town hall Tuesday, Bush noted the GOP's dilemma with Latinos regarding Cruz and Trump. Republicans will never win elections by insulting Hispanics or making other disparaging remarks against people, he said.
Bush has won points in the community for his affinity for the culture, his Mexican-born wife and Mexican-American children. His positions on immigration have been more acceptable to GOP-voting Hispanics who oppose the hard right stance their party has taken.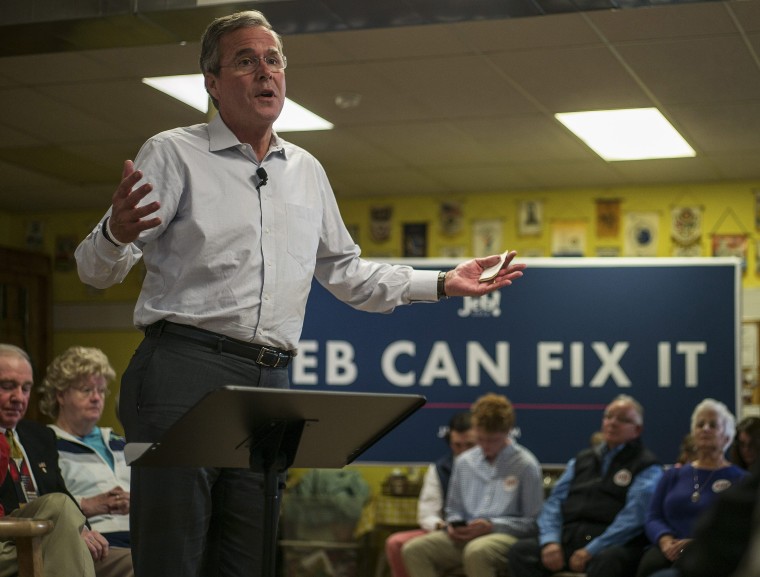 Stella Rouse, a University of Maryland professor of government and politics, said "Bush is really the only Republican candidate who focuses his rhetoric on appealing broadly to Latinos."
"He uses language that is sympathetic and empathetic and speaks to the pragmatism of a plausible solution to immigration (unlike the Latino GOP candidates)," she said.
" ... if Bush could manage to finish third (ahead of Rubio) or even fourth in New Hampshire. This would allow Latinos to reasonably continue to support him, rather than conclude that his campaign is all but over," Rouse said.
Carlos Gutierrez, former Secretary of Commerce in the George W. Bush administration and a Cuban American, said Rubio's challenge in becoming an option for Latino voters would be to clarify his position on immigration.
"That is something Jeb has done because he wrote a book" detailing a potential solution, Gutierrez said. "I believe that gives him an advantage with Hispanic voters. There has been change and some ambiguity as to what Rubio's position is. We all remember the debate he had with Rubio. He's clearly changed since his time in the Senate. As he moves to more moderate states, what is his message going to be?"
The election really picks up for a larger swath of Latino voters after New Hampshire, with the next big contest in Nevada. Democrats caucus there Feb. 20 and the GOP on Feb. 23. Then it's on to South Carolina, Feb. 27, followed by the March 1 Super Tuesday primaries that include Texas and Colorado.
States with larger Hispanic communities will be the "testing ground," said Gutierrez, who serves on Bush's National Hispanic Leadership Committee.
Rubio, a Cuban American, will have an added challenge of having to connect with a Latino community that is largely Mexican American. Some experts on the Latino electorate have said Latinos will relate to his family story of being the son of a bartender and a maid who overcame economic obstacles and rose to the U.S. Senate. He also speaks fluent Spanish.
Some Latinos, however, have criticized him as not providing opportunity for other Latinos.
Federico de Jesus, a Democratic political consultant, said Rubio isn't likely to be appealing beyond the GOP voting Hispanics. Rubio's immigration position is similar to Sen. John McCain's, Obama's opponent in 2008, he said. McCain stayed out of the immigration reform bill negotiations and backed away from the McCain-Kennedy immigration bill that he crafted with the late Sen. Ted Kennedy. He also pressed for border security first. Hispanics voted 2-to-1 against McCain, according to Pew.
"He had the potential to get a lot of the Latino vote, but at the end it was disastrous for him with the Latino population," de Jesus said. "Marco Rubio is trying to walk the same line."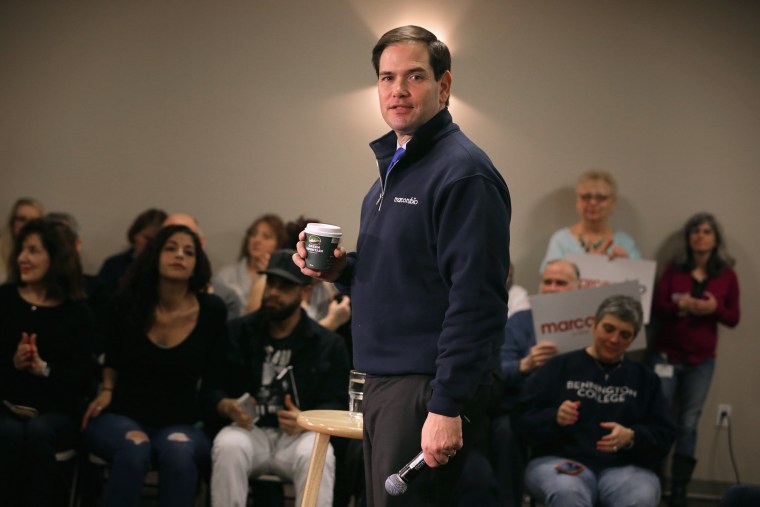 Related: Ted Cruz is 1st Latino to Win Iowa, But Focus is On Rubio
But Rubio might be able to capture Latinos on other issues, despite his immigration views, Rouse said.
"The appeal may come from an economic and/or social values perspective, in addition to his electability," she said.
For Democrats, Bernie Sanders is considered likely to come out ahead in New Hampshire, which borders his home state of Vermont. But Clinton has strong support among Latinos and Sanders would need to break through that in Nevada and other states.
A larger victory for Sanders could give him some additional name recognition and national attention that would benefit him going into Hispanic-heavy Nevada, de Jesus said.
The UMass Lowell/News 7 tracking poll showed Clinton gaining some ground but Sanders' with a large lead of 58 percent to 36 percent.