Spanish artist Rosalía took the Latin Grammys by storm Thursday night as the award show celebrated its 20th anniversary.
Her second studio album, "El Mal Querer," took home all the awards it was nominated for, including Best Album Of The Year, one of the top awards of the night, and Contemporary Pop Album Of The Year.
"We did this album sitting on the floor, with two computers, a keyboard and a microphone. I swear to God. And then, we worked on it for a year and a half. That was it," said Rosalía in Spanish at the Latin Grammy stage in Las Vegas. "Winning a Grammy is the best thing that can ever happen."
The artist also took home Best Urban Song for hit "Con Altura," alongside Colombian reggaeton artist J Balvin.
Puerto Rican singer Pedro Capó and Spanish musician Alejandro Sanz also won top awards.
Capó won Song Of The Year with hit "Calma." The song's remix also won a Latin Grammy for Best Urban Fusion or Performance.
Sanz's collaboration with pop star Camila Cabello won Record Of The Year. The song also won an award for Best Pop Song.
Between her wins and her medley performance of "Con Altura" and "A Palé," Rosalía proved once again that she embodies the perfect marriage between the past and the present, organically blending both traditional sounds like flamenco and classical music with mainstream sounds such as pop, reggaeton and trap.
"I have no prejudices or think that one music is better than another. Flamenco is my great passion, but I also love to experiment in the studio, explore with the sounds, so it is natural and organic for me to experiment. And of course, urban music is part of my references as well as classical music, other kinds of music from my country and even Jamaican music," Rosalía told NBC News in April.
Just like Rosalía, the Latin Grammys were a celebration of the Latin music industry's evolution.
The show opened with tropical music veterans Olga Tañón and Milly Quezada and Brazilian pop star Anitta performing late singer Celia Cruz's iconic hit "La Vida Es Un Carnaval." The song quickly turned into a medley paying tribute to Latin music legends Juan Gabriel, Joan Sebastian and Gustavo Cerati.
Mexican crooners Carlos Rivera, Reik and Leonel García sang Juan Gabriel's "Querida." Natalia Jiménez, Calibre 50 and Prince Royce performed "Secreto de Amor" from the late regional Mexican singer-songwriter Joan Sebastian. Rock stars Draco Rosa, Fito Páez, Beto Cuevas and Ricky Martin sang "Música Ligera," honoring late Argentine star Gustavo Cerati.
One of the highly awaited moments of the night was when Mexican living legend Vicente "Chente" Fernández, also know as "The King of Ranchera Music," took the stage with his son Alejandro Fernández and grandson Alex Fernández. The three generations shared the stage together for the first time.
"To every audience member, who I feel are like my family, everyone on the radio who have made me the son of many cities I love so much, all over Central and South America, the United States, all of you will be in my heart until the day I die," said "Chente" after the performance.
Colombian musician Juanes, a 23-time Latin Grammy winner and two-time Grammy winner, earned the most prestigious award of the night, Person Of The Year.
The Latin Recording Academy said he was chosen for the recognition because of his "creative artistry, unprecedented humanitarian efforts, support for rising artists, and philanthropic contributions to the world."
Juanes was starstruck after Lars Ulrich of the heavy metal band Metallica presented him with the honor.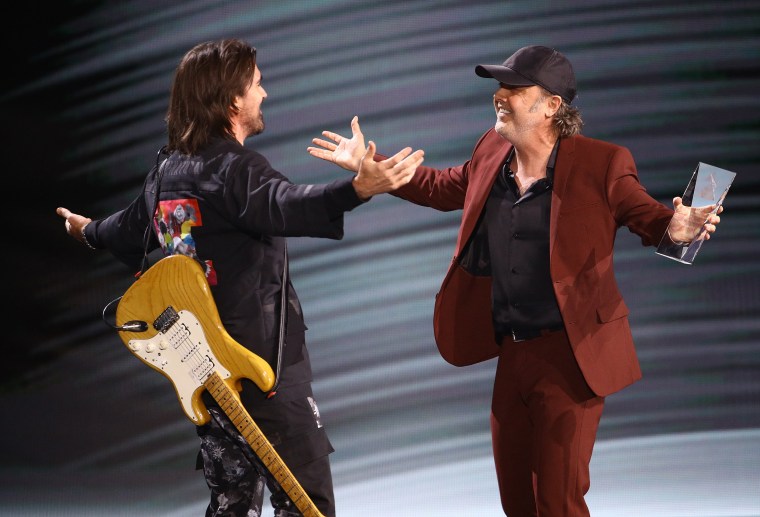 Ulrich said he still remembers when Juanes told him and the band that he was a huge fan.
"Well tonight, I say, I'm a Juanes fan," said Ulrich.
Acclaimed Puerto Rican Latin trap and reggaeton singer Bad Bunny's debut album, titled "X100PRE," won a Latin Grammy for Best Urban Music Album.
"Reggaeton is part of Latin culture and it's representing us worldwide… The genre has become all about views and numbers… We need to bring something different," said Bad Bunny during his acceptance speech, alluding to a recent controversy over whether the Latin Grammys fairly award urban music genres.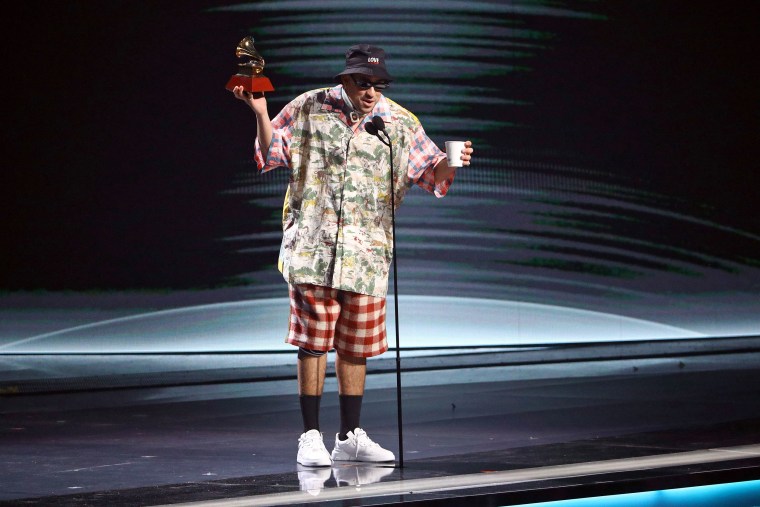 He celebrated the win with two performances.
Bad Bunny sang "Cántalo," a collaboration with Ricky Martin and rapper Residente inspired by the mass protest that swept Puerto Rico over the summer.
He then closed out the Latin Grammys with a majestic performance that started off with an orchestra full of cellos, violins and percussion instruments and later sang the hit "Callaíta."
Follow NBC Latino on Facebook, Twitter and Instagram.