More than 20,000 people descended upon a ranch near La Joya, a small town in the state of San Luis Potosí in central Mexico, for Rubí Ibarra García's much-anticipated quinceañera, or sweet 15th birthday fiesta.
The massive crowd fell far short of the more than 1.3 million guests who responded to the party's Facebook invitation to say they'd be there — but it was still enough to rattle the 15-year-old, who was dressed in a fuchsia-colored gown and tiara. Rubí seemed at times rather overwhelmed during her coming-of-age party, as did her parents.
The day's festivities began with a Mass where the local priest delivered a sermon counseling Rubí to remain humble despite all the attention surrounding her.
Mexican bands Los Cachorros and La Heredera performed as party goers feasted on a meal of traditional Mexican chilaquiles (fried tortillas in chile sauce), rice with chocolate mole, and beans. The luncheon came after the Mass and before the traditional father-daughter waltz.
What was meant to be a local affair became a trending topic in Mexico and the world over after Rubí's parents, ranchers Crescencio and Anaelda, recorded a folksy video invitation promising a memorable party with a "chiva," or horse race, with a 10,000 peso prize, some five-hundred dollars. The video was not posted with privacy settings in place and quickly went viral.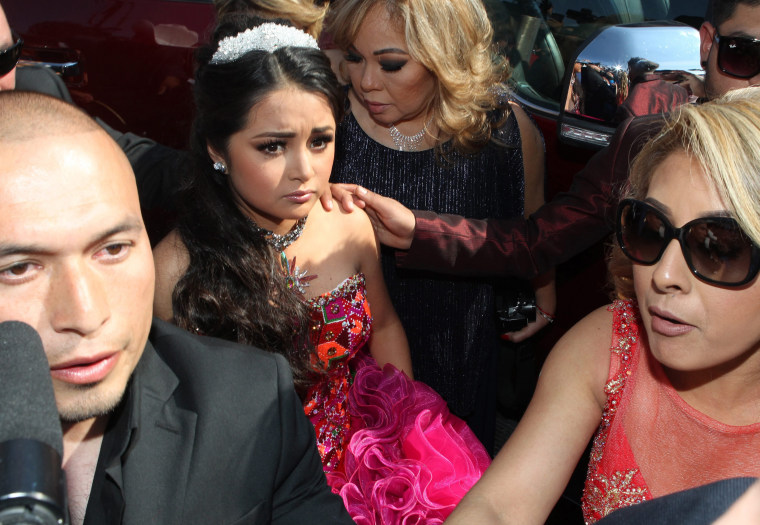 The company hired to record the invitation also published the video on its Facebook page to showcase its services. The video soon became so well-known that even celebrities and bloggers parodied or acknowledged the invite online.
RELATED: All of Mexico Is Gearing Up For Rubí's Epic Quinceañera
Attendees traveled from far and wide — arriving at the ranch from across Mexico and even from the United States. Telemundo's Ingrid Barrera spoke to Ima Clausen, a woman who drove five days with her mother from Arizona for Rubí's big day. "We bring her many well-wishes, blessings and a $150-dollar gift," Clausen said.
Given how viral the the party became on social media, local merchants were offering wireless internet service for five dollars an hour. Major Mexican companies also sponsored the outsize event, local celebrities and even the state's governor made an appearance, presenting Rubí with a series of literary classics and a new computer. A well-known mayor from a nearby state also presented Rubí with a 2016 Chevrolet Spark so that she can drive to school.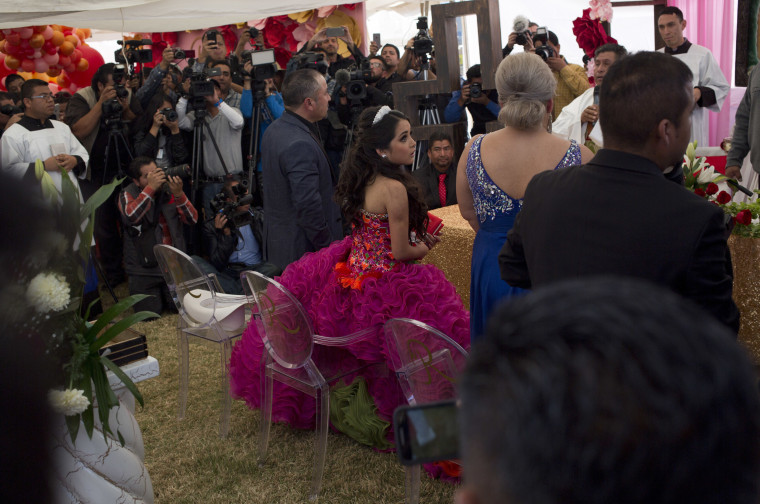 Despite local, state and federal authorities as well as the Mexican Red Cross being on hand to ensure the festivities took place safely, one man died during the horse race.
Félix Peña, a local horseman, was run over by his own horse during Monday's race. Peña was pronounced dead en route to the hospital. A woman was also injured during the horse race, and it was subsequently cancelled. A video of the deadly incident is currently making its rounds on the internet.
Following the race's cancellation, Mexican band Jérez performed, after which Rubí and her father danced the waltz.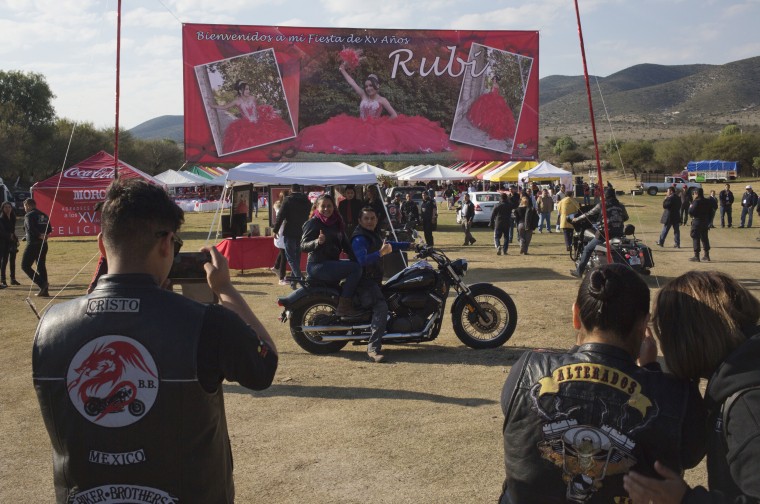 It was a day that Rubí and the town of La Joya will not soon forget. The young teen was not only at the center of all the buzz, but she became an online star throughout Mexico and Latin America.
The town, which hosted more than 20,000, is normally home to only some 200 people. Rutilio Ibarra, a local resident, told the Associated Press that he hoped the event would garner much-needed tourism revenue for the town, which has been struggling financially in recent years and is not fully-serviced by cell phone towers.
Quinceañeras, although never as public as this one, are oftentimes lavish coming-of-age parties for 15-year-old girls in Mexico and throughout Latin America. It's a day when, regardless of income, many families strive to make their daughters feel like princesses. Quinceañera parties are increasingly more common in the United States given the boom of the Latino population in there.
Edgar Zúñiga Jr. is a producer based in Noticias Telemundo's New York bureau for the network's national-evening newscast, "Noticiero Telemundo." Telemundo is a division of NBCUniversal. Telemundo's Mexico City correspondent Ingrid Barrera contributed to this report.