Editor's Note: This article, originally published on Jan. 8, has been updated to include the aftershock earthquake that occurred on Saturday, Jan. 11.
After the worst earthquake in more than a century killed one person and triggered an islandwide blackout in Puerto Rico, many people like Molty Nazario's wife couldn't find the strength to go back into their homes.
"It was very shocking. Our mirrors, our drawers, our paintings fell out," Nazario, 47, a high school math teacher and a community activist, said. "People are sad, worried and many are inconsolable. My family is very nervous and my wife is very affected, she doesn't even want to be inside our house."
As if the 6.4-magnitude quake on Tuesday that destroyed schools, churches and homes wasn't enough, it has been followed by more than 80 aftershocks. The biggest aftershock happened on Saturday morning.
At around 9 a.m. local time, a 5.9-magnitude shock caused more damage, mainly in areas around the southern coast where hundreds of homes and schools had already collapsed from Tuesday's temblor.
The series of earthquakes come two years after Hurricane Maria hit in September 2017, the worst natural disaster in the island's modern history.
Nazario said that after the hurricane and now the temblors, "some people feel like the earthquake is some sort of divine punishment."
He tries to help by reminding people that such events are just the way nature works.
Christine Nieves co-founded a cooperative open-air kitchen and neighborhood resource center, Proyecto de Apoyo Mutuo Mariana, after Maria hit. She did it mainly so that people, especially those living alone, would have somewhere to go when they were scared and living in darkness — Maria caused the world's second-longest blackout, which lasted over a year.
After the earthquake Tuesday, there was a lot of anxiety because "we feel like we're back to the post-Maria times," said Nieves, who lives in Humacao.
"Asking people to remain calm is not easy when they have PTSD," she said, referring to post-traumatic stress disorder. "We really need to work on our collective psychology, our collective mental health."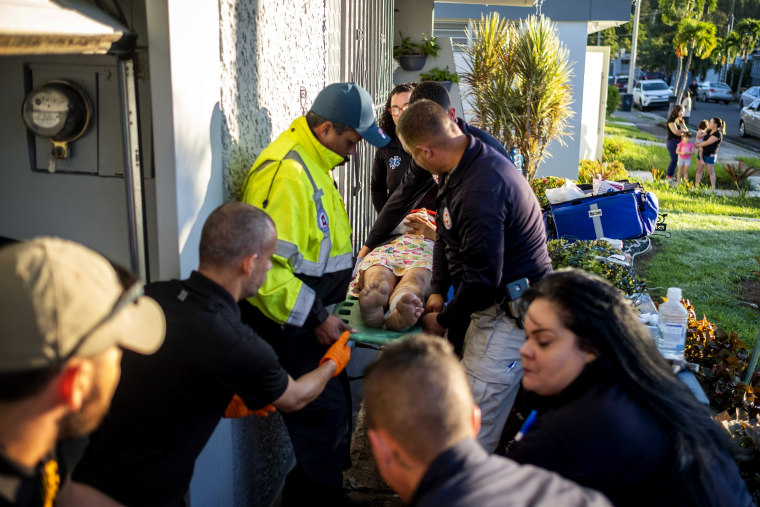 Puerto Ricans have not lived through a devastating earthquake in more than 100 years. But the memories of the post-Maria scenario are still very fresh, with an islandwide power outage and hundreds of thousands who lost water access because electrical water pumps weren't working.
Many who fear that their homes could crumble and collapse overnight if another earthquake hit moved their beds outdoors. They sleep outside every night until dawn.
Memories that 'scar on your soul'
People on the island are still experiencing PTSD more than two years after Maria, which killed at least 2,975 people, according to the American Psychological Association. A survey conducted one year after the hurricane revealed that over one-fifth of the island's residents reported needing or receiving mental health services. Thirteen percent said they started a new or a higher dose of prescription medications to treat emotional problems.
More than seven percent of all children in Puerto Rico meet clinical standards for PTSD, a rate twice than that of the general population.
The 6.4-magnitude earthquake awoke many unwanted memories of Maria among Puerto Ricans from all walks of life, from families and children to public officials, and the persistent aftershocks continue to rattle the residents.
San Juan Mayor Carmen Yulín Cruz told NBC News there's fear and even panic at the thought of grappling with the uncertainty of another life-threatening situation.
"Those are painful memories, memories that you not only have in your head but that scar on your soul," Cruz said.
She and other leaders face the mental and physical challenge of ensuring "we don't transmit to our people an attitude of defeat, or of nothing can be done."
"You can't go home because it may fall on you, so your life is changed in an instant. Your memories are in your home, your food, your clothing. Everything is shattered and you woke up to a different reality," she said.
Addressing mental health in 'a different reality'
Gov. Wanda Vázquez announced Saturday afternoon that she has declared a major state emergency after can initial assessment following the latest temblor.
The quakes have caused $110 million in damage and have destroyed at least 559 structures islandwide, she said.
After Tuesday's earthquake, Guánica's main street and buildings saw severe damage. Part of the city hall collapsed, as well as the main hardware store. Small businesses in neighborhoods such as Barrio La Luna also crumbled.
Nazario said that that quake separated his neighbor's carport from the house and destroyed their kitchen. Dramatic landslides in his neighborhood of Bosque Seco blocked the street where he resides.
He started fielding calls from anxious parents saying they didn't want to send their children to school. He was worried about children dropping out, especially those whose schools were permanently closed after Maria and who face grueling, long commutes to schools in farther towns.
When schools were reopened after Maria, Nazario said being there felt like a "therapy session." When schools open Monday, he thinks it may be the same.
"We give them our support and let them know that this is a natural disaster and we'll try to help them," he said.
Hundreds of small earthquakes have been shaking Puerto Rico since Dec. 28, prompting an increase in calls to a government-run mental health hotline known as Línea PAS, according to Suzanne Roig, the main administrator of Puerto Rico's Office of Mental Health Services and Addiction Prevention.
Aside from the hotline, Nieves said the government could do more to help "provide clear guidance and mechanism to work within communities" in need of mental health services.
Puerto Rico is slowly recovering from the latest disaster. Most customers had their electricity and water supply restored.
But the conversation happening in almost every household "is about how to stay safe during an earthquake."
Nieves said "our trauma makes us prepare for a hurricane," but a hurricane and an earthquake are not the same, and she's worried about the lack of knowledge surrounding earthquake preparedness.
"There's a lot of talk about the emergency backpack," Nieves said, referring to a bag full of essentials that most Puerto Ricans now have following Maria for use in case they have to quickly leave their homes.
Unlike hurricanes, earthquakes can hit with no warning. Despite the anxiety over the unknown, "it's crucial to know where the nearest nurses are, where the elderly people live, where are our resources. That saves more lives than the backpack."
"One of the most important parts of the conversation is the toughest," she added.
Follow NBC Latino on Facebook, Twitter and Instagram.