SAN DIEGO — One of this city's few long-term shelters for asylum-seekers — known for lodging pregnant women and new mothers — will be shutting down.
"We knew that we were violating fire code and other codes by having as many people in our building," Pastor Bill Jenkins, the director of the Christ Ministry Center, told NBC News. "But no one would take them ... We were the only place where they could have a roof over their heads and not be on the streets."
Jenkins said the center is grappling with two things: a surge in the number of migrant families who are crossing the border, and the Trump administration's more restrictive policies around those seeking asylum.
"It seems as though our administration is trying to make life as miserable as possible for the people who are seeking asylum," Jenkins said. "And they're doing a pretty good job of it. I think our administration wants to prove that there's a crisis."
Advocates point to the Trump administration's policy that separated families, the "remain in Mexico" policy and other attempts to make it more difficult for migrant families to seek asylum. Critics have also accused the administration of releasing vulnerable migrants from detention with no place for them to immediately go.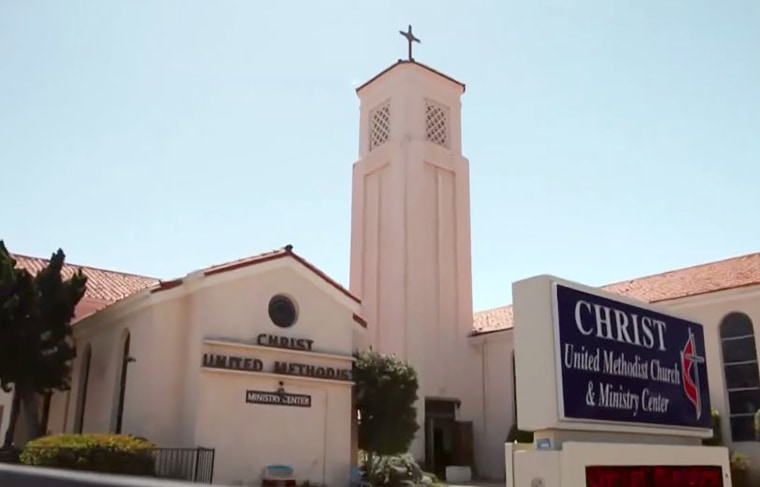 The Christ Ministry Center has a legacy of giving immigrants assistance, Jenkins explained. When he first got involved with the center 21 years ago, they focused on helping Chaldean Christians who traveled from Iraq before the Desert Storm military operation. The shelter shifted focus after the 2010 Haiti earthquake that affected an estimated 3 million people.
But in the past few years, the shelter has become a haven for pregnant women and new mothers who made the journey from Central America seeking asylum in the United States.
"This woman, who had just given birth, had no place to go," Jenkins said of a new mother who was staying at the shelter. "Can you imagine releasing her into the rain, into the wind and into the cold?"
Because the shelter is in a state of transition, it is not currently taking new individuals in. However, Jenkins estimates that the shelter houses around 150 people per night — a number comparable to that of Rapid Response, another shelter in the area.
In addition to providing food, water and housing to new mothers and pregnant women, Christ Ministry Center also has three medical clinics on-site and works to make sure its visitors are in compliance with Immigration and Customs Enforcement.
Christ Ministry Center has had a long relationship with Customs and Border Protection and Immigration and Customs Enforcement since the agencies know it's a refuge for migrant families.
"I jokingly say that I was on speed dial with ICE and CBP," Jenkins said, referring to Customs and Border Protection. "They would call me many times at 2 o'clock in the morning and they would say, they have a family that has nowhere to go, 'Can I bring them?' and the answer had always been, 'yes.'"
Their relationship has changed, however, since the agency has "been given instruction to release people on the streets," he said.
As of Wednesday morning, 14,800 families who crossed the U.S. border since December have been released in San Diego, according to ICE. According to CBP, family unit apprehensions have increased almost 375 percent compared to this time last April.
"The sheer volume of family units (FAMU) crossing the border has overwhelmed ICE's limited transportation resources; combined with a requirement to detain these individuals for no more than 20 days, the agency has no option but to expeditiously arrange for their release," ICE wrote in a statement. "ICE makes every attempt to coordinate the release of these individuals with [nongovernmental organizations] that provide assistance with basic needs, but the heavy influx in recent months has inundated these organizations as well."
In December 2017, President Donald Trump repealed an Obama-era policy that prevented ICE from detaining pregnant women. However, it is still ICE policy to not hold pregnant women in their third trimester "except in extraordinary circumstances," according to the agency's website.
As a result, ICE calls on the Christ Ministry Center when pregnant women are close to delivery, Jenkins said. He estimates that more than 100 babies have been born at the shelter in the last three years.
Cindi is one of the new mothers who will be affected by the Christ Ministry Center's eventual closing. She was five months pregnant when she left Honduras in October and upon reaching Mexico, she turned herself in at a port of entry in Tijuana. She is currently staying at the shelter with her 15-day-old son and another young son.
"They've given us everything. They've allowed us to live here," Cindi said. "And now we need support because we hear that this place is going to be shutting down."
Now the future of the shelter, and of the women and children staying at it, is uncertain.
"When our government is not stepping up to take responsibility and to help these people who are coming to us, it is incumbent on others to step in," Jenkins said.
Jenkins formed the Safe Harbors Network, a nonprofit coalition of churches and organizations working to house asylum-seekers on a long-term basis, in 2016. However, these organizations do not have the capacity to help more than a couple of families at a given time.
"I'll be the first to admit our immigration system is broken. We need to fix it," Jenkins said, but he also said America is a nation of immigrants. "Ripping babies out of mothers' arms — that's not who we are," he said.
"We're facing a situation that's a humanitarian crisis, but it's almost a self-made humanitarian crisis. We do not need to have the situation going on right now," he said.
Mariana Atencio and Peter Shaw reported from San Diego and Gwen Aviles and Daniella Silva from New York.
FOLLOW NBC LATINO ON FACEBOOK, TWITTER AND INSTAGRAM.