SAN JUAN, Puerto Rico — Do you ever wish the Christmas and holiday season lasted longer? Then start making your plans to visit Puerto Rico next year, where the Caribbean island just ended its official holiday celebrations this past weekend. You read that right — this past weekend.
Many Puerto Ricans and visitors lucky enough to be there took part in the iconic Fiestas de la Calle de San Sebastián, which ran from Jan. 19 to the 22nd. It's an annual event centered around San Sebastián Street (Calle San Sebastián) in the Puerto Rican capital's historic district, Old San Juan.
"The festival is a 4-day celebration that has become the traditional closing of the Christmas Season for many Puerto Ricans," said José R. Izquierdo II, the executive director of the Puerto Rico Tourism Company (PRTC). The event embraces almost all aspects of Puerto Rico's cultural heritage, including arts and crafts kiosks, cultural events, and live music. It is truly a fun-filled celebration for all participants.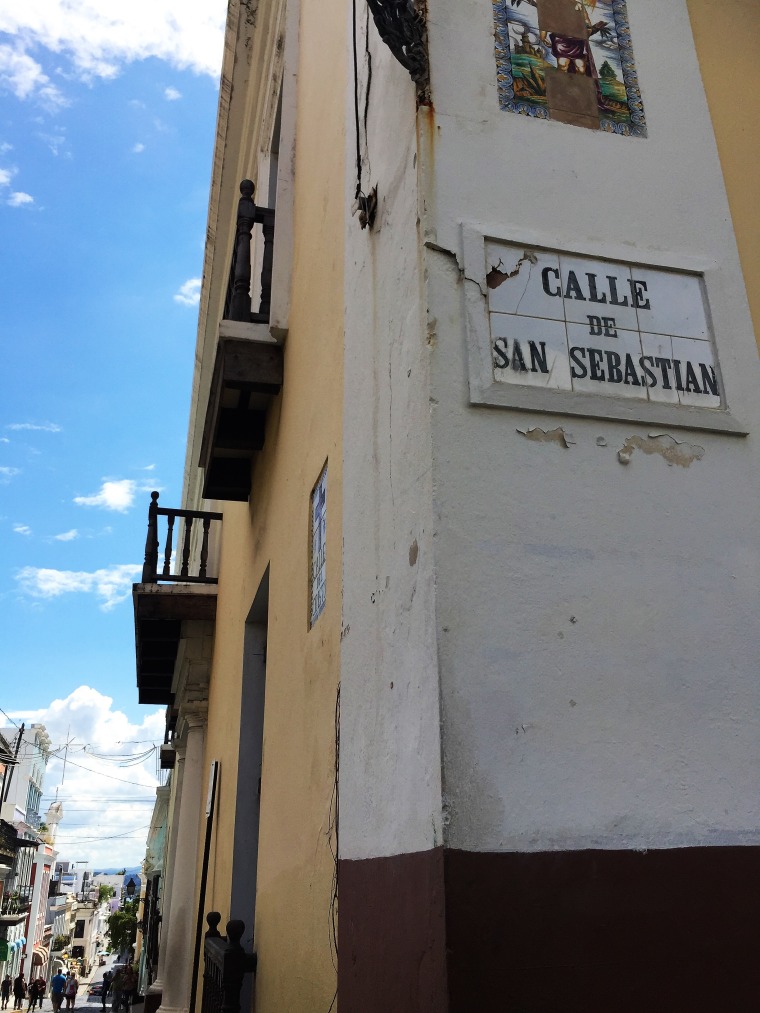 Businesses stayed open until midnight Thursday through Saturday. Due to Puerto Rico's balmy tropical weather, the crowds are not as much inside the bars or restaurants but outside in the historic plazas and in front of bars, talking to friends and having drinks until the early hours of the morning.
Old San Juan is a popular destination for cruise ships, and those passengers fortunate enough to be among the 6 ships that docked in Old San Juan this past Sunday were able to walk from their ships to San Sebastián street.
With more than 1,100 weekly flights from the mainland US to Puerto Rico, the island is an accessible location for a weekend getaway or vacation, notes Izquierdo from Puerto Rico Tourism, making the San Sebastián fiestas an easy mid-January getaway from the U.S.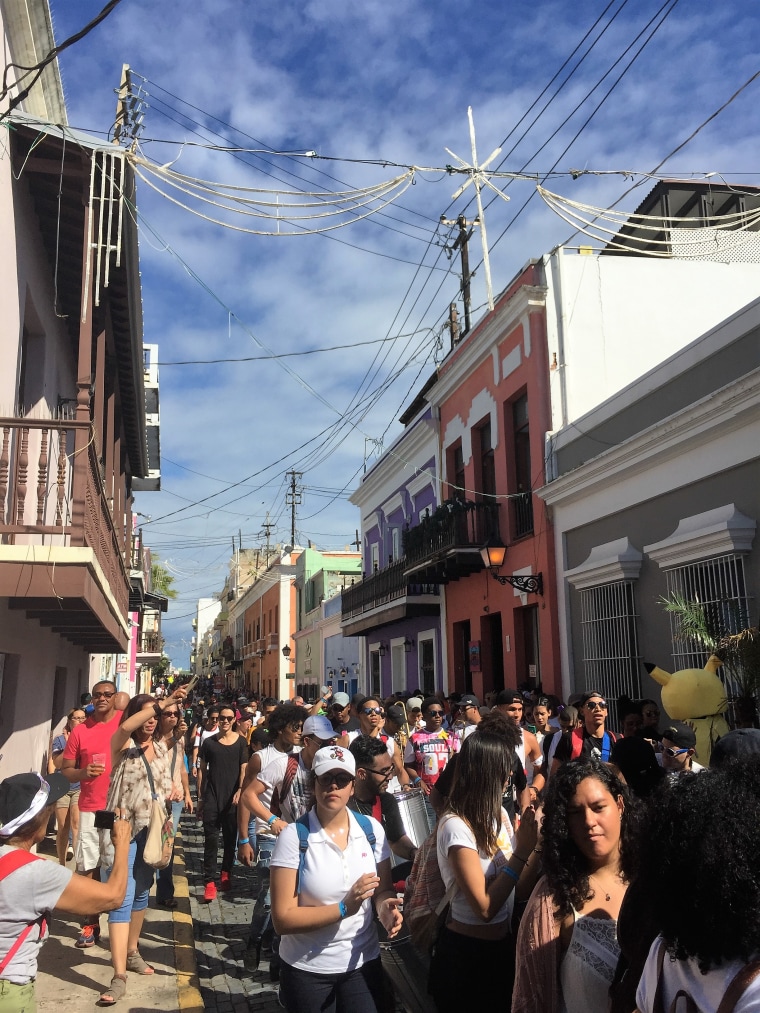 One Puerto Rican told NBC Latino that she has been going to the Fiestas for approximately 17 years, and reconnecting with old friends is her favorite part.
"Meeting people, sometimes you come here and you haven't seen someone for like, a whole year, and you see them every year here," said the resident, who just gave her first name, Ana. "You hang out with them as if it were yesterday the last time that you saw them."
Apart from the cultural aspect, "I love just watching people have a good time and meeting new people," said Ana.
The Evolution of The Fiestas de la Calle San Sebastián
In the beginning, the Fiestas were a local, community event put on by volunteers. Over the years, the event became bigger and so did the number of attendees. San Sebastián, the name of the street where it takes place, is named after Saint Sebastian, one of the early saints in the Catholic church.
The modern version of the Fiestas started in the mid 1970s. Its inaugural event is the parade of the Cabezudos, (means big head) a group of people in disguise with oversized papier-mache heads representing various historic and folk characters who march down San Sebastián Street and down to the San Juan Cathedral.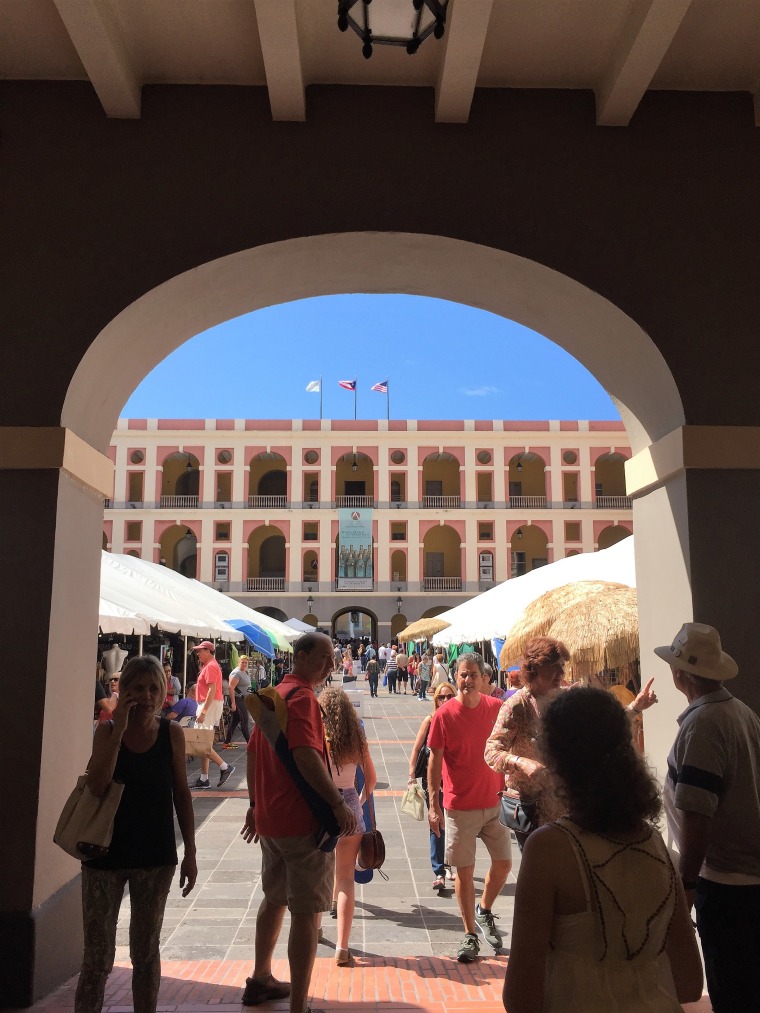 During the day, the events are more family-oriented and include an arts and craft fair, live music, conferences, workshops and activities for kids and other similar activities. During the evening a young adult crowd is usually the norm. The party officially lasts until midnight and centers around live music and dancing, both traditional and contemporary, with many local artists playing on the different stages set around the Old City."
Music is an important part of the Fiestas that continues to play an important role, giving audiences the chance to listen to different genres that have formed part of the Puerto Rican musical canon such as: salsa, traditional Christmas music, reggaeton, and plena.
This year's performances included sets by salsa musicians Víctor Manuelle and Andy Montañez and plena from groups Plenéalo, Los Pleneros de la 23 Abajo, and a tribute to salsa legend Ismael Rivera.
One of the cultural staples of the Fiestas that has been present throughout its history is the artesanía available for visitors to admire and buy during the festivities.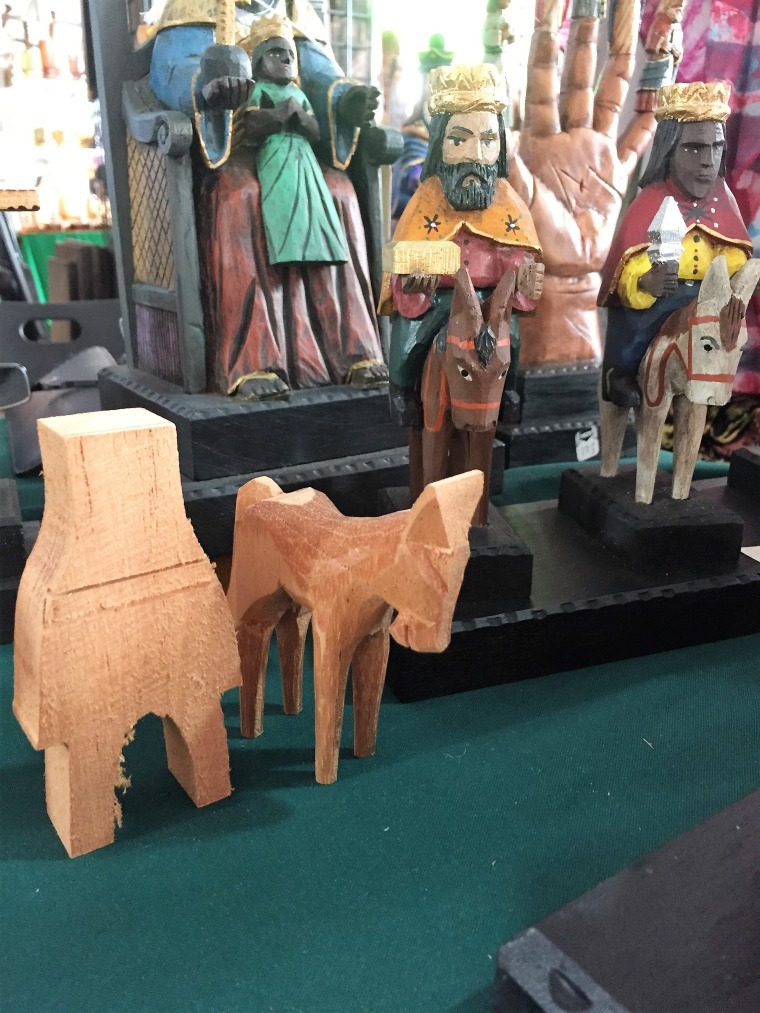 Edwin Báez Carrasquillo, renowned Puerto Rican artesano (craftsman) and resident artist at the Universidad del Turabo, defined artesanía as an object or artifact made by hand that serves a function or necessity, including but not limited to decorative, spiritual, or educational functions.
In its purest form, artesanía is traditionally made out of noble material like wood or clay, must be transformed by the artesano and made his or her own, always carrying cultural significance.
Themes that Báez Carrasquillo is often inspired by and explores in his work are Puerto Rican literature, history and everyday life. In order to learn more about artesanía, Báez Carrasquillo assures that there is no better way than to speak with artesanos in order to understand how they create their pieces, the intentions behind their work and the connection they have to it.
For artesano José A. Orta Rivera, who was showing his pieces at this year's Fiestas, creating saints out of wood runs in the family. Having learned from his parents, it's one of the most traditional forms of Puerto Rican artesanía, and he's been practicing it for 50 years.
Made out of cedar, the process of creating the saints from beginning to end takes about 3 days. Orta Rivera, who divides his time between Lakeland, Florida, and Puerto Rico, has the distinction of having shown his work throughout the state of Florida as well. For more information about his pieces, visitors can stop by his workshop in Ponce, Puerto Rico, at Calle Lorencita Ferré.
The Puerto Rican Diaspora Brings "Sanse" to Florida
Currently more Puerto Ricans live on the US mainland than on the island, and the island population is expected to continue to shrink. A Pew Research Center analysis reported that in 2013, 5.1 million Puerto Ricans lived on the US mainland, in comparison with 3.5 million on the island. As early as 2005, the population on the island had begun to decline which was then exacerbated by Puerto Rico's recession that began in 2006, and that continues to this day.
The unprecedented immigration to Florida in particular, has begun to change the cultural landscape of the Sunshine State.
It is no surprise then that as the Puerto Rican diaspora in Florida continues to grow in record numbers, residents have expanded the reach of the original Fiestas de la Calle San Sebastián by creating similar events in the state.
Puerto Ricans have predominantly settled in large metro areas, especially in Orlando-Kissimmee-Sanford. As a result, 'Sanse Takes Orlando', ("Sanse" is short for San Sebastián), which celebrated its fourth, annual event the weekend of the 14th, has become a popular attraction for many Puerto Ricans and others in the area.
Similar to the original Fiestas, the event in Orlando included artesanía and Puerto Rican food and music from artists like Andrés Jiménez and Plenéalo, among others. As the Puerto Rican newspaper "El Nuevo Día" reported, the 2017 two-day edition broke attendance records on the first day with approximately 27,000 visitors. Honorees of this year's event were comedian Raymond Arrieta and television host Carmen Dominicci.
For Puerto Ricans, the long and extended holiday season is among the most cherished of traditions. It's no surprise that it has extended beyond the island borders as "boricuas" continue their customs, whether it be in Old San Juan or Orlando, Florida.